What a fabulous morning I've had so far! Started out with a spin class which was a lot harder today, we're pretty sure she upped the resistance by a few notches, so I am feeling the effects already, I then came home and decided to have an impromptu yoga session as I've been reading through The Yoga Bible (Christina Brown), which is fabulous by the way, and I really got into it, I had a lot of time to think about the poses and gave myself the chance to relax and push myself further and get my technique right, I think this might need to be a daily occurrence for me now!
And so to the burgers. These Mexican Burgers are lush, the mushrooms just give it a lovely deep earthy flavour and a nice meaty consistency, you can add more chili or even a dash of hot sauce if you want super spicy Mexican burgers, but we liked them as they were and you can always add a little sauce into your burger bun if you like. You may as well just make a decent batch of these too as they'll keep for a couple of days so you can use any leftover burgers for lunch or to crumble up into a pasta dish (which is what I'll be doing tomorrow!)
I'm just going to go on the record here to say that I am not a fan of the aubergine bacon, but it could just be me, so by all means have a go and make it and see what you think. I'm not entirely sure what I was expecting, but nope, it's not something I'll be making again anytime soon. But like I said, each to their own, you might like it, better to try it and know one way or another!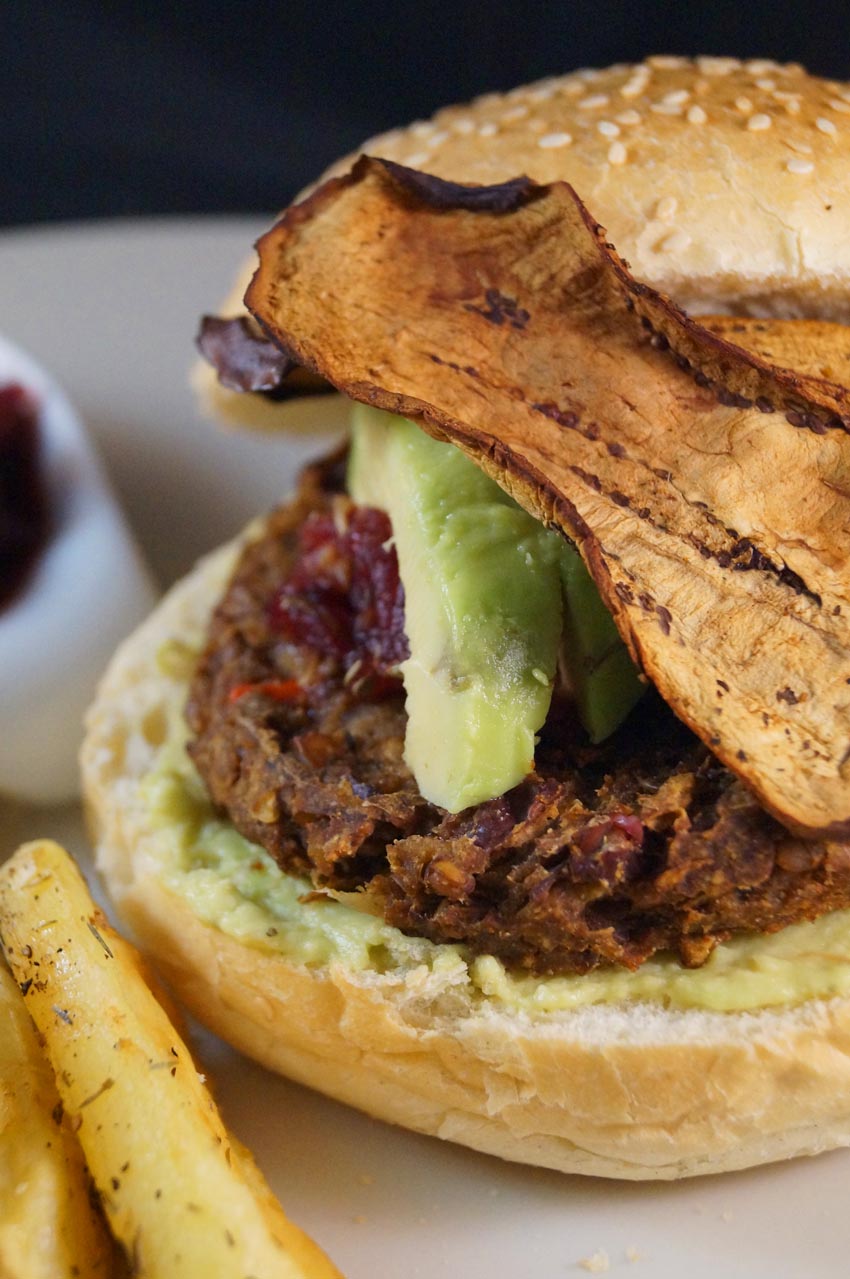 Mexican Veggie Burger with Sliced Avocado, Aubergine Bacon & Red Onion Chutney (vegan & gluten free)
MyInspiration Feel The Difference Range
Makes 8 Burgers
Burgers
1 red onion finely chopped

2 cloves Garlic finely chopped

1 large hot Red Chili finely chopped

1 tsp Cumin

1 tsp Cayenne

1 can Lentils (2 cups) drained and rinsed

1 can borlotti beans (2 cups) rdrained and rinsed

3 portobello mushrooms, de-stemmed, gills scraped out and chopped

1 cup Gram Flour (chickpea/garbanzo flour)

½ tbsp ground flax seed mixed with 3 tbsp water (egg replacer)
For the Aubergine Bacon (I got about 10 nice slices)
1 Aubergine very finely sliced (as thin as you can manage) lengthways

3 tbsp soy sauce

2 tsp smoked paprika

Black pepper to season
Red Onion Chutney
2 red onion sliced

1 clove garlic finely sliced

1/2 tbsp dried thyme

3 tbsp balsamic vinegar

1 tbsp demerara sugar
Method
Start with the aubergine bacon – take your sliced aubergine and pop in a deep bowl, pour over the soy sauce, sprinkle over the paprika and black pepper and toss everything together. Cover the bowl and let this marinate for an hour.

Preheat oven to 180 degrees celcius (356 degrees Fahrenheit) and line a large baking tray with parchment.

Lay the strips of aubergine on the parchment and pop in the oven for 35 minutes, turning half way through (keep an eye on it though as you don't want them to burn!) They should crisp up quite nicely if the strips are thin enough.

Now make the burgers – add 2 tbsp water to a sauté pan over a medium heat and add the red onion, garlic and chili and cook for 2 minutes, then stir through the cayenne and cumin making sure it's all well coated, now add in the mushrooms, ¼ cup of water and cook for 3 minutes. Transfer this to a food processor (or use a hand blander) and blitz the mixture until it becomes a loose paste. Set aside.

In a large mixing bowl add the borlotti beans and lentils and mash these together using a potato masher, then stir through the onion mixture from step 4, the flax mixture and gram flour and fold this all together. Using a large cookie cutter/presentation ring, spoon the burger mixture into the ring on top of a lined baking tray, pressing down to compact it (I should mention here that the burger mixture is quite wet, but don't worry it firms up whilst cooking). Repeat this with all the mixture, I managed to get 8 burgers. Pop in the oven to cook for 30 minutes turning very carefully after 20 minutes.

Whilst everything is happening in the oven you can make the chutney – add 2 tbsp water to a small saucepan over a medium heat and add the red onion and garlic and cook for 2 minutes before pouring in the balsamic vinegar, thyme and demerara sugar, turn the heat down to low, cover and simmer for 15 minutes, then take a stick blender and pulse the mixture until almost smooth, you want a few lumps of onion in there.

To serve, I mashed one avocado with a squeeze of lemon juice and spread this over the base of a burger bun that I had toasted in the oven for a few minutes, next I added one of the burgers, then a little of the onion chutney, a couple of slices of avocado and then topped with the aubergine bacon.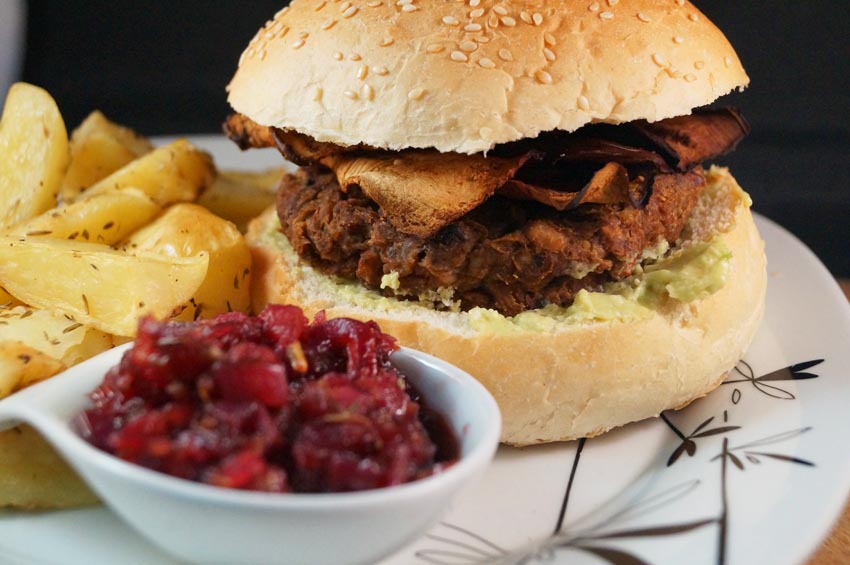 I also had some potato wedges on the side – just peel then chop 2 large potatoes, boil for 5 minutes, drain, sprinkle over ½ tbsp olive oil and a big pinch of thyme and pop on a baking tray and in the oven for 30 minutes, shaking the tray every now and again to stop them from sticking.