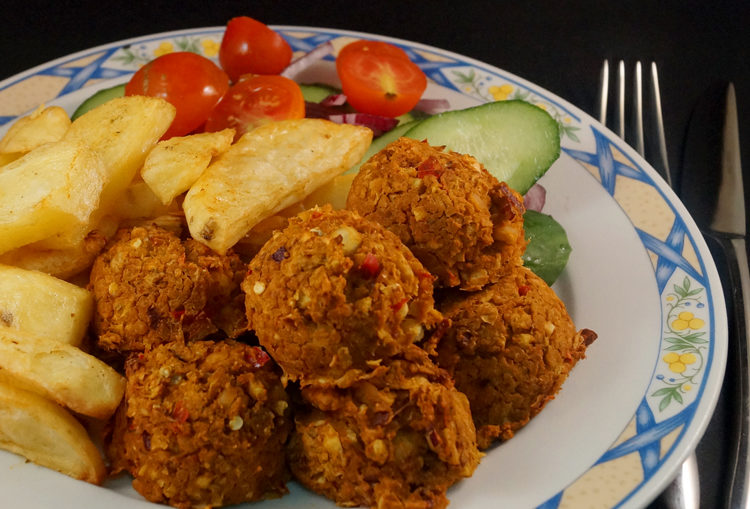 As we jump into 2018, we've been looking at ways in which we can make meals which are easy to prepare, are cost effective and the whole family will love. One of the easiest dishes I've prepared has to be falafel. Being able to add a couple of different ingredients to mix it up a little bit, makes this a versatile option.
For spice lovers, you may opt to add some curry powder and serve with a side of mango chutney or pickle, or you may to choose to just keep things simple for a variety of palettes and have sauces and dips on the side so people can help themselves.
I tend to make a big batch of these so that we can have them for dinner and also a lunch the next day, popped in some pitta with hummus and chili sauce (you see, versatile). I have also been known to just throw the leftovers in a pasta dish or on top of a pizza.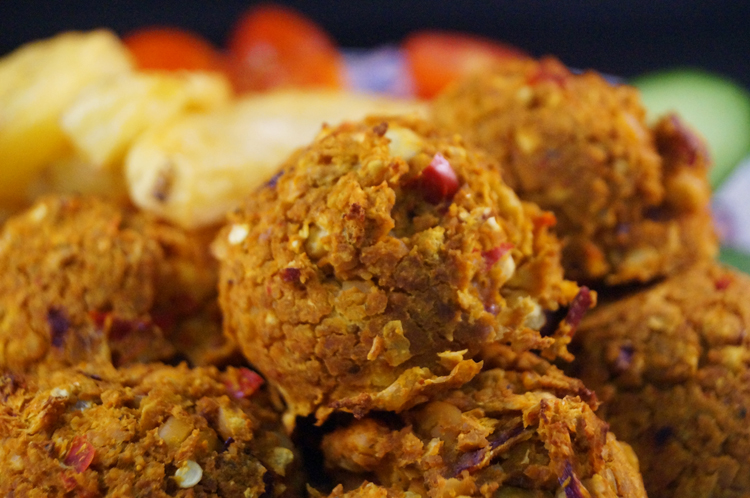 Mediterranean Falafel and Spicy Chips (vegan & gluten free)
Serves 2 – Ready in under an hour
For the Falafel
2 red onions diced (split into 2 piles)
2 cans chickpeas, drained and rinsed (approx 3 ¼ cups)
2 red chillies
6 sun dried tomatoes, chopped
2 cloves of garlic finely chopped
1 tsp paprika
½ tsp turmeric
1 tsp oregano
½ tsp cumin
Black pepper to season
¼ cup gram flour (chickpea flour)
½ tbsp lemon juice
Spicy Chips
3 large potatoes peeled and chopped into chunky chips
½ tbsp oil (I used the oil from my jar of sun dried tomatoes)
1 tsp cayenne pepper
Black pepper to season
Method
1. Preheat oven to 180 degrees celcius (356 degrees Fahrenheit) and prepare 2 baking trays
2. Start with the chips as these take the longest, peel and chop your potatoes, pop in a large baking tray with the oil, sprinkle over the cayenne and the black pepper and pop in the oven for 40 minutes, turning occasionally.
3.. In a food processor (or using a stick blender like me) pulse together the red chillies, sun dried tomatoes, garlic, turmeric, oregano, cumin, paprika, half the red onion and half the chickpeas until a nice smooth paste is created.
4. Mash the remaining chickpeas in a bowl and add in the other half of chopped red onion along with the paste from step 3 and the gram flour and lemon juice, mix this all together, and using an ice cream scoop, create 10 – 12 balls of falafel mixture and pop on a lined baking tray. Pop in the oven for 20 – 25 minutes until firm to the touch.
Serve with some salad and BBQ or Chilli Sauce.