I was swithering yesterday whether to make burgers or a loaf for dinner, but when I seen the parsnips the decision was easy… loaf! When I lived in Scotland I had never had a parsnip, they just weren't a popular veg, it wasn't until my first Sunday dinner at Martin's parents house that I had them served to me and now they are a staple for Christmas dinners and now in my vegetable loafs. They have a great unique flavour to them and are fantastic whether spicy or sweet, in a veggie loaf or a soup, the parsnip is indeed a versatile veg and served me well last night.
So I made the loaf and accompanied it with a spicy tomato sauce and a side of balsamic roasted sweet potato wedges. If you can't get your hands on any parsnips, then substitute this for butternut squash.
I also bought some juicy strawberries and a couple of pears yesterday, so I'm thinking of a couple of tarts I want to make today, one raw, one baked, we'll see how I get on, I've got a few ideas floating around in my head that I want to try out.
We spent last night watching Comic Relief on TV, such great causes to support and heart wrenching stories that make you count your blessings and find ways to help out somehow. (You can still donate online by clicking this LINK, quite literally, every little helps).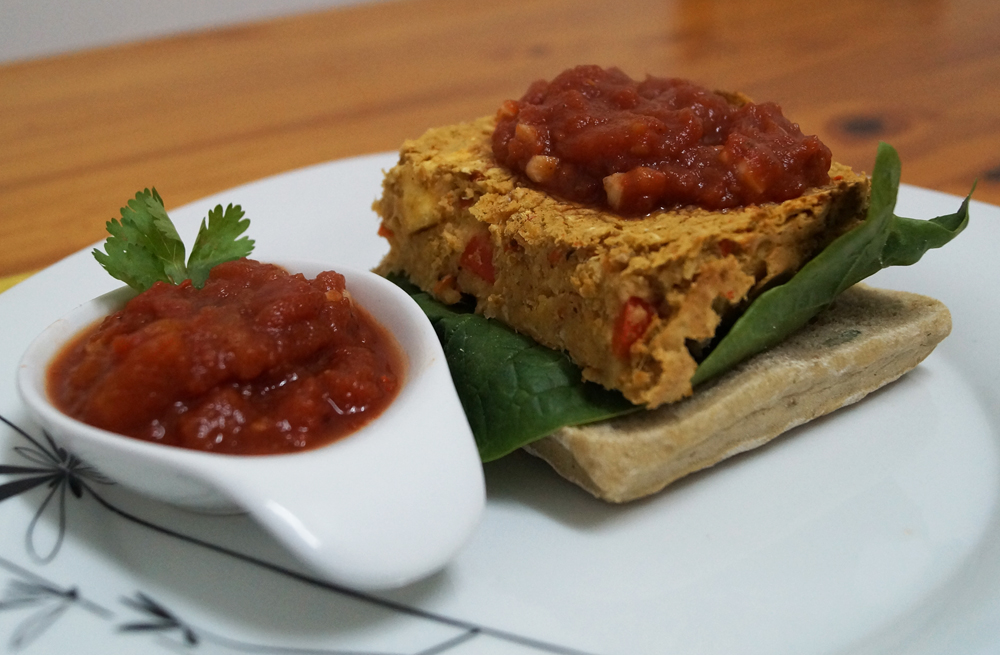 Maple Roasted Parsnip & Cannellini Bean Loaf with a Spicy Tomato Sauce and Balsamic Sweet Potato Wedges
MyInspiration Feel The Difference Range
Serves 2 (with some loaf left over for lunch)
2 large parsnips peeled and chopped
1 large red pepper finely diced
2 garlic cloves, minced
1 can cannellini beans (rinsed and drained) or half a cup of dried beans soaked
1 tbsp Garam Masala
2 tsp cumin
1 tsp chili flakes
1 tsp dried coriander
1/4 tsp black pepper
1 tbsp lemon juice
1/2 cup oats
1/2 cup buckwheat flour
Method
1. Preheat oven to 180 degrees, place the chopped parsnips on a baking tray, sprinkle with black pepper and pop in the oven to roast for 2o minutes, after 15 minutes drizzle over 1/2 tbsp maple syrup, give them a shake and roast for a further 7 minutes then remove from heat.
2. In the meantime, prepare the potato wedges by scrubbing 3 small sweet potatoes and chopping them into wedges, sprinkle over 1/2 a tsp pf olive oil, 1/2 tsp cayenne pepper and some black pepper and pop in the oven to roast for 30 minutes (after 20 minutes, drizzle over 1/2 tbsp balsamic vinegar and roast for the final 10 minutes).
3. Now, prepare the rest of the loaf ingredients by placing everything (apart from oats and flour) into a food processor, add 3/4 of the roasted parsnips and then pulse until the mixture has broken down (not smooth or pureed) transfer for a large mixing bowl.
4. To the parsnip/bean mixture add the remaining roasted parsnips, oats and flour and fold through, mixing everything together and spoon the mixture into a lined 9″ square baking tray and pop in the oven to cook for 25 minutes and go make the tomato sauce.
5. Once the loaf has been cooked, remove from the oven and slice into quarters, serve topped with spicy tomato sauce and a side of wedges. ( I popped mine on top of a seeded ciabatta roll and some spinach).
Spicy Tomato Sauce
1 clove garlic
1/2 can chopped tomatoes
1 tsp red chili flakes
1/2 tsp cayenne pepper
Pinch of black pepper
Method
1. Combine everything in a small sauce pan over a medium heat and cook for 10 minutes.