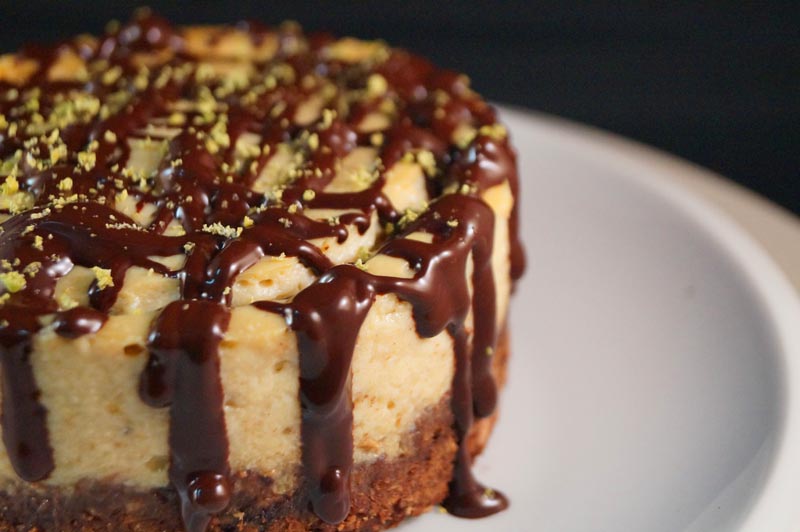 ah, my favourite time… dessert. I do have to hold my hands up and say I love to bake… cookies, cupcakes, tarts and cheesecakes and when you get it just right, it's like the clouds have parted and the sun is shining right on your face… (I have actually been sitting in the sun trying to get rid of my panda eye look from over use of the sunglasses, I think I might need to drink some water, I'm sounding delirious!), but you know what I mean!
I think I'm going to stick with my current base recipe, it works really well with all the different flavours I've done so far, so I'm keeping it the same. This time for the filling I took out the icing sugar and replaced it with a little maple syrup, the result was a semi sweet cheesecake, it wasn't overpowering or made you feel like your teeth were dissolving, but if you do want a sweeeeeeeet cheesecake then add in a few more tablespoons of maple syrup or 1/2 cup icing sugar. But I loved this recipe and with the smooth sweetness of the mango, the sharpness of the lime and the bitter bite of the dark chocolate, it was a party of flavours that were super tasty without the need for additional sugars. Taste the filling before you bake it and add what you want until you're happy with it.
Oh and I inadvertently found a great tip, I wanted to keep some lime zest to sprinkle on the top of my cheesecake, so when I zested (I don't think that's even a word, but I'm using it) my lime I kept some over in a small bowl and left it on the kitchen worktop and went about my business, when I came to sprinkle it on top of the melted chocolate it had dried out, so it was like lime sugar and it looked just beautiful in the pics, so I was most pleased!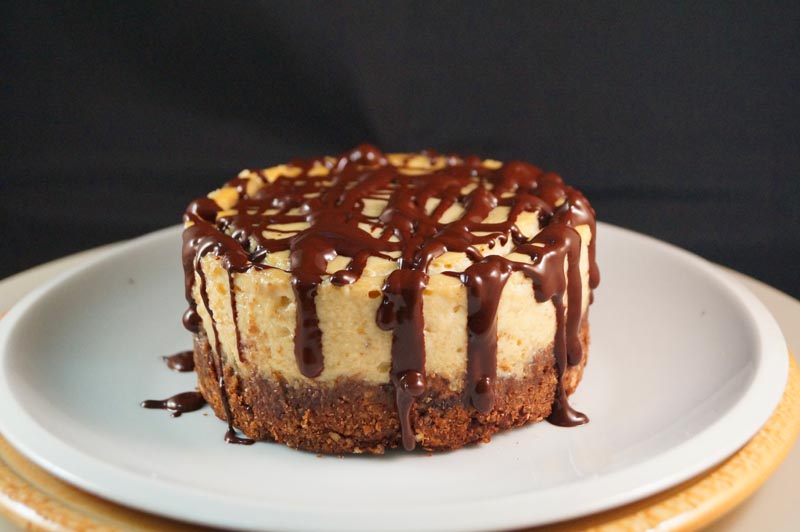 Mango & Lime Cheesecake with a Raspberry Dark Chocolate Drizzle (vegan & gluten free)
MyInspiration Feel The Difference Range
Serves 4 – ready in just over an hour.
For the base
10 almonds
6 walnut halves
6 dates
3 tbsp raisins
Pinch of cinnamon
1 tbsp shredded coconut
1 tbsp cocoa powder (optional)
1/3 cup oats
2 tbsp buckwheat flour
2 tbsp non dairy milk (I used alpro almond milk)
For the filling
160g Silken Tofu (I used half a pack of Blue Dragon)
1 /2 fresh mango peeled and diced
1 tbsp corn flour mixed with 1 tbsp water
Zest and juice of 1 Lime
1.5 tsp vanilla extract
2 tbsp maple syrup (add more or 1/2 cup of icing sugar if you want really sweet cheesecake)
30g dark chocolate for drizzle (I used dark chocolate with raspberry through it)
Method
Preheat oven to 180 degrees celcius (356 degrees fahrenheit).
Make the base: Add all the base ingredients to a food processor (or use a hand blender like I did) and pulse until the mixture starts to bind together. Now, I had prepared a 5″ round presentation ring on top of a baking tray that was lined with parchment, but if you have a springform cake tin that would be even better. Transfer the base mixture in to the ring and using the back of a spoon compact it down nice and tightly making sure all the edges are covered. Pop in the oven for 10 minutes, remove and set aside to cool while you make the filling.
For the filling: Add all the filling ingredients to a food processor (or again use a hand blender) and blitz nice and smooth, give it a taste here to make sure it's sweet enough for you and make any modifications to suit your own taste, I actually squeezed in a little more lime juice as I loved the zing it gave. Pour the filling on top of the base layer, smoothing it out so it's even and place back in the oven to bake for 35 – 40 minutes, the top should start to crack slightly when it's ready and should be firm but springy to the touch. Leave to cool inside the presentation ring. (I then popped it in the fridge for half an hour as I was having dinner. )
Just before serving, run a sharp knife around the edges of the tin to loosen the cheesecake and lift the ring off. Melt the chocolate in a bain marie and drizzle over the top of the cheesecake and then add a little more lime zest for decoration. That's you done!