We've seen a lot of recipes that ask for seitan and we thought it was an actual product you have to buy from a health store or something, but after watching Planeat this afternoon, we watched as Chef Chad Sarno made a delicious looking feast with home made seitan brisket, mash potatoes and a beautiful mushroom gravy.  My mouth was watering just looking at it on the screen, so I knew I had to give it a go tonight for dinner.
For my first attempt, I'm pretty proud, but I know it needs some refining as it was a little too dense for our liking, but it's really trial and error when it comes to getting it right for your own taste.  It was really tasty especially with the mushroom gravy, which was heavenly and I popped some wilted spinach as a side.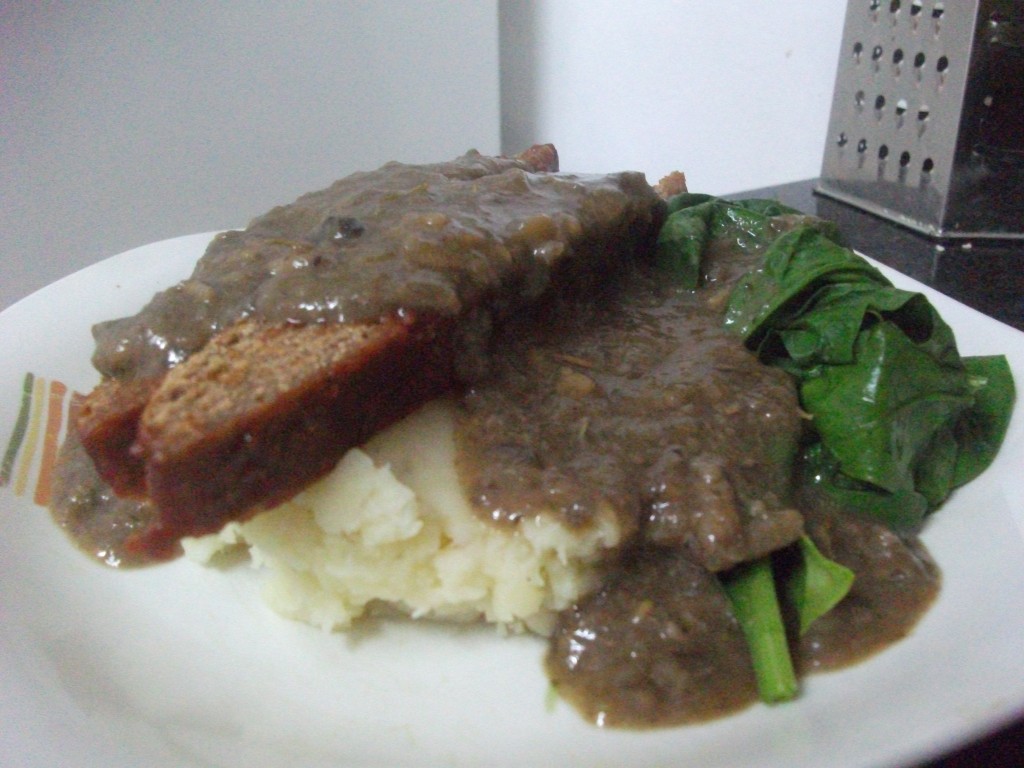 Seitan Brisket with Mash and Mushroom Gravy
Serves 6
For the Seitan Brisket
¼ cups soy sauce (light)
2 ½ cups low sodium vegetable stock
3 tablespoons date paste (or maple syrup)
1 cups marsala wine
½ cups tomato paste
4 cloves garlic fine minced
Whisk all above ingredients well, In separate bowl mix the dry batch:
½ tablespoon chilli powder
2 tablespoons onion powder
1 tablespoon garlic powder
2 cups gluten flour
¼ cups nutritional yeast
1. Once you have the wet and dry batches mixed separately and thoroughly, then and mix both batches together. (I had to add a little extra flour here, as it was too gloopy to knead and shape)
2. Knead for 3 minutes until it is all is mixed and elastic in texture, like a very firm dough. With your hands, shape it into a loaf pressing to be no thicker than 1 to 1 1/2 inch thick. Now you¹re ready to bake it.
3. For the braising liquid, make another bowl of the wet batch liquid as listed above, and pour into a baking pan. Place the seitan loaf in the center and bake at 375 degrees for 20 minutes, flip it, baste with liquid and continue to bake for 20 more minutes. Continue this process until most of the liquid has thickened up as a glaze and the seitan is firm to the touch. Allow it to sit and firm up before use.
Mushroom Gravy 
1/4 cup stock (for steam frying)
3‐6 cloves of garlic minced
1 large white onion diced
1½ cups wild mushroom of choice chopped
2 T soy sauce
3 cups vegetable or mushroom stock
¼ cup merlot, or other spicy red
1/2 cup all‐purpose white flour
¼ cup nutritional yeast
3 sprigs of rosemary, off stem and minced
2 T fresh thyme minced
1/4 teaspoon ground black pepper
Steam fry the garlic and onion in the ¼ c stock for about three minutes on medium heat, add the mushroom and fresh herbs and continue to sauté for a few minutes. Add the red wine and cook of for a few minutes. Add stock and stir, bring to a simmer. For the flour, yeast, and soy sauce make a slurry and add slowly to stock. Bring the gravy to a boil on medium to medium‐high heat, stirring constantly. Add salt and pepper to taste. If the gravy is too thin for your taste, add one or two tablespoons of flour or small amounts of cornstarch to thicken it. Use a wire whisk to eliminate lumps. (I used my hand blender to smooth the gravy out, but it's up to you)
Mash
1 small white onion diced
3 cloves of garlic minced
½ c vegetable stock
1 lb russet potatoes peeled, chopped and cooked
3 T nutritional yeast
¼ c vegetable stock
½ c soy milk, unsweetened
½ T sea salt
Black pepper to taste
Steam fry the garlic and onion in the ¼ c stock for about three minutes on medium heat until onions are translucent. After potatoes are cooked and tender to fork, strain. Add sautéed onions, and remaining ingredients and mash till desired smoothness. Serve hot.
For more recipes and information on Planeat please click here