It's not really the weekend in this house until we've had a curry and I'm so taken with the mushroom biryani I made last week, that I thought I'd do it again but team it with a beautiful spicy madras curry with lots of fresh vegetables and chickpeas. I opted for cauliflower because it just soaks up so much flavour and the chickpeas are always tasty and are an easy way bulk up your curry too.
Is it bad that I really miss being in Italy, for some strange reason I always feel really at home there, so much so I've decided that now is the time to learn Italian properly. I know a little, but I'd love to be able to converse with people while I'm over next time, but do it with some confidence. I need to go a bit further than doppio espresso per favore, grazie & ciao! It's a beautiful language and I'm looking forward to trying to improve my vocabulary!
There was a massive spider in the pool today, when I say massive, I mean HUGE!!! It's the biggest I've seen so far, I don't think I'll be swimming any time soon…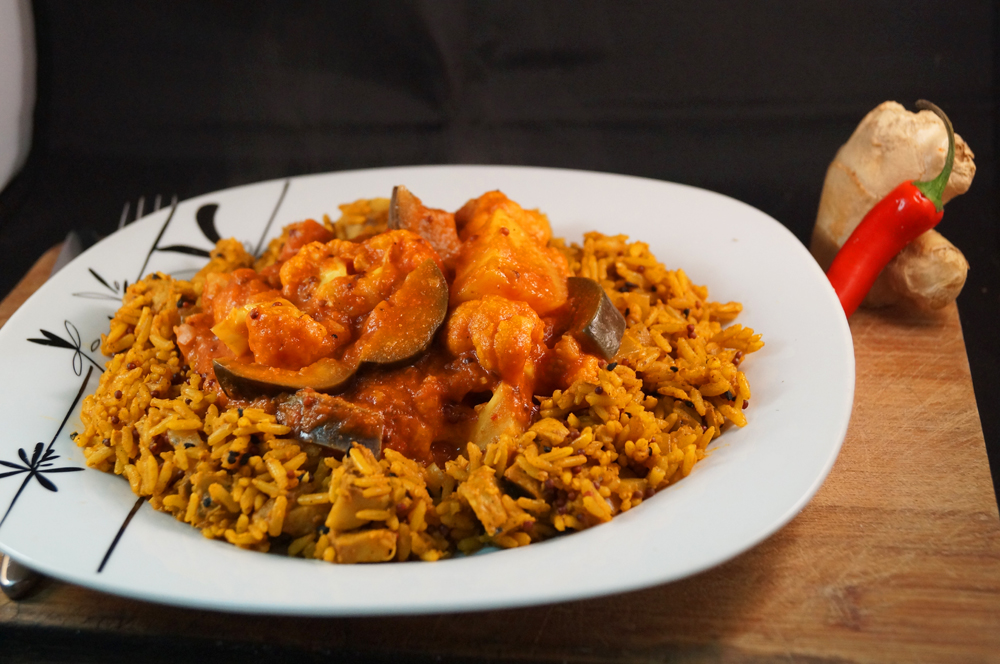 Madras Chickpea & Vegetable Curry served with Mushroom Biryani (Vegan & Gluten Free)
MyInspiration Feel The Difference Range
Serves 4 – Ready in under an hour
Madras Curry
2 onions finely sliced
5 cloves garlic finely sliced
3″ cube of ginger finely chopped
2 hot red chillis finely sliced
1.5 cups canned coconut milk (including the coconut cream from the top)
1 can chopped tomatoes
3 cups passata (pureed tomato)
1 medium cauliflower, chopped into florets
1 large aubergine (eggplant) roughly chopped
1 can chickpeas drained and rinsed
1 large potato, peeled and diced into cubes
Madras Spice Mix: (add all of these to a small bowl ready to use)
2 tsp Garam Masala
2 tbsp hot curry powder
2 tsp chili powder
2 tbsp mustard seeds
2 tsp crushed dried chili flakes
2 tsp cumin powder
2 tbsp tamarind (thank you Ann for the tamarind supply!!)
2 tsp turmeric
For the Mushroom Biryani
2 cup brown basmati rice
4 cups vegan stock
1 onion finely chopped
4 cloves garlic finely chopped
4 tbsp tomato puree
2 tbsp shredded coconut
6 large button mushrooms very finely sliced
Handful of fresh coriander, roughly chopped
Biryani Spice mix:
2 tsp Turmeric
2 tsp Garam Masala
2 tsp black mustard seeds
1 tsp ground cumin
1 tsp black cumin seeds
1/2 tsp cinnamon
2 bay leaf
Method
1. In a food processor (or using a stick blender) pulse together the onion, garlic, red chili and ginger with 1 tbsp passata until it becomes a smooth puree.
2. Heat 2 tbsp water in a large deep sauce pan and add the onion puree mixture from above along with all the Madras Spice Mix and cook for 3 minutes before adding in the cauliflower florets and aubergine and stirring together to make sure everything is nicely coated.
3. Add the coconut milk, passata, chickpeas and potato, bring to the boil then reduce heat to low, cover and simmer for 35 – 45 minutes (If you want more sauce, add in a further cup of passata) but you should have more than enough here. You can cook longer if you wish and if you have time, it all adds to the delicious flavours.
4. While the curry is simmering away, you can make the Mushroom Biryani – Heat 2 tbsp water in a medium sauce pan and add the onion and garlic and cook for 2 minutes before adding in all the Biryani Spice Mix giving this a good stir, then add in the tomato puree and rice and mix well together letting this cook for 2 minutes before adding in the veg stock. Stir, then cover the pan, reduce the heat to low and let this cook for about 15 minutes stirring occasionally. Lastly add in the chopped mushrooms and fresh coriander and leave it to cook for another 5 minutes. Once the rice is ready you can turn off the heat and keep the lid on the pan until you are ready to serve.
* I made a large pot of curry, enough to 2 dinners for 2 people (hence why it says for 4 people) what I will say is, if you can cook ahead, I'd make this curry the day before you want to serve it as it is truly out of this world delicious the day after, as it's had time to sit and soak in all the flavours. Don't get me wrong it's still wonderfully tasty the day you make it…. but if you can, try it the day after!