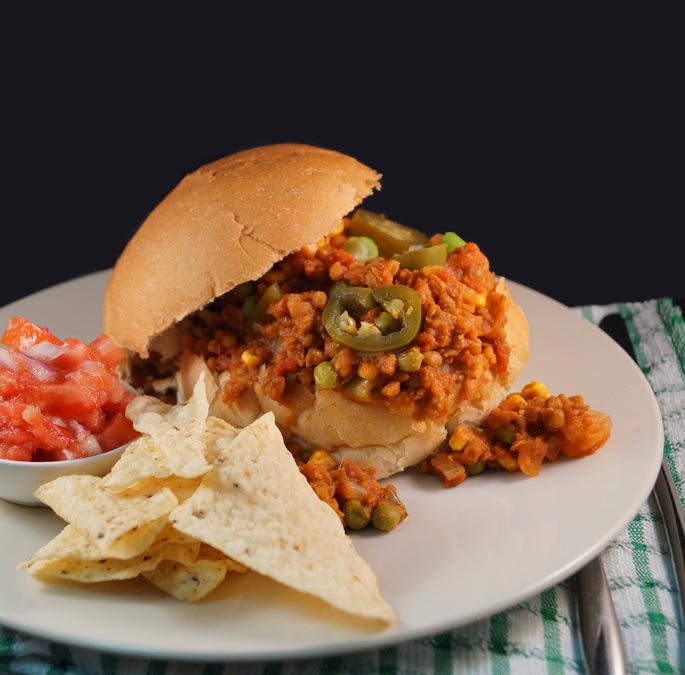 I had no idea what a "Sloppy Joe" was a week ago and now…. well now I think it's going to have to be a weekly dish in this house. It's so tasty. I only wish I'd found a ripe avocado to make some guacamole to go with it as that would have finished the dish off beautifully. However, the salsa and tortilla chips were a great side and it was wolfed down pretty quickly!
I would never have thought about using this kind of dish inside a burger bun, maybe it's knowing that I am, at the best of times, a very messy eater, if it can fall out or splash back onto my light coloured top or trousers, then it will! But I am pleased to say I cleared my plate last night with no mishaps and I'll be doing this again pretty soon. Such a simple thing to make and everyone will love it. I made mine quite spicy, so if you don't want them too hot then maybe leave out the additional green chili (the chillis I bought had a seriously strong kick to them!),
Went to the gym this morning and tried out the new release of Body Pump, ouch! The lunge track is a killer, it feels like it's never ending, my legs were shaking by the end of it and the abs track is great too, you really feel it, I know I'm going to knack in the morning, but already looking forward to the next class!
Lentil Sloppy Joes with a side of Tomato & Red Onion Salsa and Tortilla Chips (vegan & gluten free)
MyInspiration Feel The Difference Range
Serves 2 – Ready in 30 minutes
For the Sloppy Joe
2 cans brown lentils drained and rinsed (approx 4 cups)
1 onion finely chopped
1 hot green chili very finely chopped
1 clove garlic finely chopped
1/4 cup sweet corn
1/4 cup frozen peas
1/4 cup chopped spring onions (scallions) finely chopped
1 tbsp wholegrain mustard (just double check the brand you use is GF)
1 can chopped tomatoes (about 2 cups)
2 tbsp tomato paste
1/2 tbsp lemon juice
1 tbsp of your favourite hot sauce (I used Encona Hot Pepper Sauce)
1 tsp paprika
For the Salsa
1 large tomato finely chopped
1/2 red onion finely chopped
1/2 tsp paprika
1 tsp lime juice
Small handful of coriander
Plus a bag of tortilla chips (for GF make sure it's a Gluten Free brand you use)
2 burger buns (again if GF, make sure they are Gluten Free)
Method
To make the sloppy joe mixture: Add 2 tbsp water to a large saute pan over a medium heat and add the onion, garlic and green chili and cook for 2 minutes before adding in the lentils, mustard and paprika and stirring this all together. Then add in the chopped tomatoes, tomato paste, lemon juice, hot sauce, peas and sweetcorn and mix this through, turn the heat to low and cook for 20 minutes, stirring occasionally, just before serving mix through the chopped spring onions.
For the Salsa – combine everything in a mixing bowl, remove 1/2 the mixture and blitz it with a hand blender or food processor and pour back into the main mixing bowl and stir it all together.
To serve, I sliced the burger buns in half and toasted for a minute, popped it on a plate and spooned on the lentil mixture, threw on a few jalapenos and added a few tortilla chips on the side with a small bowl of salsa. Like I mentioned before though, next time I make it I'm going to have some guacamole too!