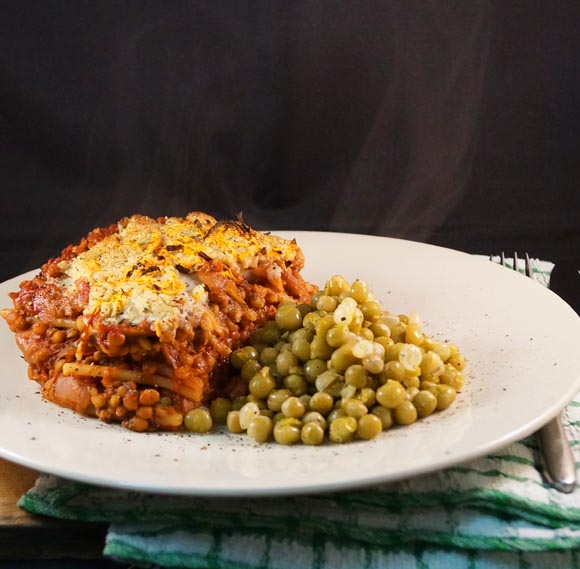 This was going to be a lasagne until I realised I'd forgotten to buy the pasta strips, so I had to improvise and use the spaghetti (bucatini) than I had in so pasta bake is the result. But remember, if you want to, you can just sub the bucatini pasta for lasagne sheets and you're back on track!
Not sure if it's a childhood thing but Martin can't have lasagne (or now pasta bake) without a side of peas and usually a slice of garlic bread, luckily they both go well with the dish so no complaints here from me! I want to mention that this recipe will actually serve 3 people, but we had it for dinner then wrapped the rest up to go with lunch the next day, so expect some leftovers.
I'm a little sad as today was the last day of the Body Balance release that I've really loved doing at the gym, I hope the next one is just as fabulous (and that I can actually do the moves!), I'm going to treat myself tonight to an extra CRXworx class before dinner, I missed it on Wednesday morning so good to catch up on it and feel nice and toned for the weekend!
Lentil & Carrot Pasta Bake with a side of Green Peas (vegan & gluten free option)
MyInspiration Feel The Difference Range
Serves 2 (with some leftovers) – ready in 45 minutes
2 can lentils (about 4 cups worth)
2 cups passatta (puree tomatoes)
2 carrots grated
1 onion finely chopped
2 garlic cloves finely chopped
2 tbsp tomato paste
1 tbsp balsamic vinegar
1 tsp dried oregano
2 tsp basil
1 bay leaf
For the "Bechamel" style sauce
1 cup Soy Milk (or use unsweetened almond/rice milk)
2 tbsp gram flour
1 garlic clove finely sliced
Small pinch cinnamon
Pinch Thyme
Black pepper
160g perciatelli pasta (bucatini) – if you want to make this into a lasagna, just sub the spaghetti for lasagna sheets (but you will need to bake this longer, I'd give it 40 minutes. And for Gluten Free Pasta sheets – so either Brown Rice Spaghetti or Corn Lasagne Sheets.
Method
Preheat oven to 180 degrees celcius (356 degrees Fahrenheit)
Add 2 tbsp water to a deep sauce pan over a medium heat and add onion, garlic, oregano and basil and cook for 2 minutes to soften before adding in the lentils and giving this a stir. Now add in ¾ of the grated carrots, all of the passatta, balsamic vinegar, tomato paste, bay leaf and a pinch of black pepper mixing everything together, turn the heat down to low and cook for 10 minutes stirring occasionally.
While this is simmering you can make the "béchamel" style sauce by adding 1 tbsp water to a small sauce pan over a medium heat and cook garlic & thyme together for a minute before adding the gram flour, then slowly whisk in soy milk, cinnamon and black pepper, give this a good whisk to get rid of any lumps and keep whisking until the sauce start to thicken, this takes a few minutes so keep at it and don't panic and start to add more flour (personal experience!!), once it starts to thicken, turn off the heat.
To assemble – Take an oven proof dish ( I had a small casserole dish 6" x 8") and spoon in a little of the lentil mixture to cover the base, now place the pasta strips just like you would with lasagna sheets so you can create your pasta layer, spoon over some of the béchamel style sauce, another layer of lentils, another layer of pasta, another layer of lentils and top with the remaining béchamel style sauce and sprinkle over the leftover grated carrot and pop in the oven for 25 minutes to cook through.
I served this with some canned peas, you could use frozen peas, or a side of sweetcorn etc whatever you like best.