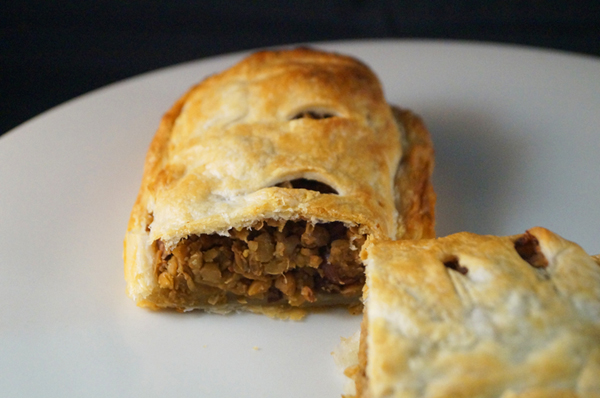 Sometimes I love the idea of comfort food and at the end of a very busy day I really just wanted to put my feet up and have something hearty and delicious but would be ready quickly, I'd already bought in a pack of puff pastry (Jus Rol is vegan) as I was contemplating making a fruit and custard pie, but I haven't gotten around to it yet. I'd already defrosted the pastry that afternoon, so it was ready to go and I didn't want to waste it.
The filling came from me loving the black olive tapenade I've made in the past and I just new that it would work well in a pie filling, but to fill it out slightly I added the lentils (here's a good tip as well, make more filling than you need for the pie and keep it in a tupperware box in the fridge and have the filling for lunch the next day with a spoonful of hummus mixed through it, wow!! Taste sensation!)
So much happening this week, my father in-law has his 70th birthday on Thursday, the rest of the in-law family will be arriving on Wednesday so there will be a lot of catching up to be done, so it's all go, go, go. Also got my eye on attending an Ashtanga Yoga class when I'm up in Edinburgh again, sounds like a lot of fun. Also just seen a paddle-boarding class at Cramond in Edinburgh too, so again, toying with the idea of giving that a go, although the water will be FREEZING!!!!
Lentil and Black Olive Pastry Slice (vegan)
MyInspiration Feel The Difference Range
Makes 2 pies – ready in 30 minutes or less
1 tin brown lentils drained and rinsed (approx. 2 cups)
1/2 cup sliced black olives
1 tbsp wholegrain mustard
Black pepper to season
200g ready made puff pastry cut into 4 slices
Method
Preheat oven to 180 degrees celcius (356 degrees Fahrenheit) and line a baking tray with parchment paper and place in the oven to heat.
In a mixing bowl combine the lentils, black olives, mustard and black pepper, then using a potato masher, mash the mixture together so that it starts to bind together.
On a lightly floured surface, roll out each slice of pastry into a rectangle shape approx 3″ long by 1.5″ wide, then spoon roughly 3 tbsp worth of the filling down the centre of 2 of the pastry slices, then carefully top each with another pastry slice, at this point I folded the edges of the bottom slice of pastry over the top slice edges and pinched together to seal, then transfer to the pre-heated baking tray.
Using a sharp knife, gently score the top of both pastry slices about 4 small incisions and pop in the oven for 15 – 20 minutes or until the pastry is lovely and golden.
I served mine with a side of baked beans (not very sophisticated I know, but it was comfort food remember!), you could also oven bake some chunky chips to go with it too if you're really hungry!