It was our friends last meal with us last night before heading home today so I thought I do the boys a massive spicy chili before they settled down for an evening of football. I thought about buying a bag of tortilla chips…. but where's the fun in that, I wanted to give it a go making my own.
This is a very simple chili recipe and if you're not making your own tortilla chips will take you less than 40 minutes to prepare and serve, so a great "go to" recipe if you need a feast, fast!
On a separate note, my sister emailed to tell me she's been decorating the house for my arrival, I feel like royalty, apparently there is a Tesco's equivalent in her local town, so need to stop there and pick up some supplies before heading up to her village and being re-introduced to her in laws (it's been 14 years since I saw them last!).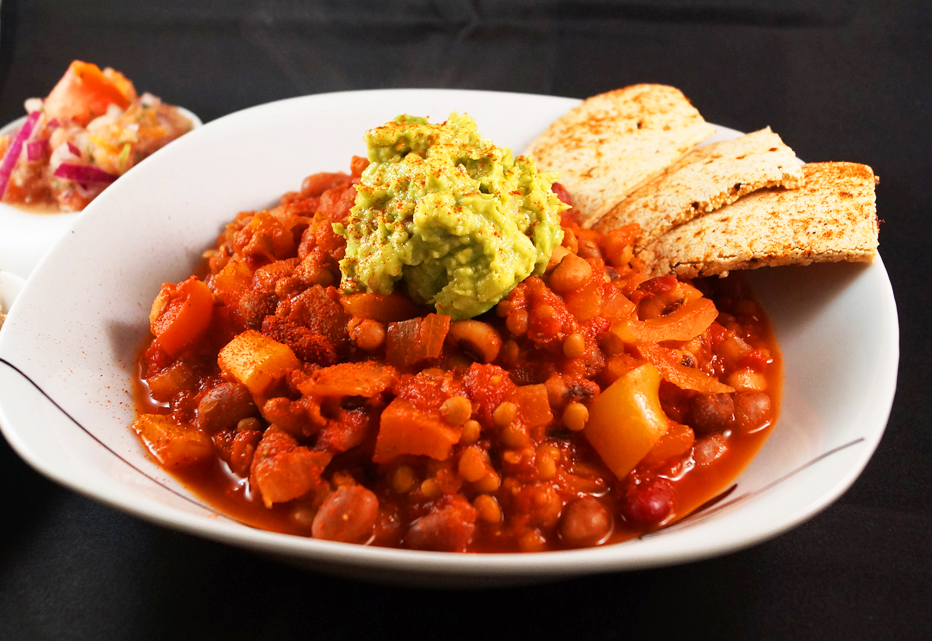 Lentil & 3 Bean Chili with Homemade Spicy Torilla Chips, Salsa & Guacamole (Vegan & Gluten Free)
MyInspiration Feel The Difference Range
Serves 4 (ready in just over an hour – if making your tortilla chips)
For the Chili
1 tin brown lentils drained and rinsed
1 can red kidney beans drained and rinsed
1 can Borlotti beans drained and rinsed
1 can black eyed peas drained and rinsed
1 white onion finely chopped
3 cloves garlic finely chopped
1 red pepper (capsicum) chopped
1 orange pepper (capsicum) chopped
2 tbsp red chili flakes
4 cups passata
2 tbsp tomato paste
1 tin chopped tomatoes
1 tbsp apple cider vinegar
1.5 tbsp cumin
2 tsp paprika
Black pepper to season
1 tsp chili powder
Jalapeno chili peppers to garnish
For the Tortilla Chips
1.25 cups of Brown Rice Flour
3/4 cup warm water
1 tbsp red chili flakes
BBQ Seasoning
For the Guacamole
2 large avocados
1/2 red onion finely sliced
1 garlic clove finely sliced
Squeeze of lime juice
For the Salsa
2 large tomatoes chopped
1 large red onion finely chopped
Small handful of fresh coriander (cilantro)
1 tsp chili flakes
1 tsp chili powder
Squeeze of lime juice
Method
1. Make the tortilla – Preheat oven to 180 degrees and line a large baking tray with parchment paper. Combine the flour, water and chili flakes into a bowl and mix until a dough starts to form. Place the dough on the parchment paper, cover with a sheet of tin foil and using a rolling pin, roll the dough out to about 2mm thickness, you then remove the top layer of tin foil, sprinkle over the BBQ seasoning (or paprika) and pop in the oven for 10 minutes before removing and using a sharp knife slicing the dough into squares, I made about 20 from this mixture, then pop back in the oven, reduce the heat to 130 and let them cook for another 35 – 40 minutes until nice and crispy.
2. Now make the chili – Add 2 tbsp water to a large deep saucepan over a medium heat, add the onion, garlic, red & orange pepper and chili flakes and cook for 3 minutes before adding in the  cumin and paprika, mix everything so it's all well covered. Now add the lentils and beans and again give it a good stir to coat with the spices. You then want to add the passata, tomato paste, tin tomatoes and apple cider vinegar, mix through, add a little black pepper, cover and allow to cook on a low/medium heat for 25 minutes then it's ready.
3. While your chili is simmering away, make the guacamole, cut the avocados in half, remove the stones and spoon out the avocado flesh into a bowl, use a fork or a potato masher and mash until quite smooth, then mix through the red onion, garlic and lime juice, give it a good stir and pop in the fridge ready to serve.
4. Finally, make the salsa, add three quarters of the tomato and red onion to a food processor along with the chili flakes and coriander and pulse until it breaks down slightly, then add the remaining red onion, tomato, chili powder and a squeeze of lime juice and mix together.
5. To serve, ladle the chili into a bowl, add in some jalapenos, add a dollop of guacamole on top with a few tortilla chips on the side and I just kept my salsa and leftover guacamole in separate bowls so they could help themselves – job done!