We were pretty hungry yesterday after our visit to the beach. The boys braved the sea, but it's still way too cold for me, so I just relaxed on the beach, listening to some summer tunes (in actual fact, I just fall asleep, it's my default setting as soon as I close my eyes… makes yoga fun!)
Anthony likes Chinese style food, so I thought I'd make us a big old stir fry with a Kung Pao (or Kung Po) sauce, the dish was really tasty and quite spicy, my only addition to it would be to add a little more corn flour to thicken the sauce up (so bear in mind when you make this recipe, if you want it thicker add in another 1/2 tbsp of cornflour). I was going to make this with Soba Noodles (which you still can) but a request was made for rice so I aim to please my diners! I also made my favourite millionaire's shortcake yesterday afternoon, I think it is by far the best thing I've ever made, I just love it, addicted to it, I hear it calling my name from the fridge as I type…. I think I may have issues!
One of the lovely ladies at the gym is leaving next week, she is off to Switzerland to work, it will be sad to see her go, but it's exciting at the same time that she has this new chapter in her life, new faces, new lifestyle, I can imagine it's a little scary and exhilarating all at the same time, so I wish her the very best of luck and will be spying on her facebook to get a look at her new location!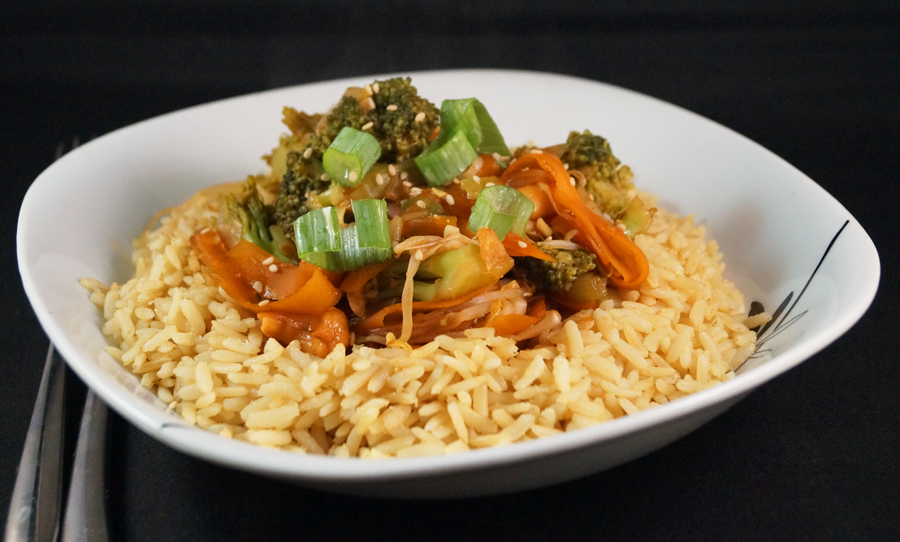 Kung Pao Broccoli with Brown Rice and a sprinkling of Sesame Seeds (Vegan & Gluten Free)
MyInspiration Feel The Difference Range
Serves 4 – ready in 45 minutes
1 large head of broccoli split into florets (you want quite a lot here, this is the main part of your dish so make sure there is enough for everyone.
1 can beansprouts (drained and rinsed)
2 large carrots peeled into long strips
2 large spring onion (scallions) finely chopped
For the sauce
3 cloves garlic
2″ cube of fresh ginger
2 hot green chillis
1/2 tbsp red chili flakes
1 tsp paprika
2 cups vegan stock
5 tbsp soy sauce
3 tbsp Mirin (or rice wine vinegar)
2 tbsp tomato puree
1.5 tbsp cornstarch (make sure gf) mixed with 2 tbsp water (remember if you want a thicker sauce add a further 1/2 tbsp of cornstarch)
To Garnish
1/2 cup cashews
Chopped spring onions
Sesame seeds
Method
1. First off, get your rice cooking. In a sauce pan add 2 cups of rice to 4 cups of vegan stock, bring to the boil, reduce heat to low, give it a good stir, cover and allow to cook for 15 minutes, stirring every now and again. Then turn off the heat and keep covered until ready to serve.
2. Now prepare the sauce. In a food processor (or use a stick blender like me) blitz together the ginger, garlic, green chili, chili flakes and tomato paste (when you do this and inhale it will catch you right at the back of the throat, it's smells ridiculously spicy, but when you add everything else in it balances out nicely so don't worry!) now add in the remaining sauce ingredients and give it a good stir. Taste it and see if it is to your liking, you can add a little more soy or mirin until it's just how you would like it. Set aside.
3. In a very large wok or a big deep sauce pan, heat 1/2 a cup of water, now add in the broccoli and shredded carrot and let this cook for 5 minutes then add in the sauce and the spring onions, stir this all together making sure that all the broccoli is well coated, cook this for 5 minutes, then add in the beansprouts and cashews and let cook for another 8 – 10 minutes.
4. To serve, add your rice to a bowl and spoon the stir fry in the centre, sprinkle over some more spring onions and the sesame seeds and serve immediately.