I've stocked up on my Kasha (toasted buckwheat groats), unbelievably tasty and unbelievably easy to make, it should be a staple in everyone's kitchen for a healthy and delicious meal option as it's a great source of protein and fibre! It's also ideal if you eat a gluten free diet as it's not actually a grain or a cereal and is actually a fruit seed. That's right, no WHEAT, no GLUTEN!
I've used this Kasha as a substitute for bulgur wheat and quinoa, I've used it in burgers and I'm going to have to try it out as a porridge now that I've seen so many recipes for it. I'm a Scottish lass and I love my porridge oats, but I would like to see what this tastes like as I'm intrigued! Oh and I need to have a go at making vegan Knish because they look delicious and I've never tried them before! See, such a versatile ingredient, it's a must for the kitchen cupboards.
So this Kasha Buddha Bowl (although technically it's not in a bowl I know!) is quick, delicious and so easy to make. You can add in whatever veggies you like, throw in some chopped red onions, green and yellow peppers, maybe some steamed broccoli, you get the idea, whatever you like the look of and if you are weary about wasabi, then just add a little wholegrain mustard instead, remember to do a taste test before pouring it over your dinner, nothing worse than finding something is too hot for you and you've already committed it to the dish!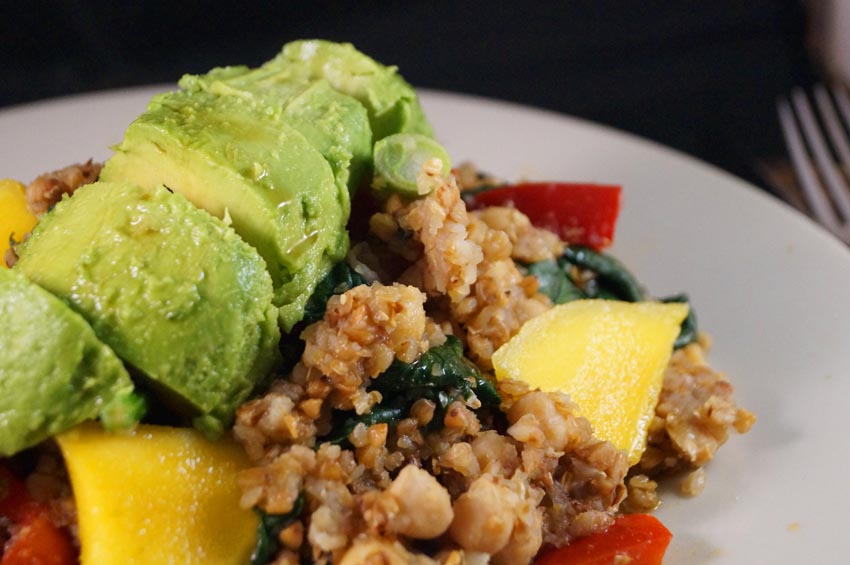 Kasha Buddha Bowl topped with Avocado & Mango served with a Soy & Wasabi Dressing (Vegan & Gluten Free)
MyInspiration Feel The Difference Range
Serves 2 – Ready in 35 minutes
1 cup dried Roasted Buckwheat Groats (Kasha)

2 cups veg stock

2 cups cooked chickpeas

2 Red peppers (capsicums) diced

2 packed cups fresh Spinach

1 Avocado peeled and sliced

3 Spring onions (scallions) chopped

1 mango peeled and sliced
For the dressing
1 tsp Wasabi paste

2 tbsp Soy Sauce

1 tbsp Mirin

Juice of 1 lime
Method
Start with the buckwheat: Add the groats to a pan along with the veg stock, turn the heat on to a medium setting and simmer for 15 minutes or until the stock has been absorbed.

While the buckwheat is cooking, add your cooked chickpeas to a large sauté pan over a medium heat and just heat them through, giving the pan a shake every now and again to stop them from burning.

To make the dressing, just add all the ingredients into a bowl and whisk together.

Now, take a nice big mixing bowl and add the cooked buckwheat and chickpeas and then throw in the chopped red pepper, spring onion and spinach and toss this together. The spinach will wilt in the warm mixture. Spoon onto your serving plate, top with the slices of avocado and mango and finally drizzle over the dressing and serve.