Straight off I'm just going to tell you that the Avocado Aioli is one of the most delicious things I've ever had and that even beats marzipan. When I tasted it to make sure it was seasoned properly, my knees went weak…. it's that good! Coupled with these jerk burgers it's a great meal for any time of the week and you could use the aioli with a veggie chili, salsa and some nacho chips (which is what I might be doing very soon).
I set up my photo light box to take the photos for these burgers and wow does it make a difference, before I was getting all kinds of shadows, especially when I took photos out front in the sunshine, I just couldn't get my head around how all these other people managed to take such wonderfully lit photos without the shadows… well now I know! So my kitchen is now a place to create food and also looks like a mini photo studio!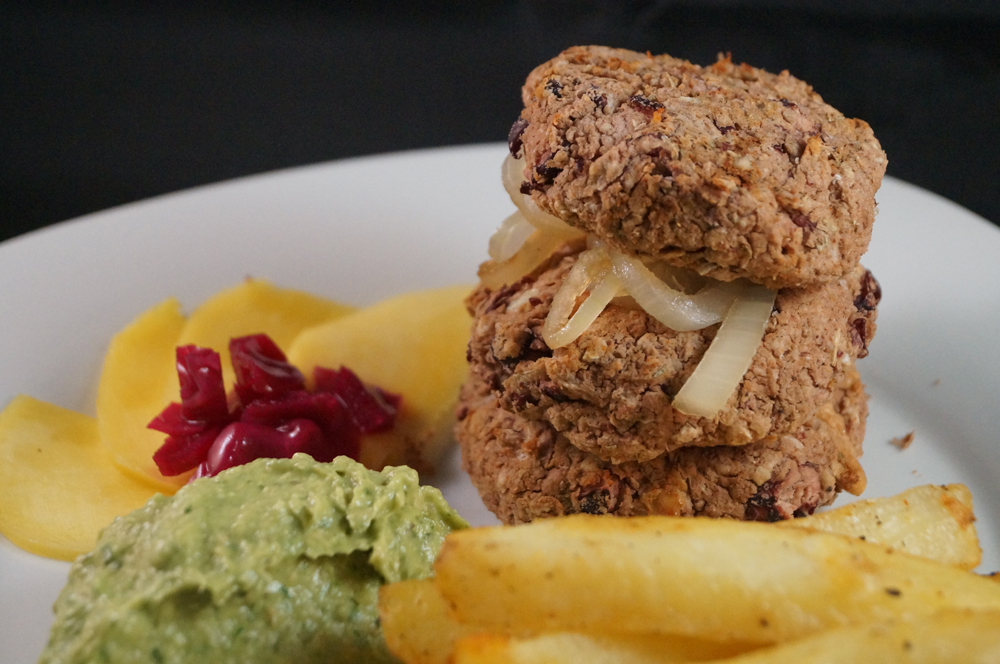 Jamaican Jerk Burger, Sliced Mango, Caramelised Onions and Avocado Aioli (Vegan & Gluten free)
MyInspiration Feel The Difference Range
Serves 2 – Ready in 35 minutes (unless your making your own fries then it's about 50 minutes)
For the burgers
1 can cannellini beans, drained and rinsed (or 1/2 cup dried beans soaked for 4 hours and cooked)
1/2 can red kidney beans, drained, rinsed  and roughly chopped (or 1/4 cup dried beans soaked for 4 hours and cooked)
1/2 cup walnuts (plus 6 walnut halves finely chopped)
2 cloves garlic, minced
1/2 onion, finely sliced
1/2 cup oats (make sure GF)
Jerk seasoning (see below)
For the jerk seasoning
1/2 tbsp dried thyme
2 tsp cayenne pepper
1/2 tsp all spice
1/2 tsp cinnamon
1/2 tsp black pepper
For the Avocado Aioli
1 rip avocado (remove stone and scoop out the avocado meat inside)
1/4 cup cashews
1 tbsp lemon juice
1 clove garlic, minced
1/4 cup fresh coriander
1 tbsp chopped jalapeno chili peppers
Black pepper to season
Garnish
Caramelised onions – 1 onion plus 1/2 tbsp natural brown sugar
Half a mango sliced
Method
1. If you are making wedges or fries prepare them now, if not then preheat the oven to 180 degrees celcius and line a large baking tray with parchment.
2. In a food processor combine all the burger ingredients apart from the oats and the 6 walnut halves and pulse until all broken down, then stir through the jerk seasoning, making sure it's combined well, then stir through the oats, chopped walnuts and kidney beans. (If the mixture is too wet to handle, then add a few more oats until you can work with it) get in there with your hands and make 6 medium sized burgers, pop them on the baking tray and bake in the oven for 20 – 25 minutes, turning half way.
3. Now prepare the aioli by popping all the ingredients in a food processor and pulse until smooth, taste it before adding any pepper and it's done.
4. Once the burgers are nearly cooked, take a saute pan, add 2 tbsp water and over a medium/high heat cook the onions, adding in the sugar and cook for a further 3-4 minutes (the onions are optional, I just thought they'd go well with the burgers and they did, although next time I might try it with red onion instead.
5. Pop your burgers on a plate, top with the onions, give a generous helping if the avocado aioli and put a few slices of the mango on the side (I popped a little pickled red cabbage on my mango for a little bit of colour)