My Christmas present (a watch I've had my eye on) finally arrived yesterday woo hoo! Better late than never. It arrived along with my Christmas card from my mum who posted it on 10 December, thanks mum. Only thing is, I still can't wear the watch as I need to get a few links taken out, it's massive, but so pretty!
I've been looking at tiny houses and house boats again, some of the designs you see are just amazing, the use of space is excellent and looks practical and oh so cosy. I quite like the house boat idea where you can just travel around, meet new people, see new places and still have your own home to go back to… a girl can dream can't she?
Onto dinner last night, I wanted to try something a bit different. It could have gone horribly wrong, the flavours might not have worked together, but luckily (I'm so pleased) they went delightfully well, it was really tasty and the consistency of the en croute filling was perfect. I opted to make a gravy just in case… because really… what's mash without gravy?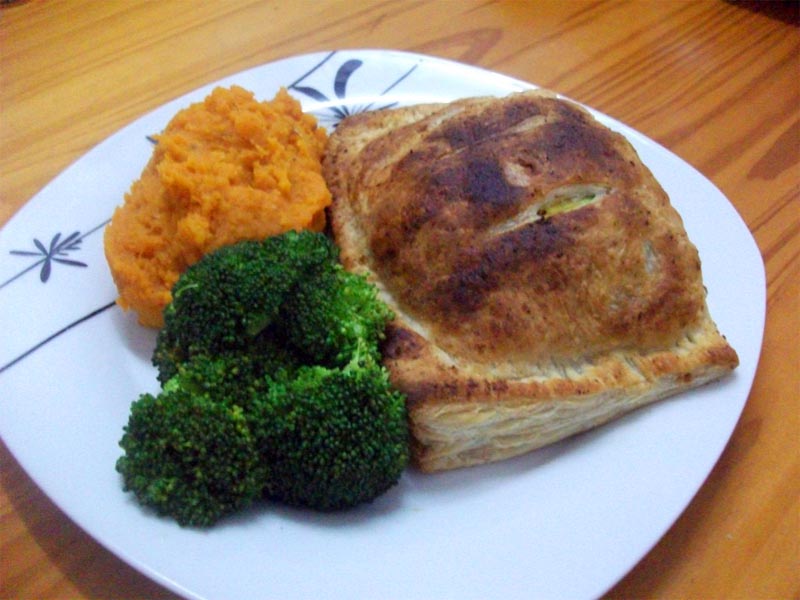 Individual Chickpea, Spinach & Avocado En Croute served with Rosemary Sweet Potato Mash & Broccoli (vegan)
MyInspiration Feel The Difference Range
Serves 2 as a main meal
For the En Croute
1 can chickpeas (drained and rinsed)

1 onion chopped finely

2 cloves garlic minced

½ tbsp olive oil

2 cups spinach, rinsed, wilted & chopped (I pop the spinach in a colander and pour over a pint of hot water)

2 tsp cumin

½ tsp mustard powder

1 tbsp basil

½ an avocado peeled and sliced (about 3mm thick)

Black pepper to season

200g Jus Rol Puff Pastry

Coconut milk (or whatever milk you have) to brush pastry
Method
 

Preheat oven to 180 degrees and line a baking tray with parchment

 

Heat the oil in a deep frying pan over a medium heat and sauté the onion and garlic for 2 minutes, then add in the chickpeas and spices and stir together making sure everything is coated. Using a potato masher, roughly squash the chickpeas then add the spinach and black pepper at the last minute and fold through the mixture, remove from heat.

Cut your pastry in half so you have 2 blocks and on a floured surface roll out the pastry into a long rectangle about 20cm x 35xm (which leaves room to trim pastry).

Spoon the chickpea mixture onto the top half (furthest away from you) of the pastry, using your hands press it down to compact it, top this with 4 – 5 slices of avocado over the top then brush the sides of the pastry with coconut milk and fold the pastry over the top of your mixture and seal using a fork to press down the edges, take a sharp knife and trim the edges for presentation. Make 3 thin slices on the top of your En Croute and brush over with coconut milk. Repeat with the other half of the pastry and pop both on the baking tray and bake in the oven for about 15 – 20 minutes (keep an eye on it to make sure the pastry doesn't burn).
Rosemary Sweet Potato Mash
2 medium sweet potatoes peeled and diced

1 – 2 tbsp coconut milk

Big pinch of dried rosemary

Black pepper to season

1 tbsp vegan margarine
Method
Bring a pot of water to the boil and add your sweet potatoes, allowing them to cook until just softened, drain then add the remaining ingredients and mash together. Use enough milk to get the mash the consistency you would like.
Optional Gravy
500ml veg stock

½ tbsp corn flour (mixed in 1 tbsp water)

Black pepper to season

1 tsp thyme

½ tsp garlic powder

½ tsp ginger powder

½ tsp cumin
Method
In a sauce pan combine all the ingredients and stir together, allow to cook for 5 – 10 minutes, gravy should thicken up whilst cooking.