Told you it was a baking weekend! To be honest though, I haven't actually been scoffing cookies and muffins all weekend, I made these early last week and just haven't had the time to pop the recipe on, hence all the sweet stuff this weekend! I've still got another cookie and a muffin recipe to add from 2 weeks ago… I'll catch up soon, don't want to overload you with all the desserts!!
So, back to these cookies… in a word, they are just scrumptious, and remember if you don't have pineapple in, then just go for some cranberries, dates or apricots, whatever dried fruits you have in will be lovely, don't be shy to try different combinations out, you might come across your all time favourite cookie combo experimenting this way!
I've been using Rye flour but for all the gluten free peeps, just sub this for Buckwheat like I normally use… still not had a restock of buckwheat flour at my store – boo… or just use your favourite flour for baking. Rye flour for those who can use it, is surprisingly lovely in baking both cookies and cakes/muffins, I've been quite impressed.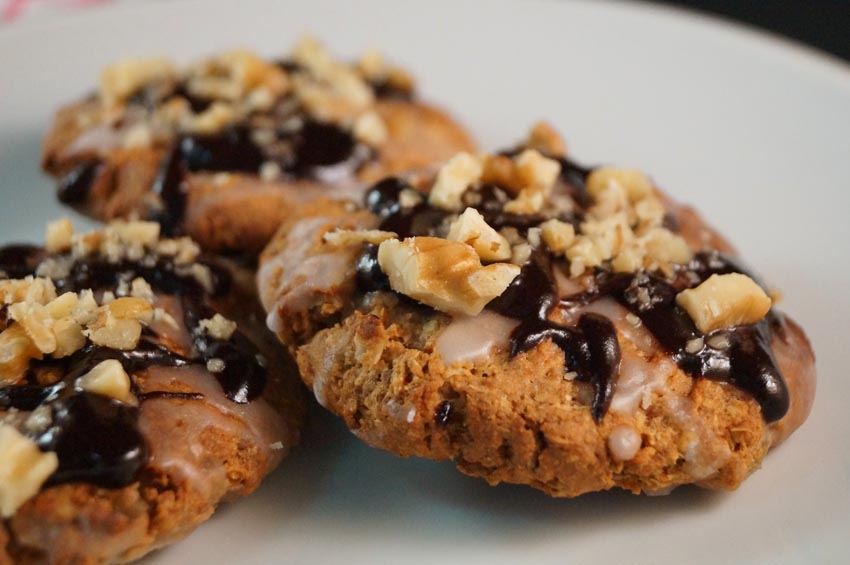 Iced Pineapple Cookies topped with Crushed Walnuts and chocolate Drizzle (vegan & gluten free option)
MyInspiration Feel The Difference Range
Makes 6 cookies – ready in 45 minutes
1 cup Rye flour (for GF use Buckwheat or Rice flour)

2 tbsp Margarine ( I used Vitalite Dairy free)

1 tsp baking powder

3 tbsp Maple syrup

2 tbsp coconut

1 tsp Almond extract

8 dried pineapple chunks (about 1.5 rings) chopped
3 tbsp icing sugar (make sure vegan – I use tate & lyle)

1/4 almond extract

1/2 tbsp water
30g Dark vegan chocolate

4 walnuts crushed
Method
Preheat oven to 180 degrees celcius (356 degrees Fahrenheit) and line a baking tray with parchment.

In a mixing bowl mix together the margarine, maple syrup and almond extract until it's all combined, then add in the flour, baking powder, coconut and dried pineapple chunks and again beat this together until everything is well mixed, if the mixture is too dry then add a 1/2 tbsp of non dairy milk. Take heaped tbsp of the dough and roll into a ball and pop on the baking tray, I then used a fork to gently flatten the cookies out. Pop in the oven for 15 minutes until lovely and golden. Remove from oven and cool.

For the icing, mix the icing sugar, almond extract and water together in a bowl and then using a teaspoon drizzle this over the cooled cookies. Melt the chocolate in a bain marie and again using a teaspoon drizzle this over the top of the icing and then sprinkle over some crushed walnut, let it set and you're good to go!