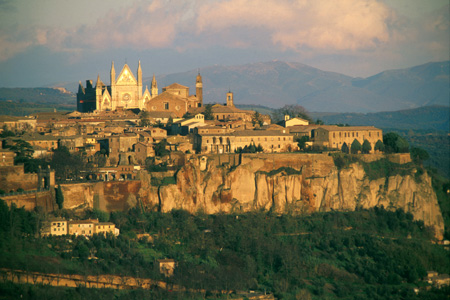 Well it's only 33 days until we set off for our Italy road trip. We've short listed our itinerary now and I am so looking forward to getting back to Italy and exploring.
We're flying into Pisa and staying in an old monastery for 2 nights, the first day we'll just take ourselves out and see what we can see.  On our second day we're planning on heading up to Lucca for a bit of sightseeing, then back to Pisa and take a stroll along the Lungarno, visit the Botanical Gardens, take Martin to see the Leaning Tower etc.
From Pisa we'll take the train to Florence for a few hours (been before, so just want to visit the Duomo again and the Ponte Vecchio), back on the train to Orvieto (pictured above) where we'll be staying over for the night, we'll then spend the next day going to visit the underground city and the Orvieto Cathedral (Duomo) amongst other things. (I've always wanted to go to visit Montepulciano, but on this trip it's not really feasible, so Orvieto seems like a wonderful alternative).
For the last leg of the trip we'll jump on the train down to Rome where we're spending 3 days.  We've found a fabulous little apartment which we'll use as a base and then grab our sunglasses, sense of adventure and hit the streets of Rome!!
One of our days there is reserved for taking a trip to see Ostia Antica and another day and a half for the Vatican and Sistine Chapel, Trevi Fountain, Spanish Steps, Colosseum and whatever else we can fit in to our time there.
Now… here's where the planning got a little more scary for us.  Travelling is not a problem, but what was concerning us, just a little, was how to incorporate our clean vegan diet into an Italy trip.  I'm already learning all the lingo for no meat, milk, cheese etc, Rome won't be a problem as we have our own apartment so I can cook our meals there or there is a great restaurant, Pastarito, on the corner of our street where I can get me a wholewheat penne arrabbiata (extra chilli!) they also do a few other pasta dishes that fits in with our diet.  Pisa will also be fine as there's a lovely Indian restaurant (Roma Street), I love Indian food and the choice is great for vegetarians and vegans alike. so really it's all down to Orvieto, I might just opt for the arrabbiata as a back up plan for everywhere.
So now I can truly relax and start getting into full holiday mode.  We're travelling super light, so just hand luggage, so I am picking my outfits very carefully to make sure I have some fabulous outfits to wear whilst I'm sightseeing and people watching in beautiful Italy!
Did I mention I was excited??