We've been scouring the internet looking for some delicious meals that we can incorporate into our clean, vegan diet and there is such a plethora of information out there that it's getting harder to choose from so many wonderful recipes.
One of our dishes last week was from holycowvegan.net where the title was Fat Free Burrito Bowl, we changed it slightly but the result was just as tasty as the original recipe (albeit with some fat in it!)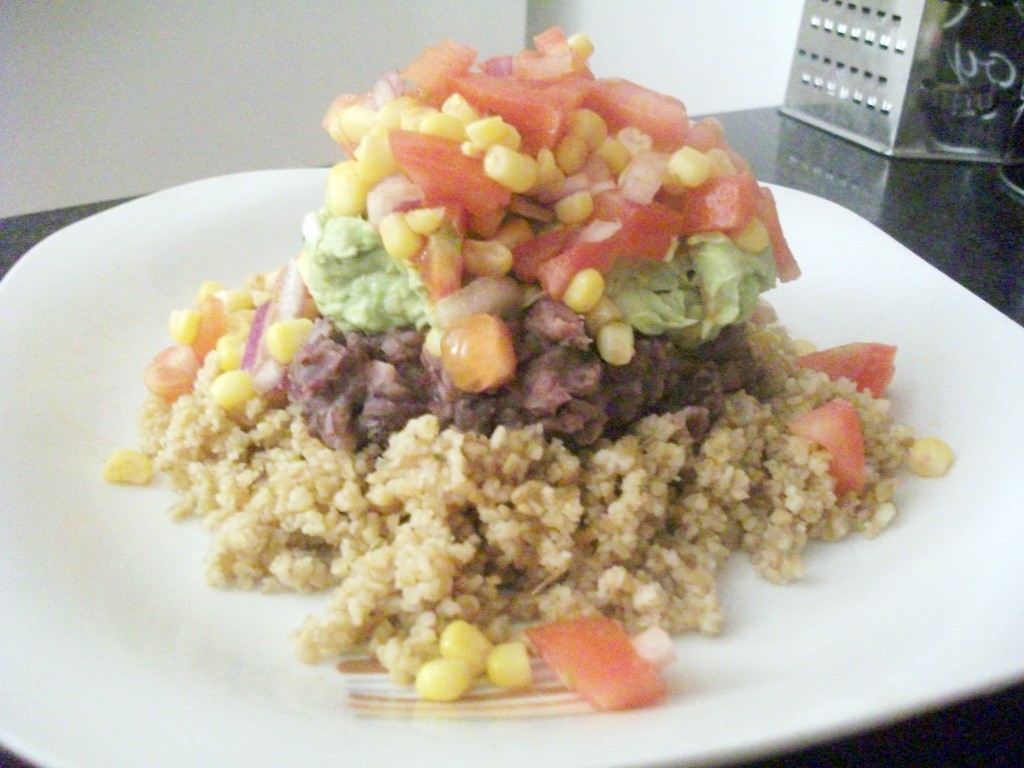 Recipe for Burrito Bowl (serves 2 as  a big meal)
Bulgar Wheat
Ingredients:
1 cup bulgar wheat
2 cups vegetable stock
1 cup packed coriander
Juice of 1 lemon
Bring the veg stock to the boil and then add the cup of bulgar wheat, cover it and let it simmer for 5 minutes and then remove from the heat and leave for about 20 minutes.
Before serving stir through the lemon juice and coriander.
Refried Beans
Ingredients:
1 can kidney beans cooked
2 x 1/4 cup vegetable stock
1 large onion, finely chopped
3 cloves garlic, minced
1 tbs chopped jalapenos
Salt and ground black pepper to taste
Heat the 1 of the ¼ veg stock in a saucepan. When it simmers, add the onions and garlic. Saute until the onions are soft and the stock has evaporated.
Add the beans and the jalapeno chilli. Add the 2nd ¼ cup of veg stock and bring to a boil. Lower the heat to a simmer and using a potato masher or a heavy ladle, mash the beans.
Add ground black pepper, if desired
Let the beans cook until most of the water has evaporated. You don't want the beans to dry too much because they will thicken further on standing– keep the mixture a little soupy.
Guacamole
Ingredients:
1 small Avocado
1 jalapeno pepper, minced (deseed if you want to reduce the heat)
1/2 red onion, finely minced
1 garlic clove
1 tbsp lemon or lime juice
1/4 cup chopped coriander leaves
De-stone the avocado and spoon out the flesh of the avocado into a bowl, add in the red onion, chopped garlic, lemon juice and coriander and mix well.
Tomato-Corn Salsa
Ingredients:
1 cup frozen sweet corn (use fresh if you find it)
1 large tomato, cut into a small dice
2 tbs jalapenos finely minced
1 tbsp lemon juice
1/4 cup coriander leaves, finely minced
Cook the corn in boiling water until just tender. Strain and add to a bowl.
Add the rest of the ingredients to the bowl and mix thoroughly.
To serve, layer the bulgar wheat, beans, guacamole and salsa. Enjoy!
We had large portions for our whole main meal which comes to 628 calories and we love avocado so didn't mind having the good fat in there (it's only once in a while!)
Many thanks Holycowvegan.net – original recipe here