Every now and again, you can't go far wrong with a good old pie and this Ale (vegan) and mushroom pie is packed full of flavour, it was an instant hit in this house. I had some Jus Rol puff pastry left over from the En Croute we had the other week, so thought this would be a good idea to use it up.
Funnily enough, we watched a movie "It's Complicated" and there was a scene where they were making chocolate croissants and it showed you how to roll a croissant, well I was fascinated and had to keep a little square of pastry over to make a couple of mini croissants using my Hotel Chocolat Orange Chocolate (vegan), it turned out well, although I've realised I didn't bother taking a photo, I was too excited with mushroom pie!
With this recipe, you don't have to encase the whole thing in pastry, if you wanted you could just do a pastry topper, but I do like the full pie (it's the Scottish in me!) so that's what I went for, but both work perfectly well but just using a pastry topper would cut the calories quite a bit.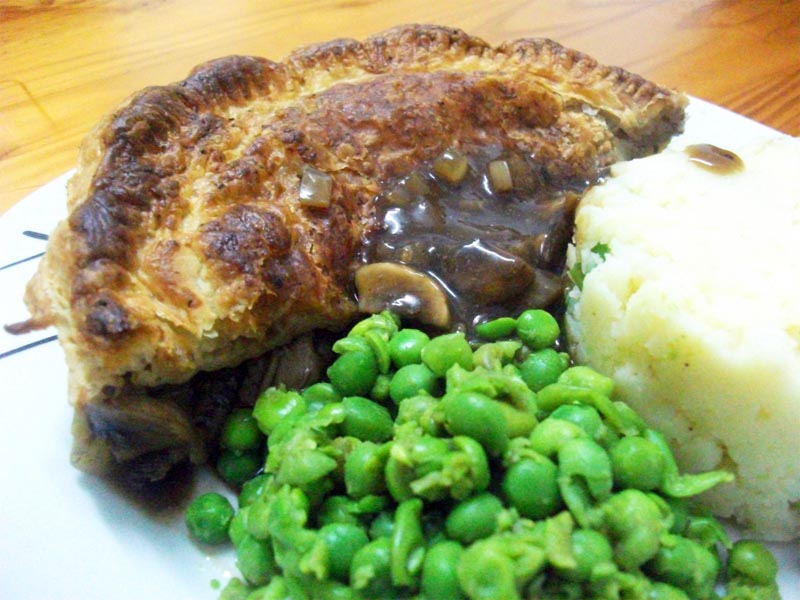 Ale & Mushroom Pie served with Spring Onion Potato Mash and Balsamic Garden Peas (vegan)
MyInspiration Feel The Difference Range
Serves 2 hungry people or 4 light dinners
1 medium onion, diced

8 button mushrooms chopped

2 small portobello mushrooms

4 oyster mushrooms

2 cloves garlic, minced

1/2 tsp dried thyme

1tsp black pepper

2 cups Ale (check http://www.barnivore.com to make sure it's vegan)

1.5 tbsp cornflour

2 tbsp balsamic vinegar

2 tbsp soy sauce

2 tbsp nutritional yeast (optional)

1 tsp thyme

1 bay leaf

250g puff pastry (I used Jus-Rol)

Soy milk, for brushing pastry
Method
Preheat oven to 180 degrees

In a sauté pan, heat 2tbsp water and add the onion and garlic and cook for 3 minutes until soft, then add in the mushrooms and thyme and stir to combine.

Next, add the ale, vinegar and soy sauce, nutritional yeast and the bay leaf and allow to simmer for 10 minutes (the mushrooms will start to bread down a little).

In a small glass combine the cornflour with 2 tbsp of the ale and mix thoroughly before adding into your mushroom mix and quickly stir (it will thicken up your sauce quite fast) season with black pepper and turn off the heat.

 

On a floured surface, cut your 250g block of pastry in half and roll out to about 2 – 3mm thickness and using one half, line a 9" round cake tin, making sure there is a little extra rolling off the edges.  Spoon your mushroom mixture into the pie casing and take the 2

nd

half of the pastry block, roll it out, brush the edges with some milk and layer it on top of your pie and pinch the edges in.  I then took a fork and pressed down the edges to seal. Take a sharp knife and very gently score the top of the pastry with a cross, brush over with some soy milk and pop in the oven for 15 – 20 minutes.
Spring Onion Mash
4 medium potatoes peeled and chopped

2 spring onions chopped

Black pepper

2 tbsp soy milk

1tbsp vegan margarine
Method
In a pan of boiling water add your potatoes and allow to cook for 15 minutes until soft. Remove from heat, drain and mash with the margarine, soy milk and pepper, then sprinkle in the spring onion and stir through.
I served this dish with a side of balsamic peas – 1.5 cups of frozen peas, 1 tbsp balsamic vinegar. (Add the peas to a pan of boiling water and cook for 10 minutes, remove from heat, drain, lightly crush with a fork, then mix through the balsamic).