Yet another recipe I have been keeping in reserve for when I'm travelling and this dish is just delicious, I did however forget my splash of contrasting colour on the plate, but I think it still looks pretty tasty.  The polenta bites were inspired by the dish we had in Bologna, grilling the squares really crisped them up (without any need for oil which I thought was great), we had a few left over, as always, and had them with lunch the next day, I love bonus dishes like that! (I've modified the recipe for the polenta so yields half of what I made in case you don't want leftovers!)
I've been out for a family BBQ today, would you believe that this is the very first BBQ that my clan has ever had together, we packed up the picnic blanket, deck chair for mum, some fruit ciders, veggie pakora and a cheeky punnet of strawberries  for me, yummy!  Kiddies Cricket bat and ball, football, sense of adventure and we were off to the beach, what a beautiful day and some great photos of the family.
I also had my first Zumba class yesterday which was a lot of fun, sweaty but thoroughly enjoyable, somewhere along the line I seemed to lose all sense of co-ordination, but it's unlikely I'll see any of the other people again, so I gave it a good go!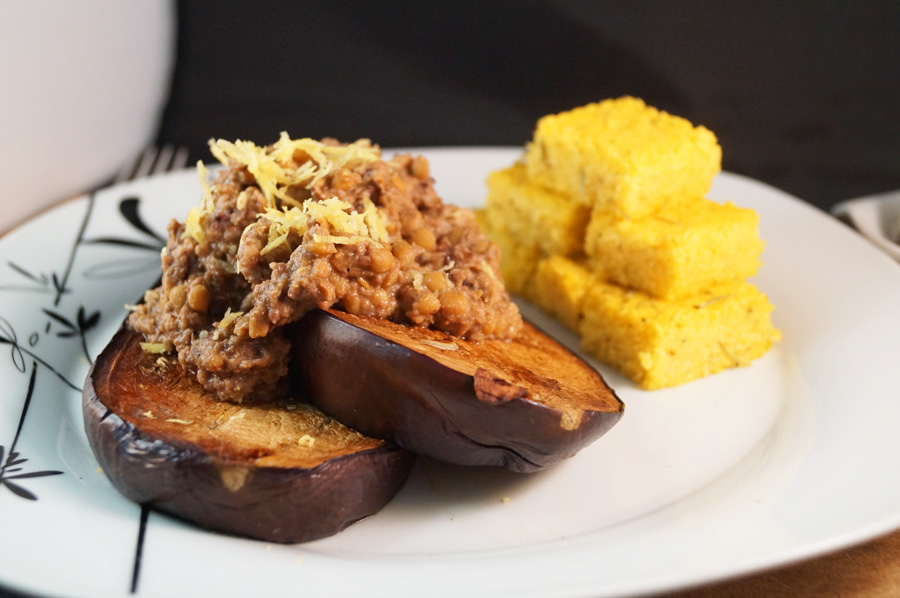 Grilled Marinated Aubergine Steaks topped with Black Olive and Lentil Tapenade served with Rosemary Herbed Polenta Squares (vegan & gluten free)
MyInspiration Feel The Difference Range
Serves 2 – Ready in 40 minutes
For the Tapenade
1/2 cup pitted black olives

1 can brown lentils drained and rinsed

2 cloves garlic finely sliced

1/2 tbsp balsamic vinegar

1/2 tbsp water

1 tsp wholegrain mustard

1/2 tbsp lemon juice

Black pepper to season
For the Aubergine
2 large aubergines sliced length-ways into chunky slices

3 tbsp balsamic vinegar

2 cloves garlic very finely sliced

Black pepper
For the Polenta Bites
1 cup polenta

2 cups vegan stock

1/2 tbsp dried rosemary

2 tsp dried basil

Pinch black pepper
Method
First of all prepare the marinade for the aubergine by mixing together the balsamic vinegar, garlic and black pepper in a shallow dish, then take your aubergine slices and pop them in the marinade, soak both sides then pop onto a baking tray and set aside.

Now for the Polenta, add the vegan stock to a medium sauce pan and bring the to the boil, then add the polenta, basil, rosemary and black pepper and stir straight away until the polenta smooths out and starts to thicken, keep stirring for a minute, remove from heat and pour the polenta into a lined baking tray and set aside.

Turn on the grill and the pop the aubergine and the polenta into the oven and let this cook for around 10 minutes, turning half way through, keep an eye on it to stop it from burning.

While the aubergine and polenta are grilling you can make the tapenade. Add all the ingredients (reserve 3 tbsp of the brown lentils) to a food processor and pulse until the mixture starts to break down, then stir through the other 3 tbsp lentils, just to give it some nice texture. Add this mixture to a small sauce pan and over a low heat just warm it through.

To serve, put the aubergine steaks onto a plate and top with the tapenade and pop the polenta bites on the side. (I grated some lemon zest to go on top of the tapenade too)
** Point to remember, the dish pictured above is purely so you can see the ingredients, I added another aubergine steak on there along with a few more polenta bites… I'd be a very hungry lass if that was all I had for dinner.