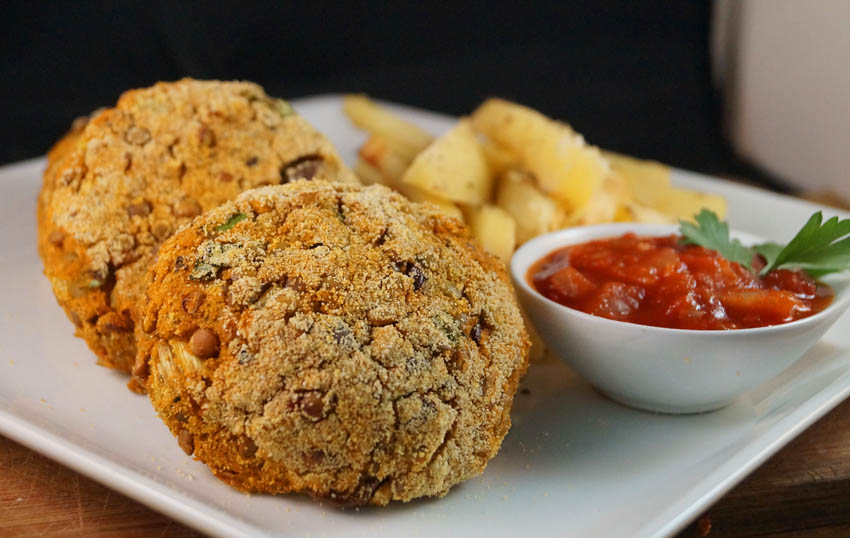 Right away I'm going to tell you that I had other plans for these burgers, they were supposed to be stuffed with (drum roll please…) avocado. Just a nice slice of avocado stuffed into the centre before baking. But, and this is due to my lack of planning, there was not a ripe avocado in sight! So I'll try it next time, but if you do fancy adding it into this recipe then you go for it! Please also note that these are soft burgers, so be gentle with them.
I know there are a lot of people who are not fans of olives, but just give it a try, they give the paste a delicious flavour and mixed with the sun dried tomatoes and spring onions, woo, it's amazing. I had one of those moments when you taste test something and then have to leave the kitchen a moment to stop yourself from eating the whole thing before it makes it into the burger mixture!! This recipe will probably leave you with a few burgers left over, so just pop them in tupperwear and pop in the fridge for tomorrow's lunch. I also made my own fries, but if you've got some oven chips in, then go for it.
The hot sauce was "hot" as the name indicates, but not blow your socks off hot, but I would suggest to anyone to perhaps start off with 1tbsp of the jalapenos and go up from there until you are happy with the kind of heat the sauce gives you. Don't ruin your dinner with a sauce that makes your eyes burn, I've done that a few times when I haven't taken the time to taste test , so I have most definitely learned from my mistake!
Gourmet Veggie Burgers with Hot Sauce and Fries (vegan & gluten free)
MyInspiration Feel The Difference Range
Serves 2 – Ready in under an hour
2 cups cooked brown lentils (or 1 can lentils)
1 large potato boiled and mashed
¼ cup sliced black olives
2 spring onions chopped
2 cloves garlic finely sliced
4 sun dried tomatoes (I had jarred tomatoes so I washed the excess oil from them) chopped
½ white onion finely chopped
1 tsp turmeric
½ tsp black pepper
2 tbsp tomato paste
1 tbsp chia seeds with 3 tbsp water
½ polenta plus another ¼ cup for coating the patties
Hot Sauce
½ onion finely chopped
2 garlic cloves finely chopped
2 tbsp chopped jalapenos
1 tbsp red wine vinegar
1 tbsp paprika
2 tbsp tomato paste
Juice of ½ a lime
1 tsp soy sauce
½ cup water
Fries
2 large white potatoes
Black pepper
Pinch of salt (optional)
Method
Preheat oven to 180 degrees celcius (356 degrees Fahrenheit) and prepare 2 baking trays.
Start off with your fries – Peel and chop your potatoes, add 1 tbsp of water to a baking tray, throw in the chopped potatoes, give a good sprinkling of black pepper and a pinch of salt (or even some paprika if you have it to hand) and pop into the oven for 30 – 35 minutes, using a spatula turn the fries every 5 – 6 minutes to avoid them sticking. (Because I don't use any oil, the colour of the fries are pale but they are cooked and lovely and crisp on the outside whilst fluffy on the inside).
Burgers: Peel and chop your potato and pop in a pan of boiling water for 10 minutes, drain and mash.
Add the garlic, olives, sun dried tomatoes, tomato paste and onion to a food processor (or use a stick blender like me) and pulse until a nice paste forms, now stir through the turmeric and black pepper.
In a large mixing bowl combine the cooked lentils, paste from step 3, spring onions, mashed potato, chia mixture and ½ cup of polenta, stir this all together. (If the mixture feels too wet, add another ¼ cup of polenta). Now grab a good handful of the mixture and shape into a large pattie, really squeeze it together to bind it, toss this in a little polenta and pop on the baking tray lined with parchment (you should get 8 burgers easily) place in the oven and bake for 12 – 15 minutes until slightly firm to the touch (remember that these are soft burgers).
Hot sauce – Add 1tbsp of water to a sauce pan over a medium heat and add in the onion, garlic and half the jalapenos, cook for 2 minutes before adding in all the remaining ingredients and cooking for 6 minutes. Take a stick blender and blend this mixture until almost smooth (don't worry if there are a few chunks of onion or garlic, just adds to the consistency) REMEMBER TO TASTE TEST before adding in all the jalapenos.