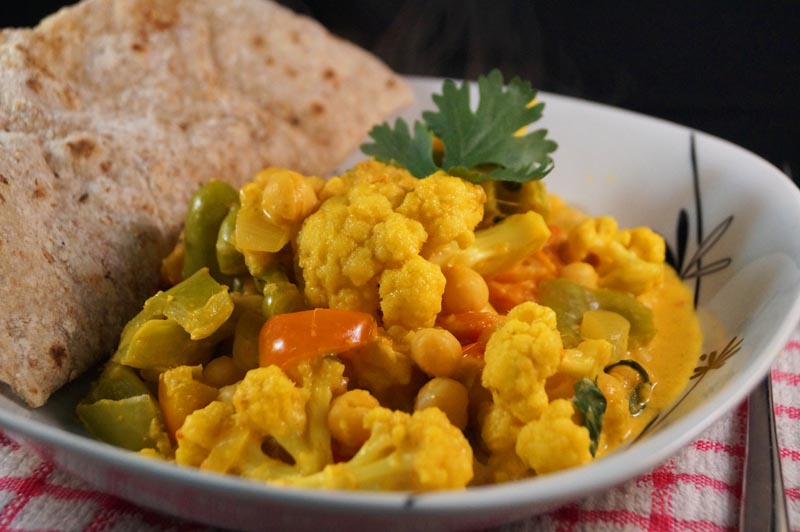 I bought a brand new frying pan the other day, a beautiful non stick whopper to replace my tired 9 year old pan, which I have placed in semi retirement. I can't throw it out as it's served me well and can still be used for everything else that doesn't require non stick. However, the new pan, woo hoo, I'd forgotten what it was like not to have to get the spatula and chisel my pancake mix or stir fry veggies off the bottom. So to honour the new arrival, I wanted to make some chapatis (and now that I've written this sentence, I now want pancakes… I'm so suggestible!). I was so pleased with how the chapatis turned out, they were perfect, surprised myself a bit!
I used coconut milk in my curry sauce, it tasted just beautiful and the great thing about this recipe is you can add whatever veggies you have in and need to use up, in my case it was the cauliflower from the other day. You can add aubergine (eggplant) broccoli, spinach, sweet potato etc whatever you like, but this combination of cauliflower, chickpea and peppers did work well for me. The cauliflower really takes on the flavours of the sauce.
Yoga was a scary business this morning, she had us doing headstands into crab positions, I can't do a headstand without the wall behind me for support and I can't do a crab (legs bit I can do, just can't push my arms up yet!) but with a little, okay a lot of assistance from Soula (our instructor) I did it! I just need her to grab my legs every time I do it from now on…. not sure she'll go for that!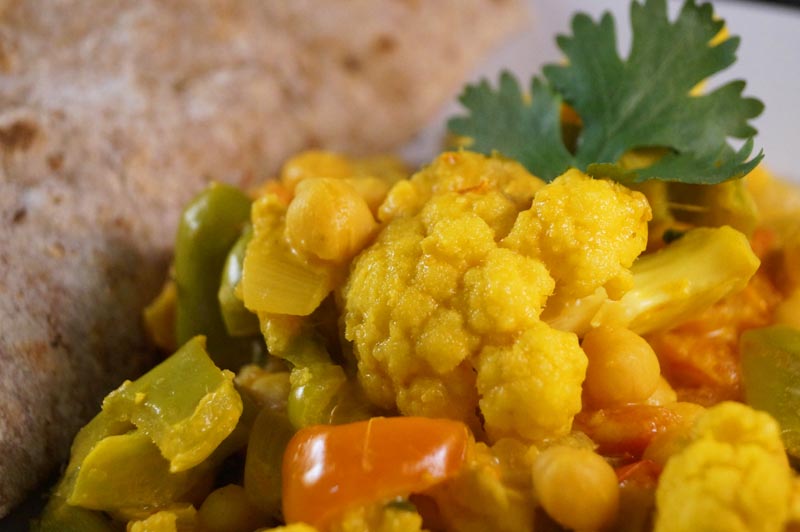 Goan Vegetable Curry with Spiced Chapatis (vegan & gluten free)
MyInspiration Feel The Difference Range
Serves 2 – Ready in roughly 30 minutes
For the curry
1 + 1/4 cup canned coconut milk
2 cloves garlic finely chopped
1 onion finely chopped
1/2 inch cube of ginger finely chopped
1/2 tbsp chili flakes
1/2 tbsp tamarind paste
1 tsp turmeric
1 tsp cumin
Small handful of fresh coriander
10 cherry tomatoes, halved
1 can chickpeas drained and rinsed
2 cups of chopped cauliflower
1 green pepper (capsicum) chopped
For the chapatis – Makes 4
1 cup wholewheat flour (or you can use chickpea flour or your favourite GF flour)
1/4 cup non dairy milk (I used Alpro Almond Milk) mixed with 1/4 cup water (so 1/2 cup of liquid altogether)
1 tbsp olive oil
1/2 tbsp chili flakes
Method
Start the curry: Add the garlic, ginger, chili flakes and half the chopped onion to a food processor (or use a hand blender) and pulse until you get a nice paste. (keep a clean tea towel close by, my eyes started watering quite a bit from the onion)
Heat 2 tbsp water in a deep saucepan over a medium heat, then add in the paste from step 1 along with the remaining chopped onion, tamarind, turmeric & cumin and cook for a minute. Pour in the coconut milk, add the chopped tomatoes, chickpeas, pepper and cauliflower, mix it all together making sure everything is well coated, turn heat down to low, cover and leave to cook for 20 minutes, stirring occasionally then before serving add in the fresh coriander and stir through.
Now make the chapatis: In a mixing bowl add the flour and chili flakes then stir through the olive oil and the milk/water mixture until the flour starts to come together to form a dough, get in there with your hands to bring the dough together into a ball and turn out onto a floured surface and knead for a few minutes then roll into a thick sausage shape. Cut this into 4 balls and take you rolling pin and roll each one out until it's about 2mm thick.
Heat a non stick pan over a medium/high heat, wait for the pan to get hot then add one of the chapatis to the pan, leave for 30 – 40 seconds then flip over the other side for 30 seconds, pressing lightly with a spatula to make sure the base cooks properly, you might get little air bubbles and brown spots, which is perfectly normal, pop the cooked chapati on a plate and repeat with the the remaining chapatis.
To serve, I just spooned the curry into a bowl and popped a chapati on the side and served it with some mango pickle. Scrumptious!