I wanted to have a go at some Greek/Cypriot cuisine and had seen grape leaves in the fruit market so just had to make some dolmades. The sauce for this dish was just delicious and could actually be used on a variety of different meals, I also served the leftover quinoa salad for lunch the next day which was equally as tasty. So if you run out of grape leaves don't despair.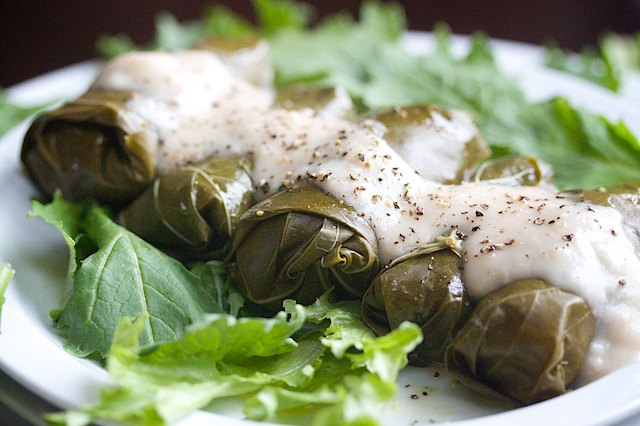 Dolmades stuffed with Quinoa Salad
Vegan and Gluten Free
24-30 grape leaves, you can use fresh or jarred (if using jarred drain and separate) for fresh soak in hot water for about 10 – 15 minutes then drain and cut off the stems.
For Filling:
1 cup quinoa cooked in 2 cups vegetable broth according to package
2 cups diced tomatoes
2 cups cooked chickpeas, pulsed briefly in food processor until crumbly
1 tbsp extra virgin olive oil
1 tbsp lemon juice
1/4 cup minced fresh mint leaves
1 shallot, minced
For Sauce:
1 1/2 cups cooked Cannenelli beans (about 1 can, drained and rinsed)
2-3 tbsp lemon juice
1/2 -3/4 cups water to thin
1. Let your cooked quinoa cool slightly and then toss with tomatoes, pulsed chickpeas, olive oil, lemon juice, mint leaves, minced shallot and salt.
2. Scoop a little bit of the mixture and put it in the middle of the grape leaf. Carefully wrap the leaf, fold the stalk end over the filling, then the left and the right sides into the middle and wrap it tight. The tighter the better when wrapping, but use caution not to break the grape leaves–gentle but firm is always my favorite approach.
3. Repeat until all filling is used up or grape leaves are gone, whichever comes first. Your quantities may differ depending on the sizes of your jarred grape leaves.
4. To Make Sauce simply puree beans with lemon juice and a little water until smooth. Add enough water to make a runny, yet still slightly thick consistency.
5. To serve stuffed grape leaves, place onto plate, drizzle with sauce and top with freshly cracked black pepper. Store in fridge if desired.
6. I served mine with a side of sweet potato mash – just peeled and chopped sweet potatoes until tender, mashed with some black pepper and a splash of soya milk
Original recipe