I've been loving spinach recently, I'm throwing it into pretty much all my main dishes, it's great for you and so easy to incorporate into a recipe, so it was a simple decision for me to add it to my pasta and had the additional bonus of adding a nice contrast in colour which I really like. This pasta dish took all of half an hour, maybe a little less, so it's quick, easy and taste-tastic.
Adding the mustard was a spur of the moment thing, I was looking at the pasta and thinking of ways to jazz it up and give it a bit more flavour and I thought "why not" I love wholegrain mustard, it has a lovely tang to it and the grainy texture lends itself well to holding on to the pasta swirls. To say I was pleased with the outcome would be an understatement, it was lovely. You could use Dijon or English mustard, just bear in mind they'll have a slightly sharper flavour to them and go easy when adding it.
Martin mentioned to me yesterday evening that he wasn't a big fan of treacle, right after I'd used it in a Rich Coconut & Treacle Loaf and also in my Spiced Mocha cookies, guess who'll be eating all of those on her own (and guess who just happens to love treacle, tee hee, I win!) I made Martin some apricot muffins instead so he didn't feel left out!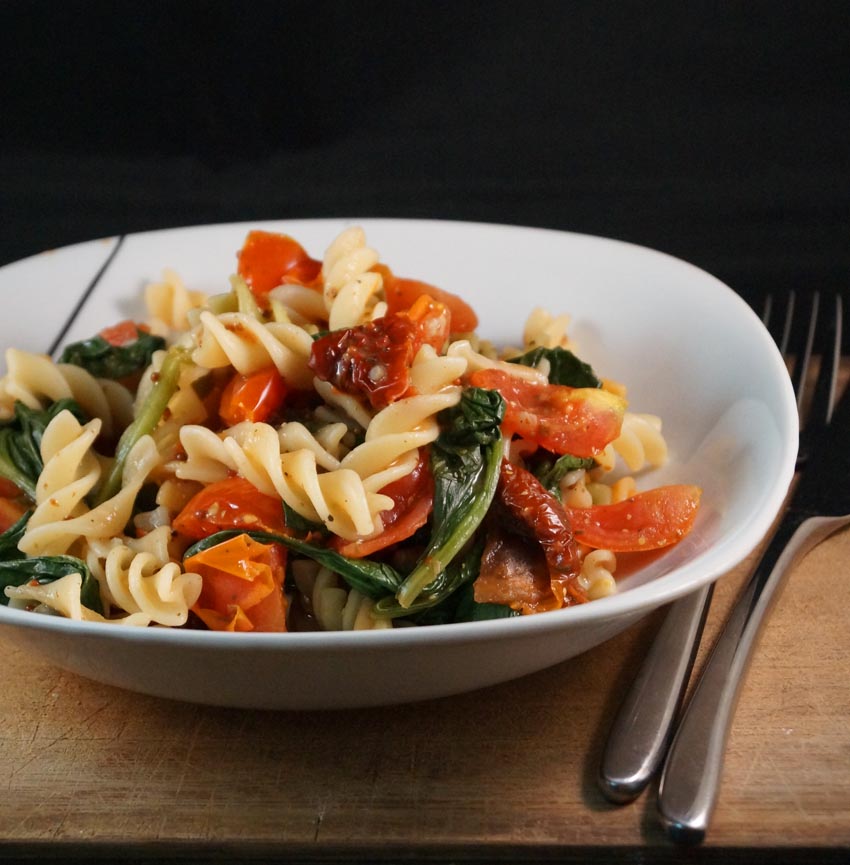 Fusilli Pasta with Tangy Cherry Tomatoes & Wilted Spinach (vegan with gluten free option)
MyInspiration Feel The Difference Range
Serves 2 – Ready in under 30 minutes
160g pasta – I used fusilli (for gf use your favourite brand)

3 packed cups of fresh spinach, washed and torn

12 – 15 cherry tomatoes, quartered

½ tbsp chili flakes

1 small onion finely chopped

2 cloves garlic finely chopped

½ tbsp basil

4 sun dried tomatoes chopped

1 tbsp capers

½ tbsp balsamic vinegar

½ heaped tbsp wholegrain mustard

Black pepper to season
Method
Cook the pasta by adding to a pan of boiling water, turn heat to medium and cook for 12 – 15 minutes, drain and set aside.

For the sauce, add 2 tbsp water to a large sauté pan and add the onion, garlic, chili flakes and basil and cook for 2 minutes then add in the cherry tomatoes, sun dried tomato and balsamic vinegar, stir together then add in the spinach and ¼ cup of the pasta water (I just used a ladle in the pan with the pasta cooking), the spinach will start to wilt, keep tossing the sauce together until it's all nicely combined, add in the capers, drained pasta and the mustard and mix everything together. Serve in a bowl with a sprinkling of black pepper.