I have in my fridge a delicious Rhubarb Jam that I bought at our local market and it's really quite tasty, so I put together this incredibly easy cake recipe specifically to include some of this jam. I've made a marmalade cake before, so felt confident that this would turn out fine.
I should say though that this cake, is  more dense than my usual cakes, as soon as you add in the flax seeds it completely changes the texture of your cakes, so keep this in mind.  If you want light and fluffy, then miss out the flax seeds and add a further 1/4 cup of milk. But I really like this style of cake, it's filling and feels a little bit naughty, like a rich fruit cake almost….. oooooh ** Note to self… this could be my Christmas cake, just add a layer of marzipan over the top, a little icing and we're good!!
We've decided that tomorrow morning we want our Yoga instructor to show us the Flying Pigeon Pose (google it) that's an insane pose that even with 3 people holding my legs up, I still wouldn't be able to do, but we're certain Soula is up the job!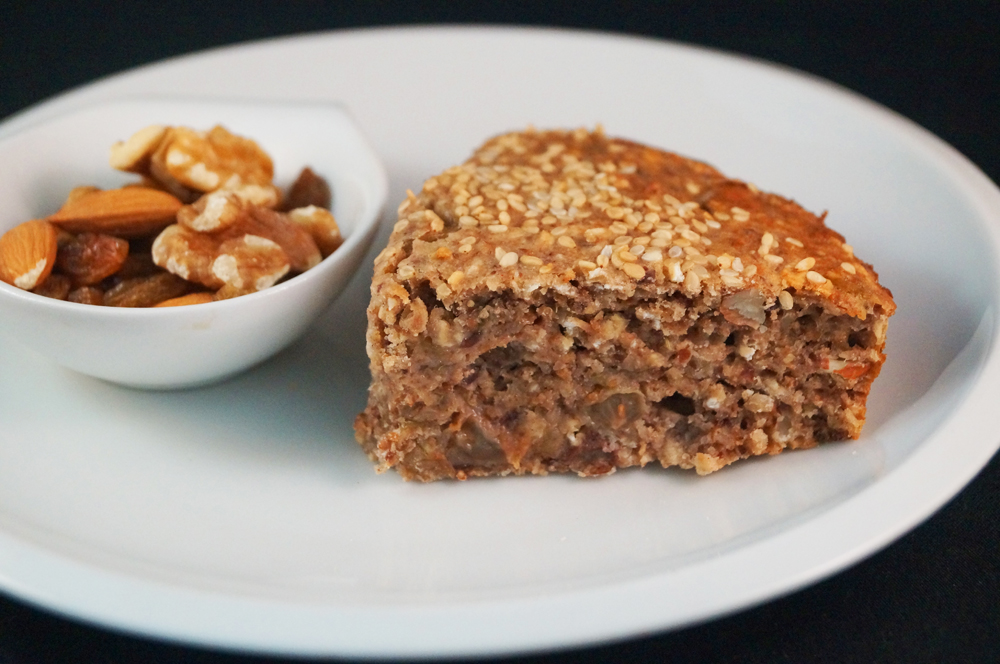 Fruit and Nut Cake with a hint of Rhubarb (Vegan & Gluten Free)
MyInspiration Feel The Difference Range
Yields 8 slices – ready in 35 minutes
3/4 cup buckwheat flour
1/2 tsp baking powder
2 tbsp flax seeds (linseed) mixed with 3 tbsp non dairy milk (I used almond)
1/2 cup oats
1/2 cup non dairy milk (with 1/4 tsp of apple cider vinegar mixed through)
2 tbsp Rhubarb Jam (or use whichever your favourite jam is)
1/4 cup raisins
2 tbsp Maple Syrup
10 Almonds finely chopped
6 Walnut halves finely chopped
1 tsp vanilla extract
1/2 tsp cinnamon
1/2 tsp mixed spice
1/2 tbsp sesame seeds to garnish
Method
1. Preheat oven to 180 degrees celcius and lightly oil a 9″ round cake tin.
2. In a bowl, combine the milk, apple cider vinegar, vanilla extract and maple syrup.
3. In a large mixing bowl combine the flour, oats, baking powder, cinnamon, mixed spice, raisins, almonds and walnuts
4. Now add the wet ingredients to the dry, add in the flax mixture and the rhubarb jam and stir the mixture until all is thoroughly combined then pour into your cake tray, sprinkle over the sesame seeds and pop in the oven for 20 – 25 minutes until a skewer comes out clean, remove from the oven and allow to cool.