What's a girl to do when she has a fridge filled with fresh figs! I tell you what I did, I eventually got around to making some fig roll slices and these are a delightful baking treat that I shall be making again very soon. I also think that if I were to swap the figs for Rhubarb, this too will be heaven, just heaven to eat up!
These were pretty quick to make, I decided on Saturday morning that I was going to make them and I was done and dusted in an hour. Didn't actually get around to eating any until yesterday though, I was all cosy on the sofa watching a scary film (well it was supposed to be scary but wasn't) and we had a little cup of coffee and a fig roll slice, I can still taste the fig jam if I think about it and the beautiful biscuity base is so nice too, I'm even thinking about just making the base layer again, cutting out some nice round cookies/biscuits and dipping half of it in chocolate with perhaps a little sprinkle of coconut on the melted chocolate. I think it would work perfectly.
Can you believe it, my avocados still aren't ripe, I need to go hunt out a paper bag to put them in to try and get this process in motion! No guacamole for me yet, come on, hurry up and ripen!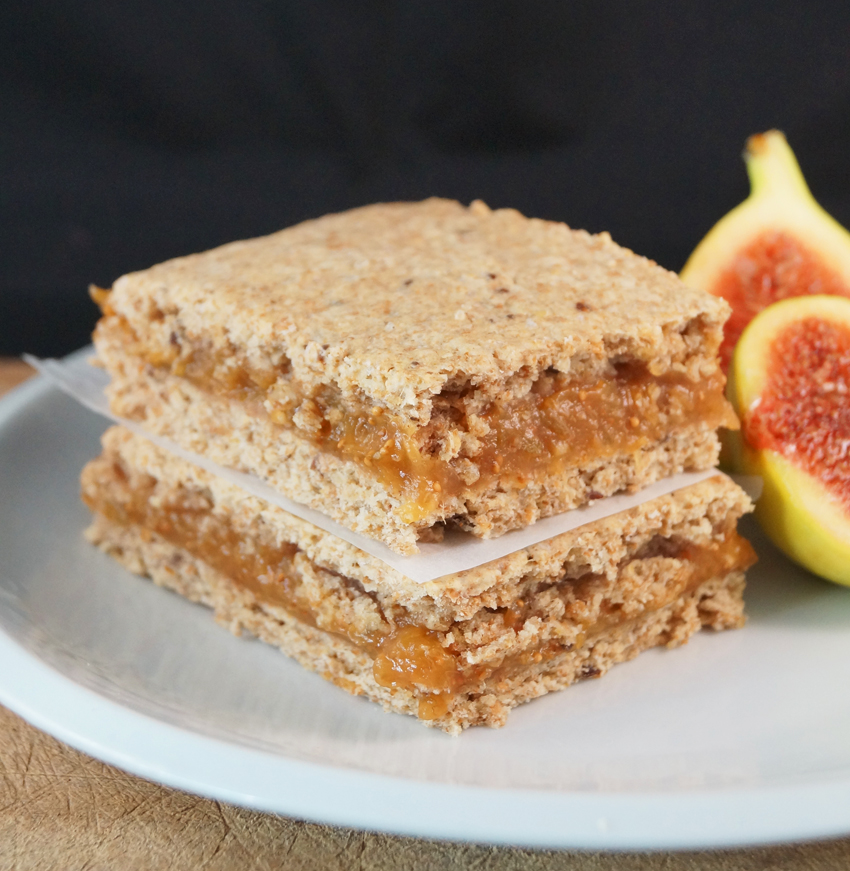 Fresh Fig Roll Slices (vegan & gluten free option)
MyInspiration Feel The Difference Range
Makes 8 slices – ready in under an hour.
For the Fig Jam
4 large figs washed and cut into quarters

2 tbsp Maple Syrup

1 tsp Vanilla Extract

½ tbsp corn flour mixed with 1 tbsp water
For the "Roll"
1 ½ cups Wholewheat Self Raising Flour (for Gluten free, use your favourite GF brand of self raising flour)

½ cup Corn Flour

2 tbsp Demerara Sugar

Pinch of Cinnamon

1 tsp Baking powder

3 tbsp vegan margarine

1 tbsp ground flax mixed with 3 tbsp water (egg replacer)

¼ cup non dairy milk (I use Alpro Almond Milk)
Method
First off you need to make your fig jam. Add 1 tbsp water to a sauce pan over a medium heat and throw in the figs, maple syrup and vanilla, stir everything together, reduce the heat to low, cover and cook for 20 minutes, stirring frequently to avoid any sticking. Remove from the heat and using a stick blender (or pop in a food processor) pulse until nice and smooth. Return to the sauce pan, pop back on a low heat then add the corn flour mixture stirring the jam until it thickens up, remove from heat and set aside.

Preheat oven to 180 degrees celcius (356 degrees Fahrenheit) and line a baking tray with parchment (my baking tray was 6" x 9")

To make the "Roll" part – Combine the self raising flour, corn flour, sugar, cinnamon and baking powder in a large mixing bowl, then add in the margarine and using your finger tips rub the mixture together until it resembles fine breadcrumbs. Make a well in the center of your bowl and pour in the milk and flax mixture and using a wooden spoon, mix this all together until it turns into a nice stiff dough. If it's too sticky, add a little more self raising flour through. I then got in there with my hands to knead it all together.

Divide the dough into 2 pieces and gently roll one of the sections into a rectangle shape 6" by 8" (keep the other half covered until you need it), then carefully lay it into the lined baking tray and bake for 12 minutes, remove from oven and set aside, this is the base layer.

Now roll out the other half of the dough for your top layer to the same dimensions as the base.

Spread your fig jam onto the base layer, making sure it's evenly distributed, then carefully lay the rolled out dough from step 4 on top, don't worry, some of the jam will ooze out the side, but that's to be expected. Pop this in the oven and bake for 20 minutes or until lovely and golden, remove from oven and cool before cutting into slices. This will keep nicely in some Tupperware in the fridge for a few days.