It is estimated that 1 in 5 Children in the US struggle with hunger. That's a crazy number, it equates to around 16 million children.
When you think of the people who are going hungry, perhaps relying on food stamps to put a meal on the table, it's hard to imagine that it would happen to you, but in the current economic climate, more and more people are finding that they need help when it comes to feeding themselves and their families. In places like the US where it is cheaper to buy junk food, sodas, chips and cookies than fresh fruit and vegetables, it's really easy to see why people opt to get as much food for their buck and that means eating food with very little or no nutritional value.
I took myself off to the shop this morning with 6 euros (the equivalent of $8) to put together a healthy and filling meal for 2 people. Usually it's not an issue going to the store and getting what you want, but when you have a limited budget, you definitely check every price, think about how many tomatoes to buy, have I got enough to put 2 or 3 cans of beans in, it's nerve wracking and that's just for the 2 of us, I can't imagine how difficult it must be on a daily basis to feed a family with kids.
This is why I love the idea of Food Bloggers Against Hunger, it's amazing to see the recipes coming through, great meal plans that show that with the right guidance and sharing this information with those who need it, people can start to slowly change their diets, even when on a budget. See more on The Giving Table Facebook page
The first thing I thought of for my recipe was a medley of BEANS, I love using beans in my dishes, they fill you right up and go with pretty much anything, so you can thrown in whatever salad accompaniments you can get your hands on. I spent 5 euros and 20 cents ($6.70) and this was a massive bowl of tastiness that serves 2.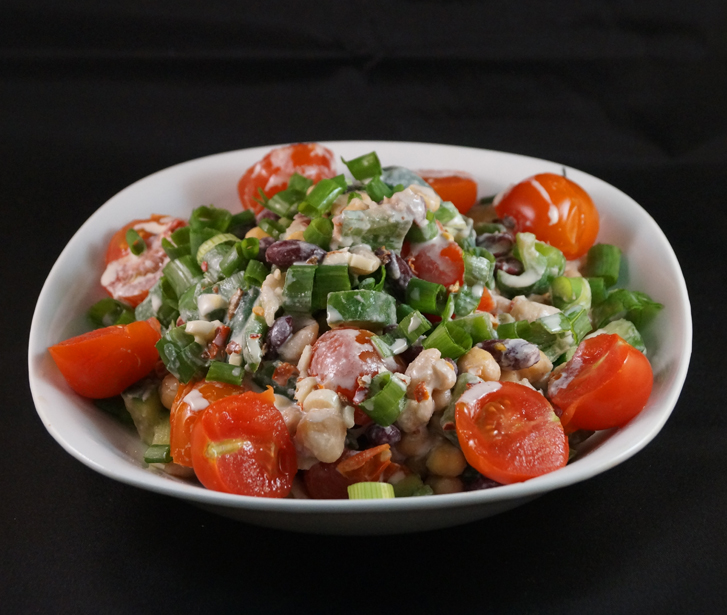 Warm 3 Bean Salad with Roasted Cherry Tomatoes and Spicy Hummus Dressing (Vegan & Gluten Free)
MyInspiration Feel The Difference Range
Serves 2 – ready in 20 minutes
1 can chickpeas, drained and rinsed
1 can kidney beans, drained and rinsed
1 can white beans, drained and rinsed
10 cherry tomatoes
2 small cucumbers, chopped
1 green bell pepper chopped
2 spring onions, finely chopped
For the dressing
2 tbsp hummus
1 garlic clove, finely sliced
1/2 1 tbsp freshly squeezed lemon juice
2 tbsp water
Method
1. Heat the grill and pop the cherry tomatoes on a baking tray and place in the oven for 6 minutes or until the skins start to blister
2. In a sauce pan, combine all the beans and on a medium/low heat, just cook slightly until the beans are warmed through, then add in the cucumber and green pepper and stir to combine.
3. In a bowl combine all the dressing ingredients and whisk together, pour over your beans and mix everything together.
4 Serve in a big bowl and top with the roasted cherry tomatoes, drizzle over any left over dressing and serve. You could always have some crusty bread on the side too (optional of course)
*** If it's cheaper where you are, buy dried beans and make sure you soak them over night and cook them through for an hour.