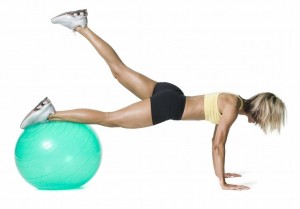 In my late teens/early twenties going to the gym became a social outlet for me.  Working odd shift patterns meant that when everyone else was at work, I was left to entertain myself and the gym was the best way to focus my energy and avoid becoming a recluse!
From an early morning work out to sessions with a personal trainer, it became almost like a second job to me and my motivation was always to keep in top shape, my diet was shocking now I think back, but I was working out so much that I didn't stop to think about fueling my body in the right way.
When I was 22 I relocated with work which threw my routine into disarray, it took me a while to find a gym that I liked and also classes that I would enjoy going to.  So many gyms were set up, not for exercising, but for showing off, groups of people who just turned up in all the latest gym gear only to crawl along on the treadmill or hop on a bike for 30 minutes without breaking a sweat let alone getting the heart rate pumping, so I turned to a small local gym that someone recommended, it had everything, a great gym studio, great class timetable and a friendly team that made you feel welcome everytime you went.  So being in a new city and finding my way on my own, my motivation again was going to the gym to a) work out and b) make sure that I still talked to people, socialised and made some new friends.
So now I'm in my thirties and my fitness motivation changes on a monthly, weekly if not daily basis.  Last year our inspiration was the family wedding we were invited to in the early autumn.  We hadn't seen many family members in around 8 – 10 years and we really wanted to be fit and healthy looking for all those family pics, vanity really.
But now, what inspires me most is keeping my body functioning at it's highest level, I want to make sure that I do everything I can to ensure that I maintain a healthy lifestyle, so it's both food and exercise that's high on my agenda from now on.  I know how good I feel after I've been to a workout, be it UBound, Fight Do, Body Pump or a run on the treadmill, I also know how satisfied I am when I'm in the kitchen making clean, nutritious food and even more elated when it's so tasty. Best of all I know that both the exercise and the diet has made a huge impact on my skin and general day to day well being.
I found that there is no real need to fill up on junk food to get a high, anyone can put on their trainers and go for a walk, look out their swim suit and take the kids to the pool, just GETTING UP and doing something, however small, can really lift the spirits, even a small change in your daily routine can lead to a more active lifestyle, baby steps….