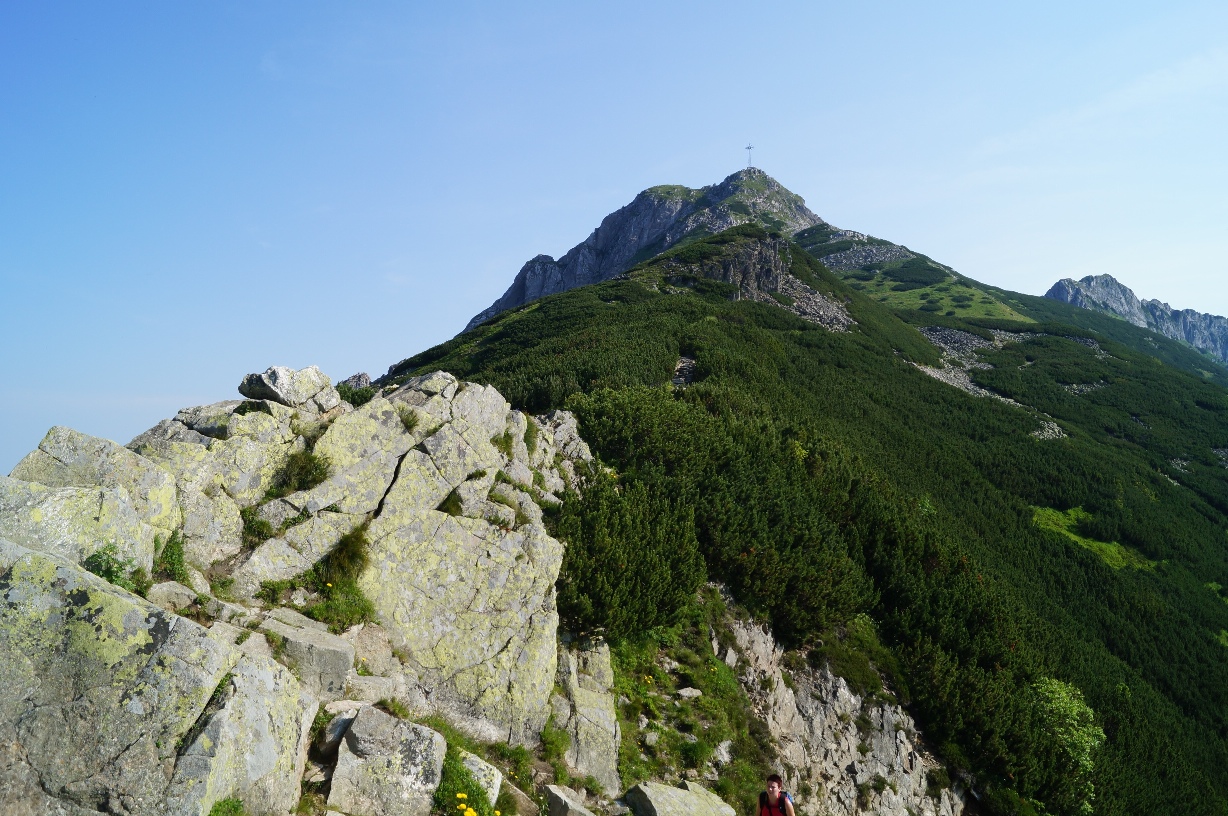 Truth be told I had been stressing and worrying about our trip to Zakopane. After Martin told me we would be mountaineering and taking on the High Tatra Mountains I got straight onto google to read up about it… not such a great idea to be honest. Image after image showed dizzying views and terrifying looking ascents with chains and footholds, with my sporadic bouts of vertigo I genuinely wrote off any idea of taking on the mountain trails unless they were tranquil and 90 year old grannies could do it! Looking at Instagram pictures and google images of summits and blog posts from other people who have braved the peaks just got my head in a spin and I was just fueling my anguish.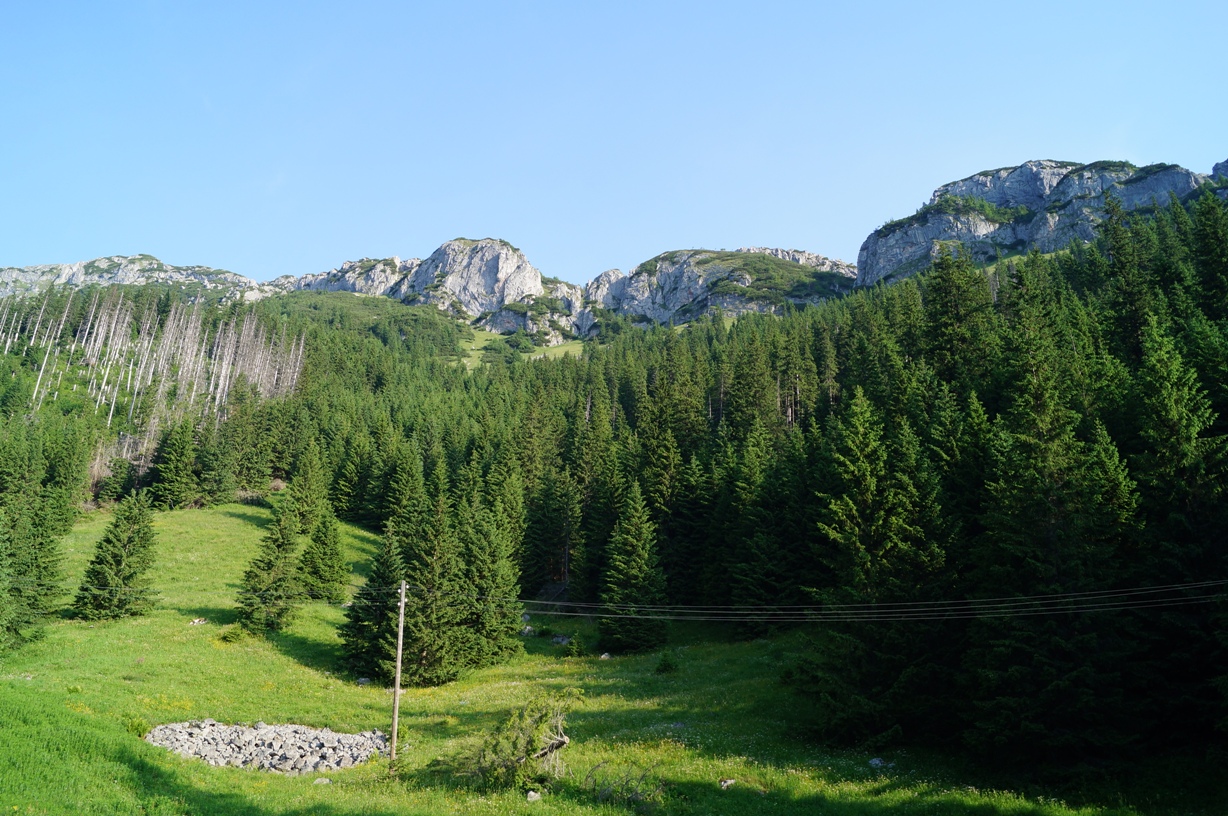 So… in the spirit of adventure on our second day in Zakopane, we set our alarm for 5.30am, packed some food, water and sun cream and were on the road for 6am heading for Giewont, a 6,217 feet mountain that we could see from the city of Zakopane. (A little tip – Setting off early is a must if you want to avoid loads of other hikers on the trails).
We walked from our apartment to the start of the trail next to Kuźnice and started following the Blue trail (The trails are colour coded). This starts off gentle enough, it was lovely and shaded and it's incredibly picturesque once you get out into the meadows. We only saw 2 other hikers coming the other way through the first part of the trail, I think they were eager beavers that were up at first light! The trail then starts to get steeper but nothing excessive, it's really enjoyable and peaceful and you might see some black squirrels scampering about.
We came out of the shaded forest area and headed up towards the Hala Kondratowa Hut that gives you a great little place to have a rest, grab a snack, in our case a breakfast bar, and get yourself ready for the next part of the trail. It's here that you can also join the Green trail if you are walking along the top of the mountains towards Kasprowy Wierch.

This is where the fun starts, I say fun, but it was like taking 10 step classes at the gym all in a row. The trail turns into a very steep climb and under the hot sun you can get out of breath quite quickly. I was questioning my fitness, getting slightly depressed that I didn't notice how old I was getting and panicking about how high this trail was getting at a very rapid rate. This is not my normal thinking pattern, I'm no negative nelly and I realised I was mentally trying to talk myself out of continuing thinking that I really wasn't going to be able to do this, I was scared, breathless, dizzy, knees shaking, all the hallmarks of a panic.
To put this in to context, in 2014 we visited Austria and were almost at the top of Hafelekarspitze in Innsbruck, but when I got off the cable car and tried to walk to the summit I was rooted to the spot and couldn't move, couldn't move forward, back or even turn, I was hyperventilating, the ground felt like it was tilting under me, I was a mess. It took about 10 minutes of getting my breathing under control and getting my sense of balance back before I willed myself to move (people were looking at me very strangely!) I got back to the flat open area of the station and waited for Martin to come back from the summit, so you can see why heights make me a little nervous… But I digress… realising that this was a great opportunity to push myself and use the age old mind over matter, I pushed on, I was still slightly wobbly, but the views of the area are really quite breathtaking and I didn't come all this way to sit in our apartment.
There is a mountain spring about half way up this part of the trail where Martin refilled our water bottles, that water was divine, ice cold and crystal clear, a welcome development as it was really hot. Somehow we picked the week of a heat wave!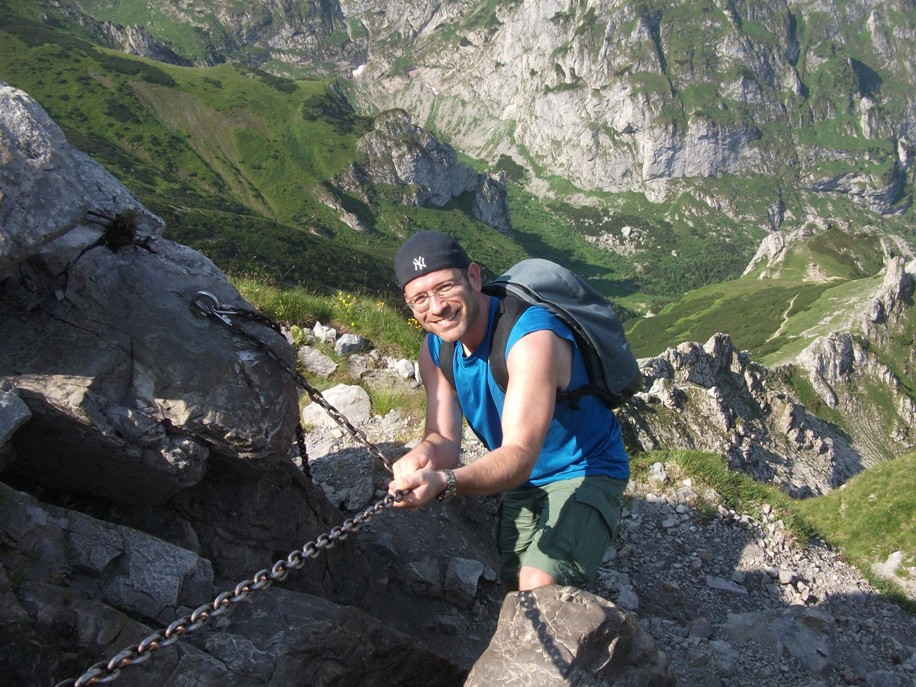 Once you get to the top you arrive at Kondracka Przełęcz, the beginning of the climb to the summit. I had bought a pair of fingerless sport gloves the day before which I put on now, took a deep breath and headed up!  It helps that Martin is like a kid in a sweet shop desperate to get to the top, his energy spurred me on as I didn't want to disappoint him or make him go on his own. As we got higher and higher we got to the point where we had to use chains to go any further. Martin just looked at me, knowing this could well be a spanner in the works, the rock surface up there is really slippy, but if you've got a good pair of walking boots/shoes on it's no problem at all. I paused here for a minute or 2 as this was the part I had been fearing most. A woman came up behind me and just grabbed onto the chains, hauled herself up onto the stone and kept climbing and I thought, yep, easy does it and followed suit. It was exhilarating, truly a mind changer, I was so focussed on where I was putting my feet and where the next chain was and the adrenaline really kicked in so that I completely let go of the panic and fear of being so high up, when we got to the top it was such a boost for me, I couldn't believe I'd succeeded.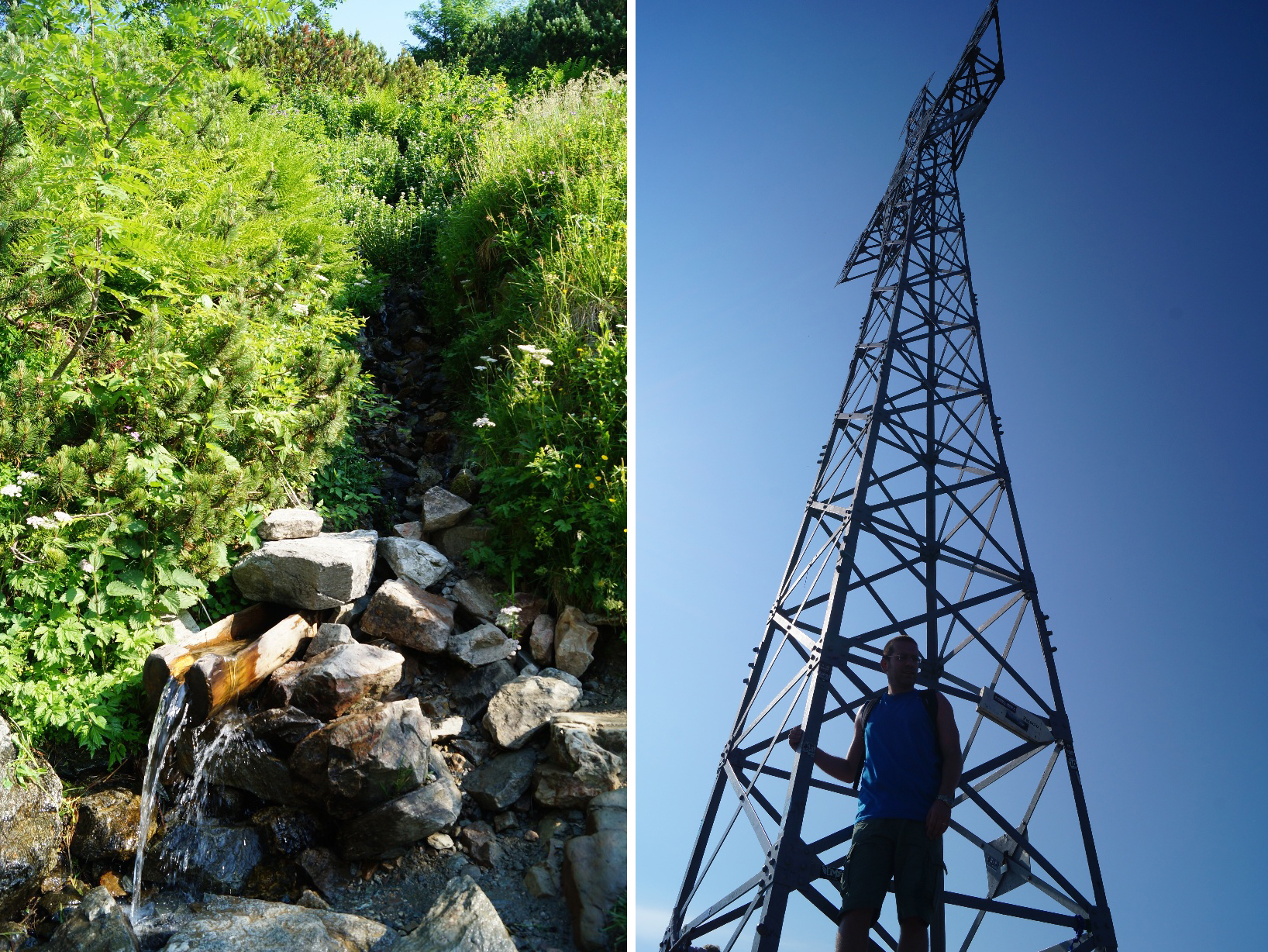 We took a few photos at the top, got the cross in as well, had a quick snack to keep our energy up and then looked for the way down. More chains, but after our ascent I was feeling at ease with them and was enjoying the exertion. I even got down on my bottom to scooch down some of the rocks, it was like being a kid again. We posed for some pictures on the chains, so I now see how people make those photos of Instagram and google images look scary… but it's really not! I always felt safe, the chains are a real comfort, I just kept a firm grip of them and felt in control. I do recommend getting yourself some gloves, makes things a lot easier. (I got mine in an small outlet shop on Krupowki Street, they were 20 Zloty (approx €4.75) I did see the same pair in Mountain Warehouse for 69 Zloty (€16.40) that were apparently half price… it pays to shop around!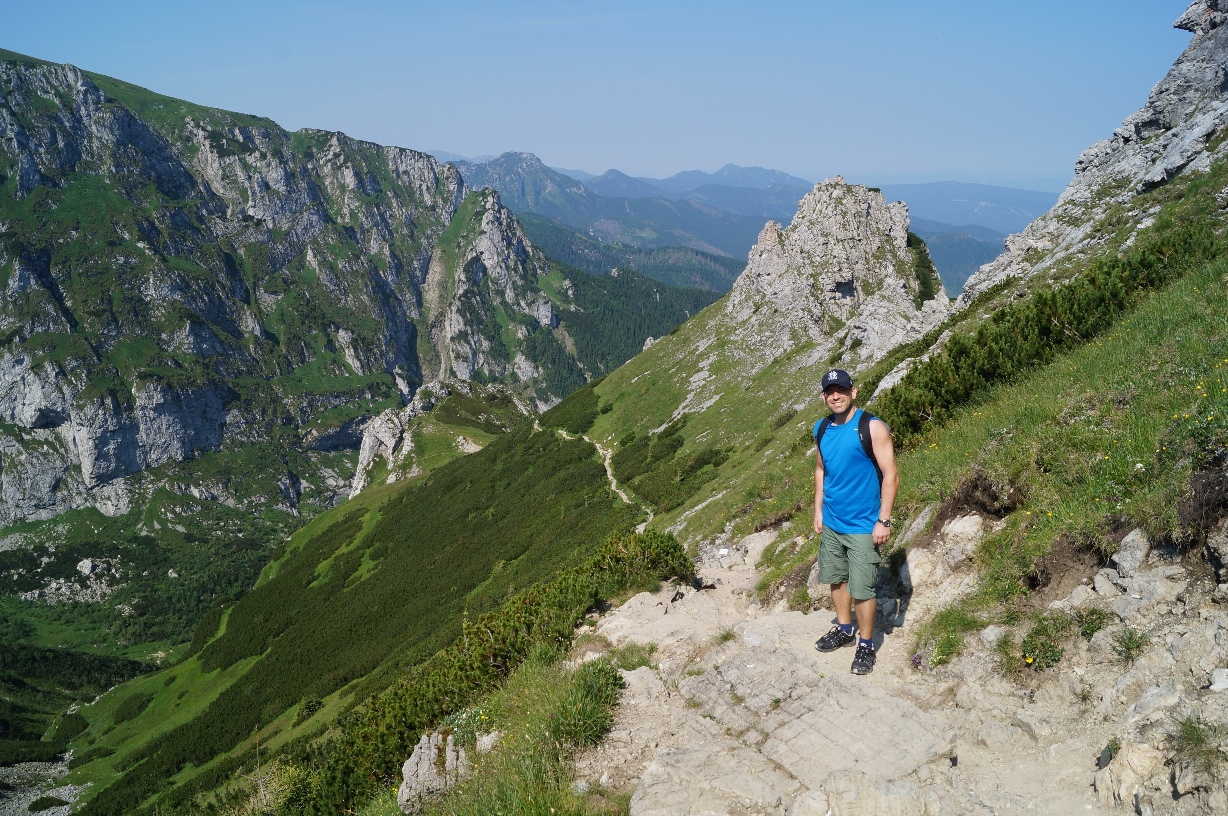 So, from here we joined the red trail, if you think walking down hill is easy, THINK AGAIN! This path resembles a thin goat path and you need to have your wits about you as there are loose stones, slippery rocks and people coming at you in the opposite direction and a big drop to the side of you, again, it's good to get there as early so you can avoid groups of hikers. This part of the trail, for me, was the toughest, it took us 2 and a half hours to cover 3 kilometres, that's downhill! We were beginning to flag a little here, we'd been hiking for 6 hours and the sun was at its zenith and we still had an hour of walking to get back home.
So to sum it up, if you are like me and you're a little apprehensive about taking on some mountain trails, try not to worry too much, as long as you are careful it will be fine and you'll have a great time, we absolutely loved it and can't wait to do more trails in the next week! We need to rest our poor legs though, as soon as we got back to our apartment I lay down on the floor and passed right out for a few hours, I'm spending today resting and doing some yoga to stretch out my aching limbs!