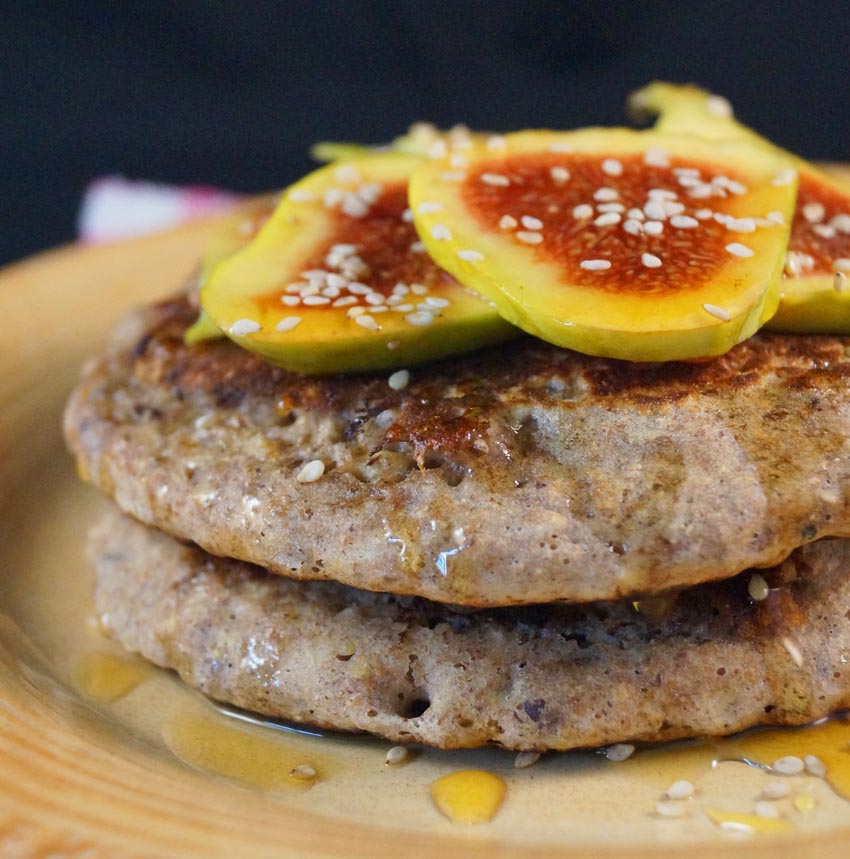 The last time I made pancakes a few people commented on how thin they were which led to a discussion at home regarding the thickness of pancakes and maybe it's just where we're from and what we're used to but our pancakes, even when we were kids were thin. But I am open to inspiration and I thought that this weekend I'd have a go at making big thick pancakes and my verdict is I love 'em both!
I think the main difference is adding more baking powder to make them rise more and also a lot less liquid so that the thicker batter won't spread out all over the pan, these were super easy to make, dare I say it, even easier than making the thinner pancakes, so I think I could be torn on my next pancake making day as to which version I'll want, thick or thin! Maybe I'll just do a combination of the 2.
After our monster breakfast this morning, we had to take ourselves out for a long hike, we had bags of energy and it just seemed like a waste to be indoors, it's a beautiful day today, nice breeze, sun shining, perfect! Still feeling stuffed now over 4 hours later, those were good pancakes!
Fig, Sesame and Maple Syrup Pancakes (vegan & gluten free option)
MyInspiration Feel The Difference Range
Makes 6 pancakes – Rady in 30 minutes
1 ¼ cup wholewheat self raising flour (for gluten free use your favourite GF brand of self raising)
½ cup oats
½ tbsp baking powder
½ tsp cinnamon
2 tbsp ground flax seed mixed with 4 tbsp water (egg replacer)
¾ cup non dairy milk
¾ cup water
2 tbsp maple syrup
1 Figs sliced
Sesame seeds to sprinkle on top
Maple Syrup
Method
Get the non stick pan on the stove on a medium/low heat start to heat the pan up.
In a mixing bowl combine the flour, oats, baking powder and cinnamon, in a separate bowl combine the flax mixture, maple syrup, milk and water then add the wet ingredients to the dry and give this a quick whisk together. It should be quite a thick batter (if you want thinner pancakes, more like crepes, then add another ½ cup of milk and half cup of water and whisk together)
Add a little vegan margarine, about ½ a teaspoon, to your pan, (which should be nice and hot by now) then using a ladle, spoon roughly half a cup of mixture into the pan and let it cook for a couple of minutes. You will start to see bubbles forming on the surface, so slide your spatula underneath and carefully flip the pancake over, it only needs 30 seconds or so cooking on the other side. Repeat with the rest of the mixture.
To serve I thinly sliced my fig and laid it on top of my pancake stack, sprinkled over some sesame seeds and had a nice big drizzle of maple syrup to finish.
Martin had 2 bananas sliced on his instead of figs, also with a smattering of sesame seeds and maple syrup. You could use whatever fruit you like, I tend to favour chopped apples, pears, peaches etc, so add what you like best!
Note: these are very filling pancakes, so these would be ideal for brunch!