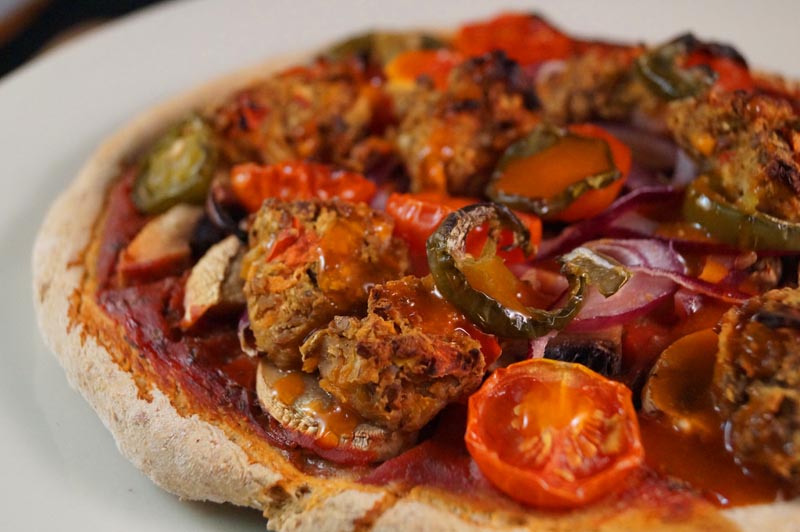 The last few times I've made a pizza I've just used shop bought flat breads or even large pitta breads as the base, but I went back to basics yesterday and made my own wholewheat dough and whipped up a hot, hot, hot pizza for Sunday movie night…. we watched The Big Wedding, which was pretty good… and the pizza was fabulous!
I was going to buy another pot of nutritional yeast as that's what we would usually sprinkle on top of the pizza, but I didn't bother this time and didn't feel we were missing out. What I did have though is a couple of the super veggie burgers left over from Friday night, which I broke up and popped on top of my pizza, so if you have any left over burgers in the fridge, get them onto your pizza, if not, just load up on more mushrooms, try and get some portobello mushrooms to give the pizza a hearty consistency. Oh and if you feel you don't have the time to make your own pizza dough then just go back to the shop bought flat breads or pizza bases you normally use.
I also made my cheesecake yesterday, I opted for mango & lime with the raspberry chocolate drizzle, sooooo tasty, recipe is on it's way, took about 300 photos of it too as it was so pretty!
Fiery Mushroom Pizza with Jalapenos and Hot Sauce (vegan with gluten free option)
MyInspiration Feel The Difference Range
Makes 2 individual pizzas (a main meal itself)
For the pizza base
1 sachet of active dry yeast (about 2 tsps)
3/4 cup of warm water
2 cups of wholewheat flour (for GF use Gluten free white flour like Doves farm, just add a 1/4 cup more of water)
1 tbsp olive oil
Pinch of black pepper
For the topping
5 large button mushrooms chopped
1 red onion, halved and chopped into crescents
1/2 cup passatta (pureed tomato)
1 tbsp dried basil
Fresh black pepper to season
6 cherry tomatoes chopped into 3
Jalapenos (as many as you want)
Optional: Leftover Super Veggie Burgers or your own veggie burgers/falafel, sliced black olives, hot sauce, portobello mushrooms, bell peppers, sliced pineapple etc
Method
Make the pizza dough: Add the active yeast to the 3/4 cup of warm water and stir to dissolve, leave it for 5 minutes and you should be left with a beige mixture with a creamy foam on top which means it's ready to use.
In a large mixing bowl add the wholewheat flour, add a pinch of black pepper, then make a well in the centre and pour in the yeast mixture and olive oil and using a wooden spoon mix this all together until it starts to bind, now get in there with your hands and start to knead it until it's one big ball.
Turn out onto a floured surface and continue to knead for 5 minutes, then lightly oil your mixing bowl and pop the dough back in, turning it over to coat lightly in the oil, cover with a clean kitchen towel and leave in a nice warm place for 2 hours until it's risen, should almost double in size.
When you're ready to use the dough, give it a punch to knock the air out of it and split into 2 balls and roll out on a floured surface to about 1cm thickness. Pinch the sides all the way around to form your crust and it will act as a barrier so your passatta doesn't spill over the edge.
Now make the pizza – Preheat the oven to 180 degrees celcius (356 degrees fahrenheit), leaving your oven tray in to heat up. Before you start making up your pizzas, take out the heated oven tray and pop the dough on top and make your pizzas up here. (This just helps the base of the pizza cook all the way though, I'm not keen on a soggy pizza base!)
In a small bowl, mix the passatta, basil and black pepper, this will be your tomato base, spoon this onto your pizza dough and using the back of a spoon spread it all over the base. Now layer on your toppings, I started with the mushrooms, red onions, jalapenos and the veggie burger bites, then pop in the oven for 20 – 30 minutes until your pizza crust has began to crisp up (some ovens may take a bit longer, just keep it in until the your crust feels firm. Before serving I added a nice big drizzle of Encona hot sauce, cut into 4 and devoured!
Approximate Nutrition Per Pizza (including the veggie burger bites) – Calories 558 – Carbs 94g – Fat 8g – Protein 11g