I've recently started watching Phoenix Nights with Peter Kay, I'm not sure how I missed it first time around, but Martin got the box set and we've been watching some of the episodes and it's just hilarious. It even took me a while to realise that Peter Kay plays more than one character in it… I'm not the brightest!! I might have to take it back for my Nan to watch as she was a bar maid in a working man's club so she'd get a good giggle from it too!
We swapped our take away night from last night to tonight as we are out this afternoon to watch the footie, so it's seems only right to get a takeaway and watch a movie later tonight, so last night we still wanted something nice and spicy and this dish with your own home made masala sauce is just fantastic, you can make it as hot or as mild as you like.  I served mine with brown basmati but you could easily whip up some nan bread if you prefer to mix it up a bit.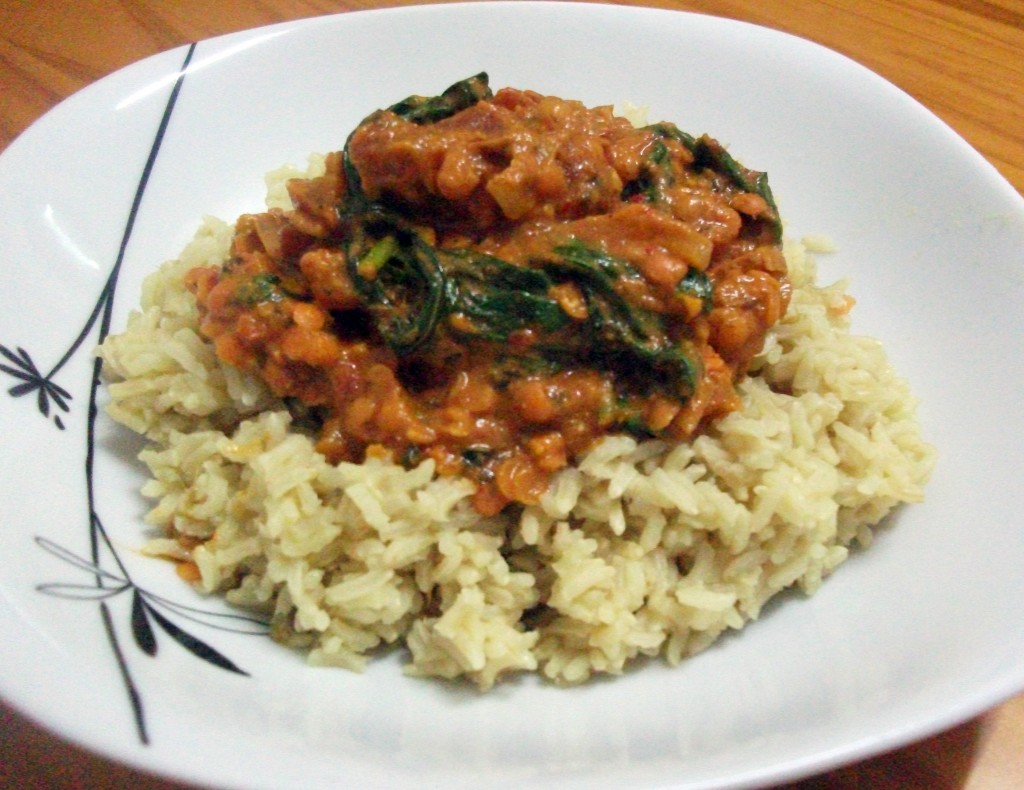 Fiery Lentil & Argula Masala served with Saffron Infused Rice
Serves 2
1 onion finely chopped
3 cloves garlic finely chopped
1 tin chopped tomatoes
¾ cup red lentils
½ can lite coconut milk
2 packed cups argula (rocket) rinsed and roughly chopped
½ cup Masala Paste
Black pepper to season
Handful fresh coriander
Masala Paste (combine all in a blender & pulse until smooth paste forms)
1 tbsp cumin
2 tbsp chopped fresh ginger
1 tbs chili flakes
1 tbs paprika
1 teaspoon garlic powder
1 tbs Garam Masala
2 tbsp olive oil
1.5 tbsp tomato paste
½ packed cup fresh coriander
Method
1. In a non stick frying pan add a tablespoon of water and saute the onion for 3 minutes, then add the garlic and cook for a further 2 minutes.
2. Add the masala paste you made and stir to coat onions then add the coconut milk and tomatoes and cook for 3 minutes to heat through.
3. When the mixture stats to boil add the lentils and stir through, reduce the heat and allow to cook (stirring occasionally) for 15 – 20 minutes, once almost ready add in the rocket and fold through to wilt it and add another handful of coriander leaves.
Serve with brown basmati rice – one cup of brown basmati rice cooked in 2 cups of water and a pinch of red saffron, set on a low heat and cook for 20 minutes until water had gone.
Original recipe from naturallyella