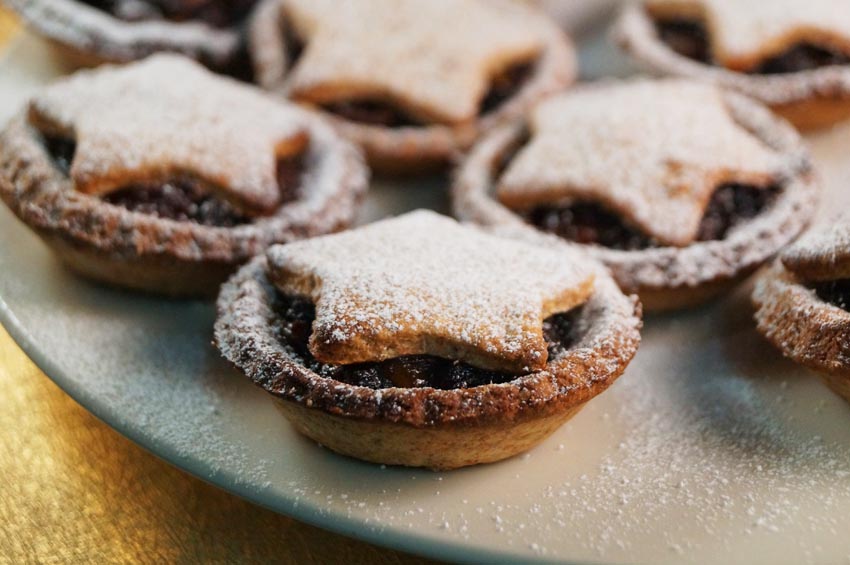 Now that we have our visitors over for 10 days we plan on being out and about which means I'm not in the kitchen as much, but if there is one thing I HAVE to make come December time it's Christmas Mince Pies. As I do every year, I buy the mincemeat ready made, not because I don't have time to make it myself, I do, it's just so darned expensive to make a batch myself, so I seek out vegan mincemeat (make sure it's made with vegetable suet) and make up a nice big batch of Christmas Mince Pies that we can all enjoy while watching Bargain Hunt!
My pies look a little prettier than last year, I got my new cookie cutters out and chose to top my pies with stars which looks so cute. Felt like I'd just unwrapped the pies from a box bought at M&S (they aren't by the way!). I made these in no time at all, whipped up some pastry, part baked, then filled with mincemeat, topped with stars and back in the oven, easy peasy. If you want to make your own mince meat, I found this lovely recipe, just remember to use Vegetable Suet instead.
The weather here has turned cold, I'm sitting shivering a little (perhaps I should go put a jumper on) I'm going to make a nice up of tea and get preparing for some more festive treats, I've still got a little of the mincemeat left over and I'm wondering if I could incorporate them into some kind of truffle, something to ponder over this afternoon whilst I'm nibbling on my Christmas mince pie and I leave you with this ditty, It's beginning to look a lot like Christmas, Toys in ev'ry store, But the prettiest sight to see is the holly that will be on your own front door. 
Festive Season Baking, Christmas Mince Pies (vegan)
MyInspiration Feel The Difference Range
Makes 12 Mince Pies – Ready in 40 minutes
1 ½ cups wholewheat flour

3 tbsp margarine

1/3 cup icing sugar

½ tsp nutmeg

2 – 3 tbsp water

250g vegan mince meat
Method
Preheat oven to 180 degrees celcius (356 degrees Fahrenheit) and prepare a pie/tart tray.

To make the pastry, combine the flour, icing sugar and nutmeg in a bowl then add the margarine and using your finger tips rub the mixture together until it starts to bind together, I then mixed through 3 tbsp of cold water as the dough was a little dry, roll out onto a floured surface and using a round cookie cutter cut out 12 circles, you might need to re-roll a couple of times to get all 12, then using a small star cookie cutter, cut out 12 small stars to top the pies off with.

Place the circles of dough into the tart spaces on your tray, press the dough into the sides so you have a nice pie shape then pop in the oven for 5 minutes.

Remove the pie cases and spoon in about 1 ½ teaspoons of the mince meat into the centre of each one, top with a pastry star and pop back in the oven for 15 minutes or until lovely and golden. Cool completely then dust with icing sugar or a little cinnamon (or both if you are feeling cheeky!)