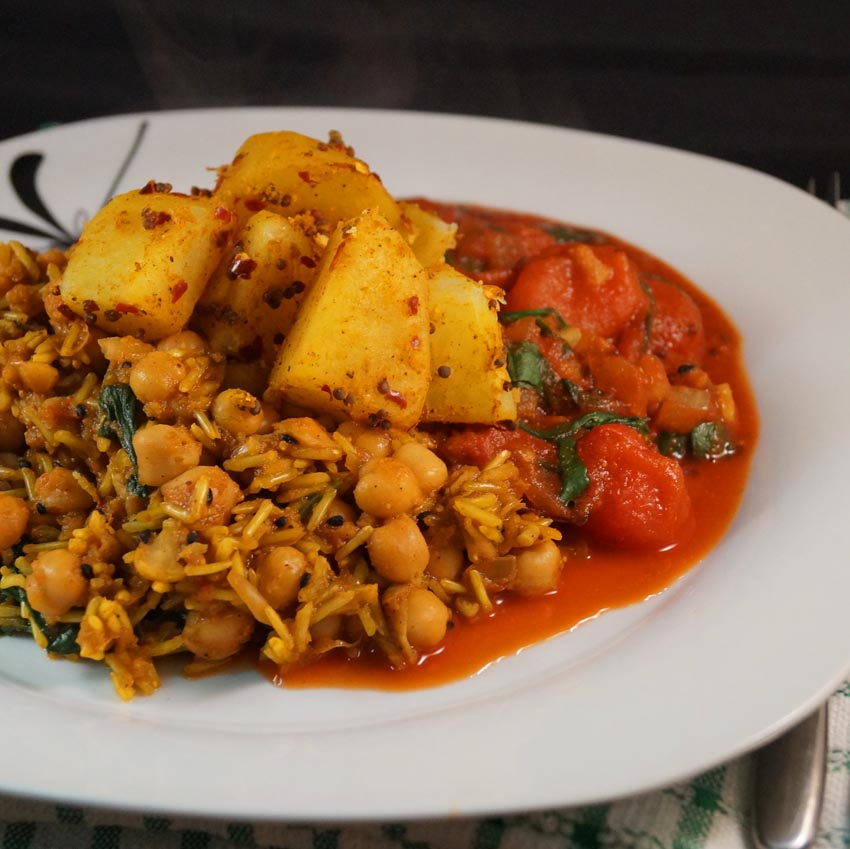 I think I have found a whole new favourite food as these Bombay Potatoes are incredible. I've just eaten the leftovers, cold, for lunch today and wow, just wow, I'm going to have to make some more pronto! I made this dish on a whim as I'd found some fenugreek that I wanted to try out and a nice big bunch of spinach just waiting to be used up so it all just grew from there.
I will mention here that the addition of the fenugreek into the biryani recipe was just fabulous, it was a bit like when I used tamarind for the first time, I knew there had been something missing from my curries but until I tried these ingredients I never realised just how big a difference a spice/herb can make to the overall taste. So if you can, try and find the little extra spices that people mention in recipes as they can make a simple curry into a taste sensation!
I'm going to use up the left over Mexican burgers today for a quick and easy pasta dish. Martin also mentioned there is a very ripe avocado that needs to be eaten so I'm thinking of making that into a guacamole pate to pop on some toast as an alternative to our usual garlic bread that I make to go with pasta dishes. It is Mexican burgers I'm using after all, so I think it will go quite nicely together, maybe add a little piccante to my passatta sauce too just to be  extra spicy!
Fenugreek & Chickpea Biryani with a side of Bombay Spiced Potatoes and a Wilted Spinach & Roasted Cherry Tomato Curry Sauce (vegan & gluten free)
MyInspiration Feel The Difference Range
Serves 2 – Ready in 45 minutes
Biryani
½ large onion finely chopped
2 garlic cloves chopped
1 red chili chopped
1" cube ginger chopped
2 tbsp tomato paste
1 Cup Brown Basmati Rice
2 ½ cups vegan stock
1 can chickpeas (2 cups) drained and rinsed
1 cup fresh spinach shredded
Biryani Spice Mix
½ tbsp madras curry powder
2 tsp turmeric
2 tsp cumin
1 tsp cumin seeds
2 bay leaves
1 tsp garam masala
2 tsp dried fenugreek
Bombay Spiced Potatoes
2 medium sized potatoes, peeled chopped into cubes and boiled for 8 minutes
1 clove garlic finely chopped
½ tbsp chili flakes
2 tsp mustard seeds
½ tsp cumin
1 tsp turmeric
½ tsp garam masala
Curry Sauce
½ onion finely chopped
2 cloves garlic finely chopped
½ tbsp mustard seeds
1 tsp madras curry powder
1 cup Spinach shredded
Cherry tomatoes x 10 chopped
2 cups passatta
Method
Preheat oven to 180 degrees celcius (356 degrees Fahrenheit)
Make the biryani – Add the chopped onion, garlic, chili and ginger to a food processor and pulse until smooth. Add 2 tbsp water to a deep sauce pan over a medium heat and add the paste along with the BIRYANI SPICES and 2 tbsp tomato paste and cook for 2 minutes before adding in the rice. Give this a good stir to coat the rice in all the spices then add in the stock, again give it a good stir, turn the heat down to low, cover and simmer for 30 minutes, stirring occasionally (after 20 minutes add the chickpeas and spinach and stir through).
While this is simmering away you want to pop the cherry tomatoes in the oven to roast for 15 minutes.
Now you can make the Bombay potatoes, add the chopped potatoes to a pan of boiling water and cook for 8 minutes or until tender, drain and set aside. Now add ¼ cup of water to a oven proof sauté pan (be careful that your handle doesn't melt) and add all the spices and the garlic and cook for 2 – 3 minutes before adding in the chopped potatoes and stirring it all to combine, remove from heat and pop straight in the oven for 15 minutes, shaking occasionally.
Lastly, make the sauce by adding 2 tbsp water to a sauce pan over a medium heat and add the onion, garlic, mustard seeds and madras powder and cook for 2 minutes before adding in the cherry tomatoes and passatta, cook for 7 minutes then stir through the spinach, simmer the sauce for a further 2 minutes and you're done!
To serve I just spooned the biryani onto a nice big plate popped the sauce on the side and topped with the Bombay potatoes.