After the success of my first ever DIY Fashion project, no sew t-shirt to halter top, I have decided that my next refashion will be the T-Shirt to Shrug, which seems pretty straight forward (I think!).
By the By, while I was in the airport last week I popped into Monsoon/Accessorize and saw that they had a little area where all their jewellery, hair accessories etc which were damaged where at a stupidly cheap price like 50 pence and I thought that I could get a few bits to take apart to embellish some projects that I have.
I digress, back to Refashions!
I was looking through Megan's Brassy Apple blog and came across her tutorial for this adorable shrug (the actual design is for a kids shrug, but can be resized easily for adults as well.
I've got a lovely turquoise t-shirt that I just don't like the style of, love the colour, just not how it sits, so I'm going to make use of it to make this shrug which will then go perfectly with a lovely little black dress I have!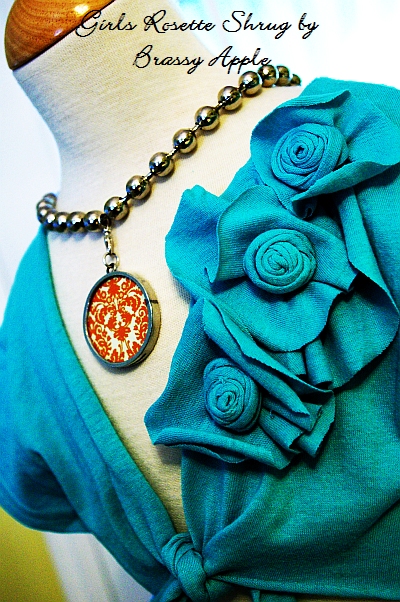 For those eager to try it now, full tutorial here.
This is such an exciting and creative use of my spare time and I am desperate to get my little niece (who is 12) involved in refashions as it's an ideal hobby that she would be great at, she's a real little fashionista and has a great eye for style and colour, so introducing her to this would be perfect.