It 's been an age since I've posted, been busy visiting the family through the summer and days out at the beach with the flock of nieces and nephews, but School is in session once again, so got some serious blog time on my hands! I've got so many new recipes to try out and of course back on the DIY Fashion band wagon to create some Autumn outfits.
So with the new season sneaking up on us and with a few invites to the theatre lined up for the month, I've been looking at dresses that would do well for evening wear and also for dinner out with the girls.  I've seen some fantastic print dresses in stores recently and although I'm not the greatest fan of one shoulder dresses (just never found one that fit me properly) I saw this great refashion tutorial and have to share it.  The print Laura (from fashionforward.com) has is just fabulous, very Karen Millen-esque! (pictured below) and it caught my eye as I'm certain I've seen something with a similar pattern and colour in my local charity shop (fingers crossed it's still there!).
Add a couple of simple accessories and perhaps invest in a new belt, then I'll be good to go….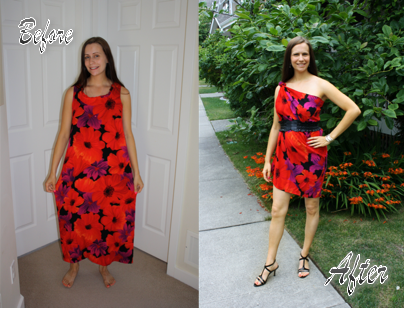 You can find Laura's Frumpy to Fab tutorial here.