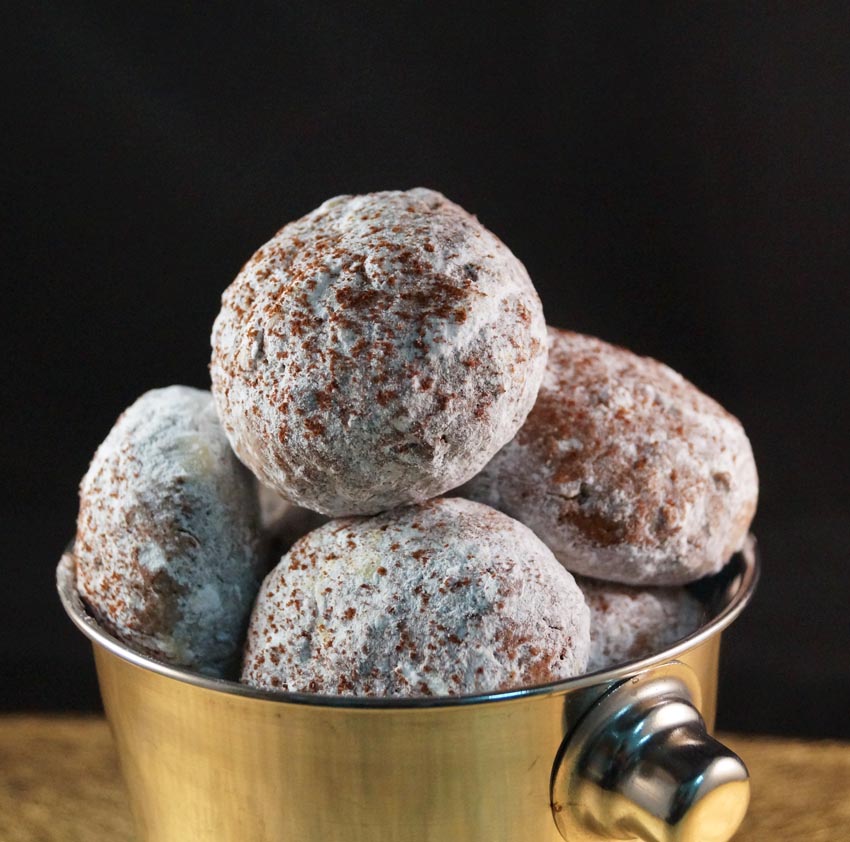 I'm just back from my little jaunt away and I flew into that kitchen, I had a couple of ideas brewing in my head that I needed to try out and wanted some "non vegan" taste testers to give me some feedback. Martin's great at the taste tests, problem is he seems to love everything so either my cooking is in fact up to his high standards or he's frightened I might strop and not cook for him ever again.
I started off with these Chocolate Orange Drops and followed up with some Christmas Mince Muffins (recipe to come tomorrow)  and they turned out fantastically, I loved them and the inlaws were very impressed, which is what I was hoping for! The cookie is almost shortbread like in texture and the dusting of icing sugar and cacao powder gives it all the necessary sweetness and you get the cheeky little zing from the orange zest. A real winter treat that we all enjoyed with a fresh cup of coffee and the a/c unit blasting out a lot of heat as it's pretty cold here at the moment!
Been doing a little online Christmas shopping today too, mum and dad sorted, baby nephew sorted, now to find out what the rest of the clan have on their list to Santa! I found a great little site that specialises in boxes of vegan chocolates that I might send to my nan, they look lovely so I think she'll like them. She can nibble on them while watching the Fiddler on the Roof DVD that's on it's way! I do love the holidays!
Chocolate Orange Cookie Drops (Vegan with Gluten Free Option)
MyInspiration Feel The Difference Range
Makes 8 cookies – Ready in 35 minutes
½ cup vegan margarine
1/3 cup icing sugar (make sure vegan)
½ tsp cinnamon
1 tsp vanilla extract
1 cup wholewheat flour (or GF All purpose)
1/2 cup oats
Zest of one orange
2 tbsp cacao powder (or cocoa powder, whichever you have in)
Method
Preheat oven to 180 degrees celcius (356 degrees Fahrenheit) and prepare a baking tray.
In a large mixing bowl cream together the margarine, icing sugar, cinnamon, cacao and vanilla extract, then add in the orange zest, flour and oats and mix this all together until it comes together into a soft dough. Grab heaped tablespoons of the mixture and roll into a ball and press just a tiny bit to flatten slightly, place on the baking tray and pop in the oven for 25 minutes.
Dust with icing sugar and cocoa powder while warm, then leave to cool or serve warm like I did.