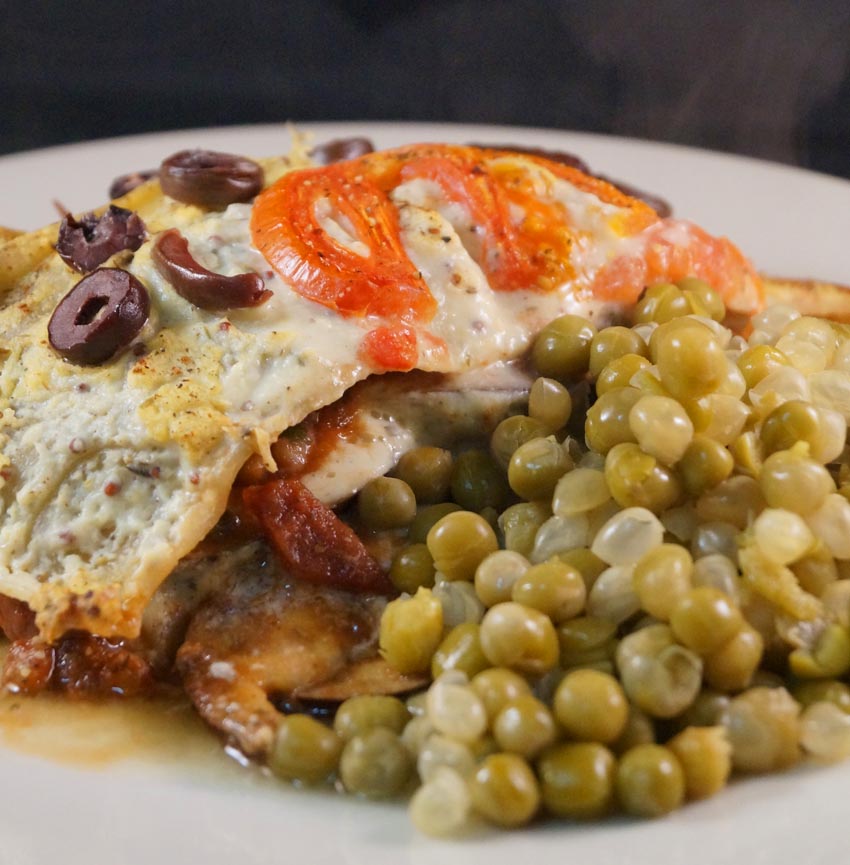 It's raining outside and I am thinking it's probably time to get out my autumn/winter sweaters, I also want a nice steaming mug of hot chocolate (made with hazelnut milk, yummy!) crazy how the weather affects not only our moods but our appetites. This is one of the reasons I went for the lasagne last night, it's such a hearty dish that makes you feel all warm and cosy, well that's how it makes me feel anyway! This particular recipe will feed 3 no problem, though for us it was 2 main meals and we shared the rest this lunchtime with a nice big spinach and radish salad, can't beat leftovers!
I've got my heart set on making some pies these next few weeks, both sweet and savoury, I've gone the easy route and bought some Jus Rol Puff Pastry, but really, I should try and make my own puff pastry just so I can say I've tried it, it might not go according to plan, but hey, it's best to have tried in the first place right? I'm thinking it could be nearing Christmas Mince Pie time too, well when is it never Christmas mince pie time? I'm just going to buy some mincemeat as it's just way too expensive to make my own here.
I made some fabulous apple crumble muffins yesterday, they were delicious, I'll post the recipe up tomorrow for you to try out. I really shouldn't have mentioned the muffins as now I want one, I'm just so very suggestible!
Lentil & Spinach Lasagne with a dairy free Bechamel Sauce (vegan with gluten free option)
MyInspiration Feel The Difference Range
Serves 3 – Ready in under an hour
Lentil & Spinach Filling
½ large onion finely sliced
2 cloves Garlic finely sliced
4 Sun dried tomatoes chopped
2 tsp basil
2 tsp oregano
2 cups canned lentils, drained and rinsed
2 cups Passatta (pureed tomatoes)
1 tbsp Tomato paste
½ cup water
½ tbsp balsamic vinegar
2 packed cups fresh Spinach
2 bay leaves
Black pepper to season
1 medium aubergine (eggplant) cut into thin rounds, about 12 slices
Dairy free bechamel sauce
1 cup soy milk
2 tbsp gram flour
1 garlic clove finely sliced
2 tsp wholegrain mustard
¼ tsp Cinnamon
1 tsp thyme
Black pepper to season
Lasagne Sheets (for GF use your favourite gluten free pasta)
½ large tomato cut into slices
Black Olives to garnish
Method
Preheat oven to 180 degrees celcius (356 degrees Fahrenheit).
Start by making the lentil and spinach filling: Add 2 tbsp water to a deep sauce pan over a medium heat and add the onion, garlic, sun dried tomatoes, basil and oregano and cook for 2 minutes before stirring through the lentils, now add the tomato paste, passatta, water, balsamic vinegar, spinach and bay leaves and mix this all together, cover and cook for 10 minutes. (remember to remove bay leaves before step 4)
Now make the white sauce: Add 1 tbsp water to a small sauce pan over a medium heat and add the garlic, thyme, cinnamon and mustard and cook for a minute before adding in the soy milk, using a whisk, slowly beat the mixture before adding in the gram flour and continuing to whisk until the sauce begins to thicken up, at this point I added a ¼ cup of water to thin the sauce down a little, add a sprinkling of black pepper and turn off the heat.
Take an oven proof dish (I used a 6" x 8" casserole dish), line the bottom of the dish with a layer of lasagna pasta sheets, now spoon on half the lentil/spinach mixture, take half your aubergine slices and layer these on top, pour half the white sauce mixture, then layer another line of lasagna sheets, then the rest of the lentil/spinach mixture, then the remaining aubergine – now you want a final layer of lasagna sheets, then pour over the remaining white sauce, throw a few sliced black olives on top along with your sliced tomato then pop in the oven for 30 minutes.