Here is the other Cherry recipe I mentioned a few days ago, I've only just remembered to post it as we've just finished the last 2 muffins today whilst watching an episode of Hornblower… ooh Horatio! The muffins were still beautifully moist, even after 4 days, I just kept them in an air tight container in the fridge.
I meant to buy some more cherries when I was at the market yesterday but forgot, although I did spy some fabulously ripe figs that I might get tomorrow for some figgy delights!
Started the Stephen King book Lisey's Story, but to be honest it's taking me a while to get into it… I shall persevere though, it might just be a slow starter and I don't want to miss out on a good book!
Off now to bake something for this evening, not sure what yet, will get inspiration from what's currently in my cupboards!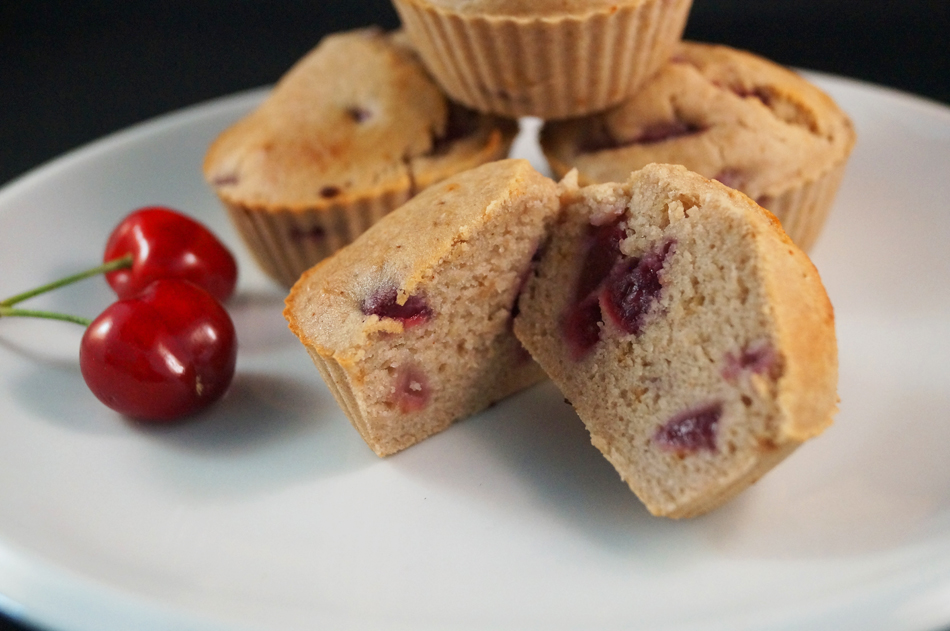 Deliciously Moist Cherry Muffins with a hint of Almond (Vegan & Gluten Free)
MyInspiration Feel The Difference Range
Makes 6 cupcakes – ready in about 30 minutes
1 cup almond milk
1 tsp apple cider vinegar
1 cup buckwheat flour
1/4 tsp baking powder
Pinch Cinnamon
2 tbsp maple syrup
1.5 tsp Almond Extract
15 fresh cherries destoned and chopped
Method
1. Preheat oven to 180 degrees celsius and line a muffin tray with 6 cases
2. Combine the almond milk and apple cider vinegar and let this sit for a few minutes before adding in the maple syrup and almond extract.
3. In a mixing bowl combine the buckwheat flour, baking powder and cinnamon, then add the wet ingredients to the dry and fold through the cherries. Spoon the mixture in to the muffin cases (about 3/4 full) and pop in the oven for 20 minutes until lovely and golden, remove and allow to cool… if you can wait that long.
*** It occurred to me that also mixing through a little of your favourite vegan dark chocolate chips would be super delightful… might try this next time.