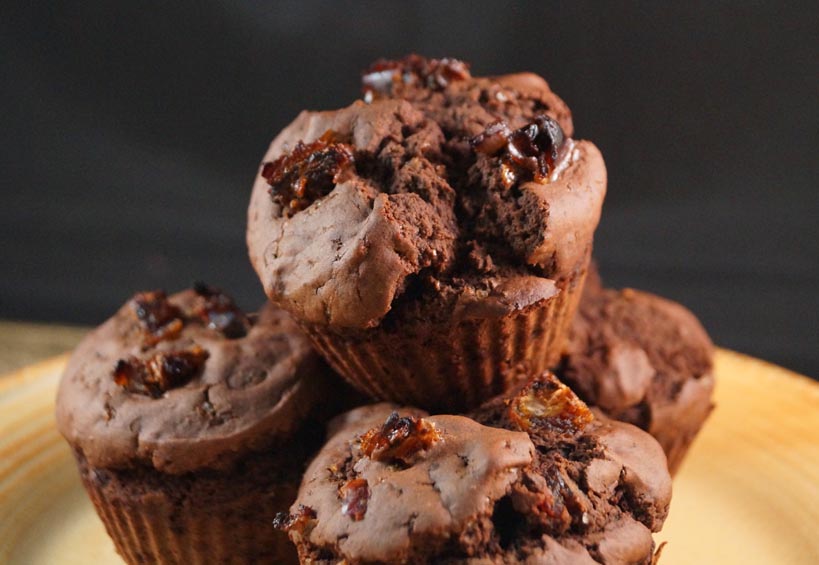 With it being the festive time of year, peppermint just has to be featured in some baking recipes doesn't it? I haven't spotted any candy canes yet, so I thought I'd add a little minty freshness to my chocolate muffins and with the chopped dates thrown in, well, it almost blew my mind they were so decadently delicious. I'm now thinking that I should make some minty no bake truffles to see what they turn out like. To the shops for me!
I've just been looking through a tonne of recipes for a top 15 list of Festive Party Nibbles (I'll share that later on facebook once it's posted) and I am now starving, my tummy is rumbling and I've just completely overdosed on looking at gorgeous food. All healthy though, I don't want to be looking out the winter big pants just yet! I think it's a double whammy come Christmas time as you're celebrating the holidays but it's also cold (well it is here) and you want to eat all the lovely comfort foods you can get your hands on, but luckily, we can still be healthy and eat good foods not just generic junk food!
I need to get thinking, plotting, planning more Christmassy fabulousness and make them tout suite, Christmas is fast approaching and I want to have all my favourite treats made and tested and posted up here for others to try out! It's the most wonderful time of the year, with the kids jingle belling and everyone telling you "Be of good cheer" It's the most wonderful time of the year. (Just had to get that out my system, sing along!)
Mint Chocolate Date Muffins (vegan & gluten free)
MyInspiration Feel The Difference Range
Makes 6 muffins – ready in 30 minutes
1 cup buckwheat flour

2 tsp baking powder

¼ tsp baking soda

2 tbsp demerara sugar (if you want sweeter muffins add more sugar or a couple of tbsp of maple syrup)

1 cup non dairy milk (I used coconut)

½ tbsp apple cider vinegar

2 tsp peppermint extract

3 tbsp cocoa powder

¼ cup chopped dates
Method
Preheat oven to 180 degrees celcius (356 degrees Fahrenheit) and prepare a muffin tray.

In a bowl combine the milk and apple cider vinegar and leave for 3 minutes before adding in the peppermint extract.

In a large mixing bowl combine the flour, baking powder, baking soda, sugar, cocoa and chopped dates, then add the liquid from step 2 and stir this all together. Using an ice-cream scoop, spoon the mixture into the muffin cases sprinkle over a few chopped dates and pop in the oven for 20 – 25 minutes then cool.