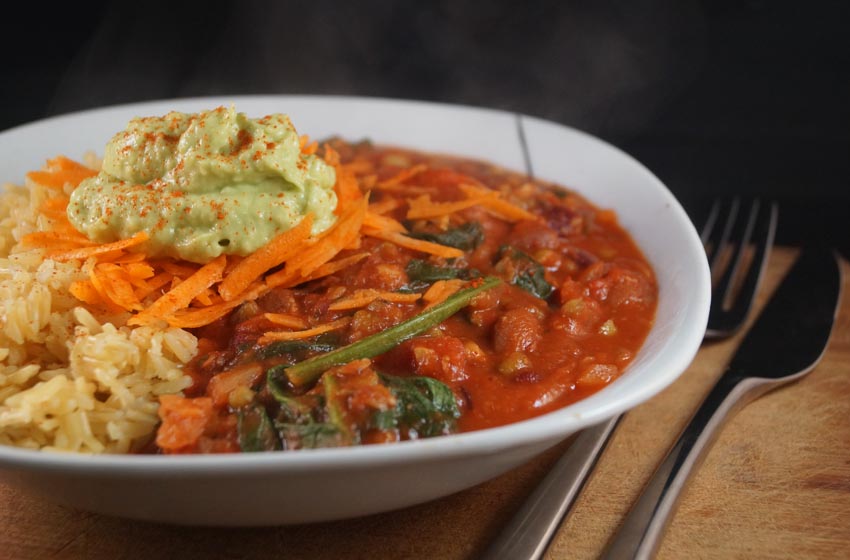 First of all, HAPPY NEW YEAR EVERYONE!! I hope that 2013 was a great year for you and that the year ahead will be filled with new opportunities, health and happiness. That's why I am kicking off the new year with a nice healthy recipe that is cheap and super easy to make. Many of us will be starting with our new years resolutions and one of the top 5 resolutions is always to get healthier or lose weight. Me, I just want to keep doing what I'm doing, my diet has seen me well through 2013 and apart from introducing a few new ingredients into my repertoire, I hope that I can continue to share good healthy recipes with you as and when I make them!
I really wasn't kidding with the post title, this pot of chilli seemed to replenish itself overnight, I made what I thought to be, 2 days worth of dinners, which turned into 3 dinners and left overs (although on the last day I did throw in some mushrooms and sweetcorn to mix it up a bit, but, and I can't stress this enough, each day was delicious. I had never thought about using mung beans in a chilli, but I've got a bag of dried beans already opened and wanted to use them up so I thought why not.
The recipe, the cooking and the cleaning up afterwards are all minimal and you can serve the chilli with rice and guacamole one day, then some tortilla chips and salsa the next, maybe some tortilla wraps the 3rd day, you can really mix it up however you like. Or just eat a nice big bowl of it on it's own with a few jalapenos thrown on top! Hope you enjoy!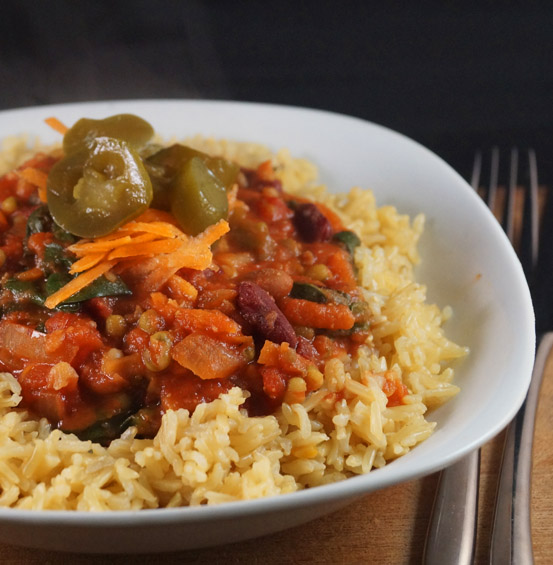 Deliciously Healthy and seemingly never ending Spicy Mung Bean Chilli (vegan & gluten free)
MyInspiration Feel The Difference Range
Serves 6 – Ready in 40 minutes
2 large white onions chopped

4 cloves garlic chopped

2 green chillis chopped

3 tsp cumin

2 tsp chilli powder

2 tsp paprika

1 tsp cayenne pepper

1 tsp ground coriander

1 cup mung beans soaked overnight and then simmered for 20 minutes (ends up about 2.5 cups in volume)

2 cans chopped tomatoes (approx 3.5 cups)

3 cups passatta (pureed tomatoes)

2 cans white beans (approx 3.5 cups) rinsed and drained

2 cans kidney beans (approx 3.5 cups) rinsed and drained

2 red peppers (capsicum) chopped

4 carrots diced

2 – 3 packed cups of fresh chopped Spinach
Serve with rice or tortilla chips and scatter some grated carrot on top (I know looks a bit like cheese, but it's not, it's carrot!)
Method (it really doesn't get any easier than this!)
Add ¼ cup water to a large deep saucepan over a medium heat then add the onion, garlic and chopped green chilli and cook for 5 minutes to soften then add in all the spices and mix together before adding in the mung beans and stirring to coat in the spices. Now add everything else, I started with the chopped tomatoes and worked my way down the ingredients list, stir this all together, cover and simmer for 25 – 30 minutes stirring occasionally.
Serve with wholegrain basmati rice or some vegan tortilla chips, some homemade guacamole (with a pinch of paprika sprinkled on top), salsa and not forgetting the all important chopped jalapenos!