Probably the best thing I've found since becoming vegan is the extensive variety in burgers. I've made so many different types of burgers these past 6 months I rarely make the same recipe twice (unless of course it is mind blowingly fabulous – which this one is!).
You can play around with the seasoning, making them as spicy as you like, maybe adding a dash of Tabasco, like we did, it's completely up to your own taste buds… I'm contemplating adding some hot curry powder next time… just because!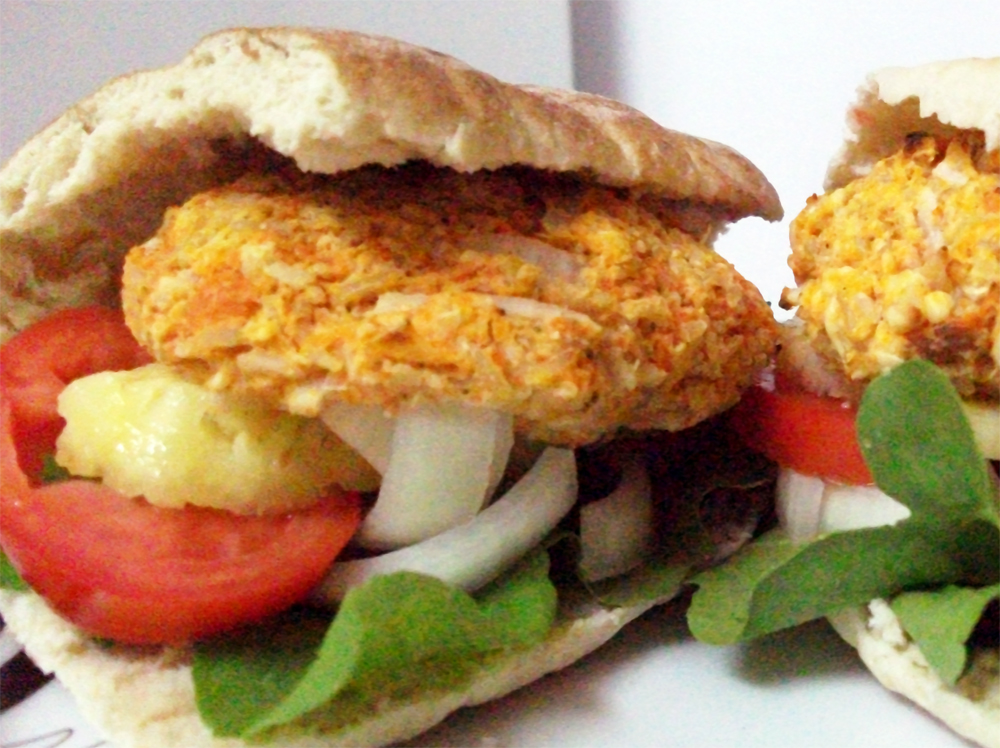 Spicy Veggie Burgers with pineapple, cucumber salsa and spicy sweet-potato fries
For the Spicy Veggie Burgers
makes 6 burger patties
14-16oz. can white beans
3/4 cup brown rice, cooked
2 Tbsp tahini
3 Tbsp lemon juice
1 1/2 tsp Chilli powder
1 tsp Cayenne Pepper
1tsp black pepper
1 cup sweet potato, diced (about 1 small sweet potato or 1/2 a large potato)
1/4 cup white onion, chopped
Couple of drops of Tabasco sauce
You will also need: burger buns or whole-wheat pitta, fresh pineapple rings, lettuce, tomato, onion
Cucumber Pineapple Salsa
1tbsp Tahini
1 ½ cups Cucumber diced
1 cup fresh pineapple diced
2tsp apple cider vinegar or lemon juice
Pinch of black pepper to taste
½ cup fresh coriander
Spiced Sweet Potato Fries
1 medium sweet potato, sliced into skinny fries
1.5 tsps Chilli Powder and Black pepper
Directions:
1. Preheat the oven to 350 degrees.
2. For the burger recipe you need to firstly bake the sweet potatoes until they are tender (fork goes through easily) or if you're short on time, boil the sweet potatoes for about 15 minutes until tender. For the fries recipe keep the skins on the potato, scrub well, cut into fries and set aside.
3. Prepare your salsa. Chop the pineapple, cucumber and coriander and toss with the remaining ingredients – well. Place in the fridge to chill.
4. Rice. To cut time in half – You can use pre-cooked rice. You ideally want your rice to be on the sticky / wet side – not too dry or nutty. Moist.
5. Place your chopped fries into a baking tray and sprinkle with your spices and bake in the oven for 30 minutes, give them a shake every 5 minutes to avoid sticking, they should be ready at the same time as your burgers.
6. In a large bowl, add the beans, tahini, lemon juice, Tabasco & spices. Mash the beans until a thick hummus-like texture forms. Add in the cooked sweet potato and rice. Mash some more. Fold in the onion and pepper.
7. Place parchment paper in a large baking tray. Form burgers with your hands and place them on the baking sheet.
8. Bake at 350 for about 20-30 minutes – or until the edges become crusty and browned. The burgers will bind and firm up quite nicely upon cooling a bit. So don't overcook them just to try and dry them out if they look like they are falling apart!
9. Cool fries a bit. You can also prep your burger components now – slice the onion, ring the pineapple and wash the lettuce.
10. Serve! Pile your burgers and toppings. Serve with fries and the cool pineapple salsa.
Original recipe from kblog.luchboxbunch altered a bit for our own personal taste preferences.