It's been a while since I made something with coffee and walnut, another of my favourite dessert combinations, and instead of cookies I decided to make a nice light cake for afternoon tea, well it is summer after all!
This cake was similar in texture to the caramelised banana cake, it was light and had that real decadent feel to it that makes you think you're eating something quite calorie dense, when in fact you're not, it's a great little treat for dessert or like me, with a cup of green tea in the afternoon whilst Wimbledon is on!
I found out yesterday that I shall be seeing my little sis again and my niece and nephew as they are all going to be in Edinburgh the same time as me, woo hoo, that hasn't happened in a looooooooooong time, so it'll be really nice for us all to be together all in the same place at the same time.  I've also got my eye on a few films I'd like to see at the cinema while I'm over including This is the End, Now you see me, the new star trek film, the new superman film, possibly world war z and oh my goodness me I've just seen that Wolverine 3D will be out while I'm back!!!  Ooooh so many films, I might need a weekend marathon of movies!!!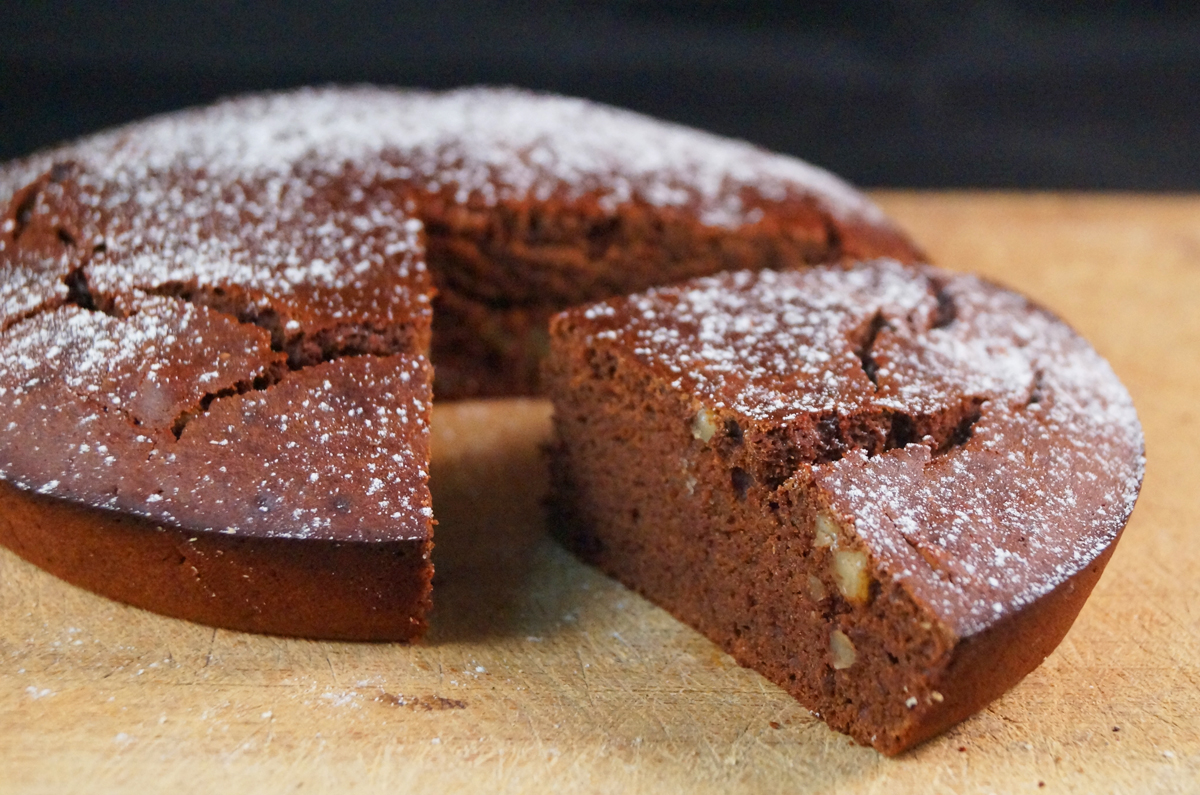 Delicious Chocolate Coffee & Walnut Cake (vegan & gluten free)
MyInspiration feel The Difference Range
Serves 8 – ready in approx. 30 minutes
1 cup buckwheat flour
1/2 tsp baking powder
1/4 tsp baking soda
2 tbsp cocoa powder
3 tbsp maple syrup
1 tbsp your favourite coffee mixed with 1 tbsp hot water
3/4 cup non dairy milk (I used almond) mixed with 1/4 tsp apple cider vinegar
1 tsp vanilla extract
8 walnut halves, roughly chopped
Method
1. Preheat oven to 180 degrees celcius (356 degrees fahrenheit) and prepare a non stick 9″ round cake tin
2. In a mixing bowl, combine the buckwheat flour, baking powder, baking soda and cocoa powder, in a separate bowl combine the almond milk with vinegar, maple syrup, coffee and vanilla, then add the wet ingredients to the dry and fold together, throw in the chopped walnuts and stir them through your batter. (Your cake batter should be quite loose, so if you think it's too stiff add a little more milk).
3. Pour into your cake tin and bake for 20 – 25 minutes until a skewer comes out clean, I cooled my cake a little and dusted with some icing sugar, but you can just dive into this or have a nice dollop of your fave dairy free ice cream, just a suggestion, you could even melt some dark chocolate to  drizzle over the top too…..