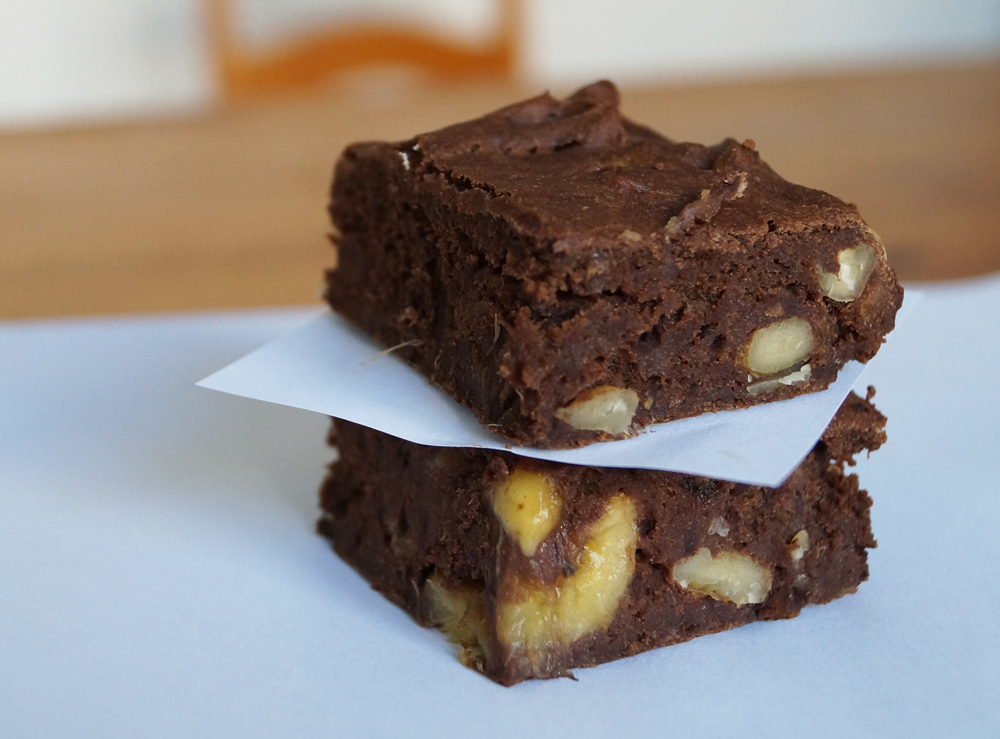 I mentioned yesterday that I'd bought some bananas and I eventually decided on making some brownies with them. This was my first attempt at making brownies so I was really looking forward to seeing how they turned out.
Now for those who love super sweet brownies, you will need to add some more maple syrup to this recipe. We found the taste just scrumptious, not too sweet (especially for a mid week treat), and the brownie would work well as a dessert, heated up and served with a little home made (vegan of course) icecream on the side, you can also add in some dark chocolate chips to your batter, but that's not what we were after,  I wanted something yummy that didn't make me feel like a greedy guts after eating it, so these were perfect for us.
This recipe is very easy and the brownies are ready in about half an hour, so we just had to have a piece while watching an episode of Lost!
Banana & Walnut Brownies (Gluten Free & Vegan)
MyInspiration Feel The Difference Range
Yields 9 Brownies – ready in 30 minutes
1 cup Buckwheat flour
3 tbsp cocoa powder
1/2 tsp baking powder
2 tbsp maple syrup
8 medjool dates mixed with 3 tbsp non dairy milk (pop in the microwave for 30 seconds then use a stick blender to puree)
2 small bananas (one mashed, one sliced)
3/4 cup non dairy milk (I used Rice Dream)
2 tsp vanilla extract
8 walnut halves chopped
Method
Preheat oven to 180 degrees celcius and line an 8″ square cake tin with parchment paper
In a small bowl, combine the rice milk, maple syrup, date puree, vanilla and mashed banana and stir together
In a mixing bowl combine the flour, baking powder and cocoa powder, then add the wet ingredients to the dry, fling in the chopped banana and walnuts and fold together, if you think your mixture is too dry add a little extra rice milk. Once all the ingredients are combined, pour into your cake tin and smooth out evenly before popping in the oven for 15 – 20 minutes (or a knife comes out clean), remove from heat and allow to cool… if you can wait that long. Cut into 9 squares.
Each Brownie is approx 150 calories