I made some curry pies last week but the pastry didn't quite come out how I thought they would, so I've gone back to the drawing board and have given it another go. So glad I did, these were a big hit with the boys in the house.
The recipe is enough for 6 good sized pies and enough cous cous to feed 4 ( I over catered slightly!).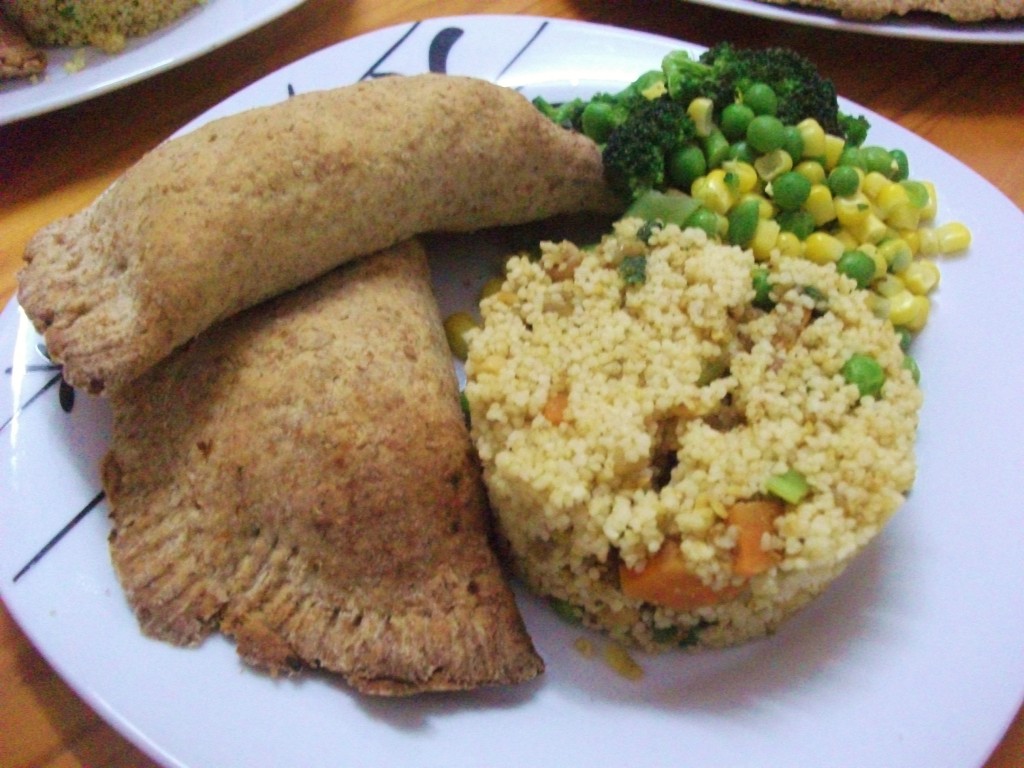 Curry Pie & Spicy Cous Cous
Makes 6 pies
Ingredients
For the Pastry
2 ½ cups whole wheat flour
2 ½ teaspoons baking powder
6 tablespoons olive oil
8 tablespoons water
For the filling
1 tablespoon olive oil
2 teaspoons fresh ginger finely chopped
2 cloves garlic finely chopped
2 tablespoons Hot Curry Powder
1 tablespoon Gram Masala powder
2 carrots (peeled and chopped)
1 onion finely chopped
1 can chickpeas (drained and rinsed)
1 ½ cups frozen peas
Handful fresh coriander finely chopped
1 spring onion finely chopped
For the Curried Cous Cous
1 ½ cup cous cous
1 ½ cup vegan stock
1 tablespoon hot curry powder
(1 cup of the pie filling mix)
Method
1. To make the dough, mix together the whole wheat flour, baking powder and the olive oil and mix through until it comes together like breadcrumbs then add the water and stir through, the mixture should come together into a dough, get in there with your hands and knead for a few minutes, then split into 6 balls and set aside.
2. Preheat oven to 200 degrees celcius
3. For the filling, heat the oil in a deep frying pan add the ginger, garlic, curry powder and garam masala and cook for 4 minutes.
4. Add in the carrot and chickpeas and a couple of tablespoons of water, cook for  5 minutes, then using a potato masher or a fork, mash the chickpeas down while it's cooking (be careful), then add in the peas and another 2 tablespoons water and cook for 5 minutes, then set aside to cool.
5. Back to the pastry, roll each ball into a circle, should be about approx. 12 cm wide, then take a large dessert spoon and heap 2 spoonfuls onto one side of the circle, the fold the other half of the pastry over and close by pressing the edges with a fork.  Pop in the oven for 20 – 25 minutes.
6. For the cous cous, put the dry cous cous in a large bowl and cover with the vegan stock and stir through the curry powder, pop a plate over the top of the bowl and leave for 10 minutes to cook. There will be some filling left over from your pies, so after the cous cous has fluffed up, add the remaining filling and mix through.