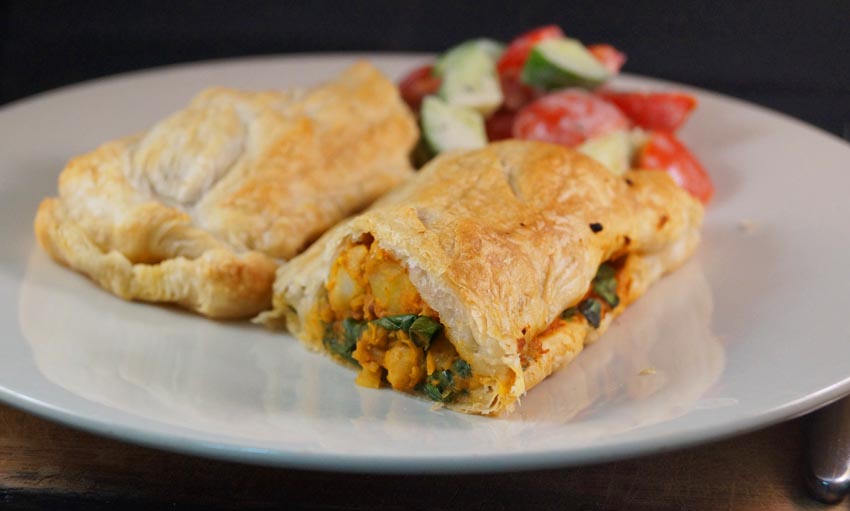 I think I might have pie on the brain at the minute, so much so I think I may have dreamed about them last night. I made this curry pie as I wanted something spicy and had just bought some lovely Indian pickles that I wanted to get into. I was originally going to do something with mushrooms, but that can wait until next week. It is pie season after all and I can't ever pass up the opportunity to make spicy food.
I'm sure when I was falling asleep I was thinking about making almond croissants from the remaining puff pastry I have in the freezer, I've seen all these recipes for cinnamon swirls and rolling the filling inside the pastry and it just reminded me of the croissants we used to get from the bakers that were packed with a beautiful almond paste and topped with toasted almonds, well that's gone and done it, I need to make them now after describing them to you! I just need to fathom out what went into the paste and try and recreate it.
I'm going to make my veggie haggis burgers again tonight, I made them last week and although they were delicious, I just couldn't get them to photograph properly, so I'm going to make them again tonight (plus I have avocado, so I can serve with some guacamole) and hopefully, fingers crossed I can make them look as lovely as they taste and share them with you!
Curry Chickpea & Potato Pie (vegan)
MyInspiration Feel The Difference Range
Serves 2 – Ready in an hour
3 medium sized potatoes peeled and chopped
1" cube fresh ginger finely chopped
3 cloves garlic finely chopped
2 tsp red chili flakes
1 onion finely chopped
2 tbsp tomato paste
2 tsp black mustard seeds
1 tsp curry powder
1 tsp turmeric
1 tsp Garam Masala
¾ cup passatta (pureed tomatoes)
2 packed cups of fresh spinach (washed)
1 can chickpeas (about 1 ¾ cups) drained and rinsed
200g ready made puff pastry (I use Jus Rol) defrosted in advance and cut into 4 slices
Method
Start by preparing the potato, just add the chopped potatoes to a pan of boiling water and cook for 7 minutes, drain and set aside.
Preheat oven to 180 degrees celcius (356 degrees Fahrenheit) and pre-heat a large baking tray.
To make the filling, add the ginger, garlic, chili flakes, half the chopped onion and the tomato puree to a food processor (or use a hand blender) and pulse until smooth.
Add 2 tbsp water to a deep sauce pan over a medium heat and add the mustard seeds, curry powder, turmeric, garam masala and the rest of the chopped onion and cook for 2 minutes, add the paste from step 2 along with the chickpeas and mix this together to make sure everything is nicely coated before adding in the potato, grab a potato masher and mash the chickpeas and potato slightly to break them down which will thicken up the filling, then add the passatta and spinach and give this a good stir and cook until the spinach wilts, about 2 minutes, turn off the heat.
On a lightly floured surface, roll out each slice of pastry into a rectangle shape approx 3″ long by 1.5″ wide, then spoon roughly 3 – 4 tbsp worth of the filling down the centre of 2 of the pastry slices, then carefully top each with another pastry slice, then fold the edges of the bottom slice of pastry over the top slice edges and pinched together to seal, transfer to the pre-heated baking tray.
Using a sharp knife, gently score the top of both pastry slices about 4 small incisions and pop in the oven for 15 – 20 minutes or until the pastry is lovely and golden.
You are undoubtedly going to have some left over filling, I just served this alongside the pie and added a little side of chopped cherry tomatoes and cucumber with a mint tahini dressing (2 tbsp tahini mixed with 2 tsp mint sauce and 2 tbsp water).