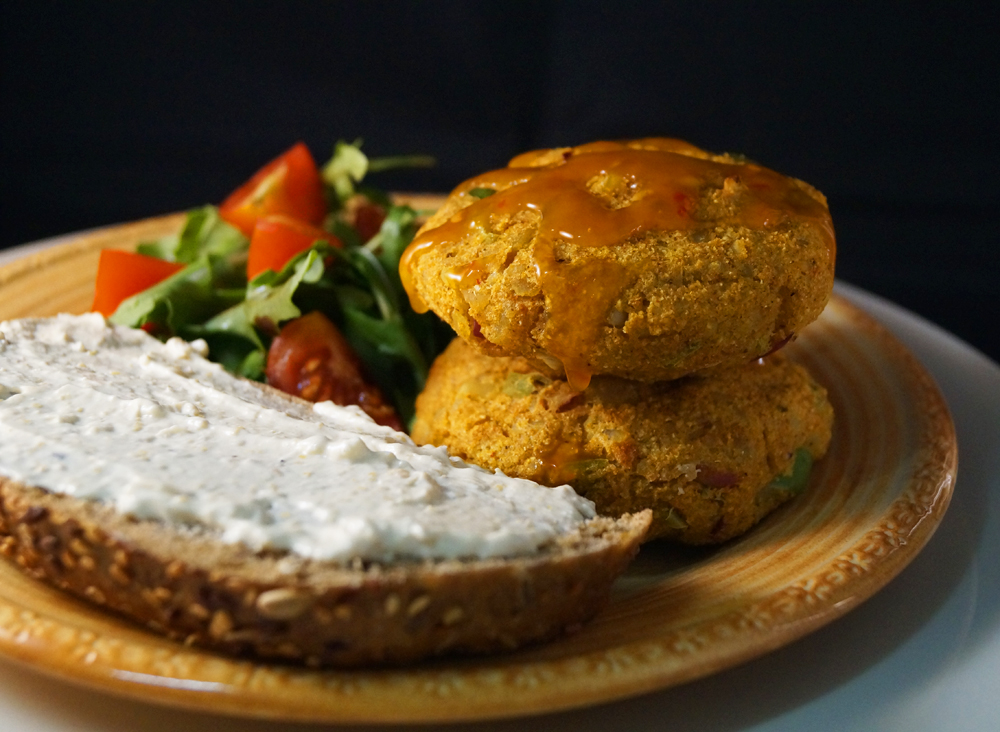 Due to recent feedback, I am working more with the different consistencies for my burgers. When I first started cooking I would always use a flax egg to bind my mixture together, but found that the resulting burgers tuned out a little heavy for my personal liking, then I went to using mashed potato instead to bind the burgers along with a little flour, which has resulted in soft "mushier" burgers and now I'm going to try and work more on getting something in between the 2. Enter polenta….
Don't get me wrong, I really enjoy the softer burgers with just the potato to bind them, consistency aside, I always love the taste of the burgers, but I know that for many people, they are looking for something that isn't too fragile and you can maybe flip on a BBQ, so I want to have a good balance of taste and form.
So I was thinking about how I love polenta and how it binds together when cooked and a lightbulb went off in my head that this could be just what I was looking for. So these curried veggie burgers turned out incredibly well, you do have to be more vigilant when cooking as you don't want to dry them out by cooking them too long. But as a nicely shaped and non mushy burger I personally think it's a hit.
Curried Polenta Veggie Burgers with Rocket and Cherry Tomato Salad (Vegan & Gluten Free)
MyInspiration Feel The Difference Range
Makes 6 burgers – Ready in 30 minutes
2 medium/large white potatoes, peeled, chopped, boiled for 12 minutes, drained and mashed (about 3 cups worth)
1/4 cup polenta
1 tsp cumin
1/2 tsp Garam masala
1.5 tbsp Hot Curry powder (or mild whatever you like best)
Black pepper to season
1/2 tbsp lemon juice
2 cloves garlic finely sliced
1 small green pepper (capsicum) very finely diced.
2 tbsp tomato puree
1/2 red onion very finely sliced
1 hot green chili very finely sliced
Handful of fresh coriander leaves chopped
Method
Prepare the mashed potatoes
Preheat oven to 180 degrees celcius (356 degrees Fahrenheit) and line a baking tray with parchment
In a large mixing bowl combine the garlic, green pepper, red onion, green chili, coriander, tomato puree, black pepper, lemon juice and all the spices and mix well together, now fold through the mashed potato and the polenta until everything is well combined. Using your hands, shape the mixture into 6 patties (tip – moisten your hands to make it easier to handle the burger mixture), place on the baking tray and bake for 15 – 20 minutes until they look lovely and golden and have firmed up.
I served my burgers with a side salad of rocket leaves, chopped cherry tomatoes along with a slice of wholegrain bread smothered in hummus. I topped my burger and salad with a little Encona mango chili sauce.