While we were in Newcastle we found a great little stall on Grey Street that specialised in Vegan pies, pasties and sweet patries. We were tempted in with the curried lentil pastie and spicy bean pastie all encased in a delicious seeded whole wheat pastry. We bought them and then sat on Grey's Monument and watched the Olympics whilst munching on our lunch.
Since then we've not really given pies much thought, but we have a friend coming to stay next week and we want to give him a good hearty feed (he's not vegan or vegetarian) and introduce him gently into our vegan dietary habits.
So I'm in practice mode, I want to be able to whip up a bunch of "healthy" pasties that will be perfect for lunchtimes to serve with a salad and some dips and pickles and today having looked through my cupboards for inspiration I came up with the Curried Chickpea Pasties.
They were a hit, the pastry was perhaps a little too crumbly for my liking but I can easily remedy that on my next batch, but it didn't make a difference to the taste of the dish. Here's hoping they're a hit next week!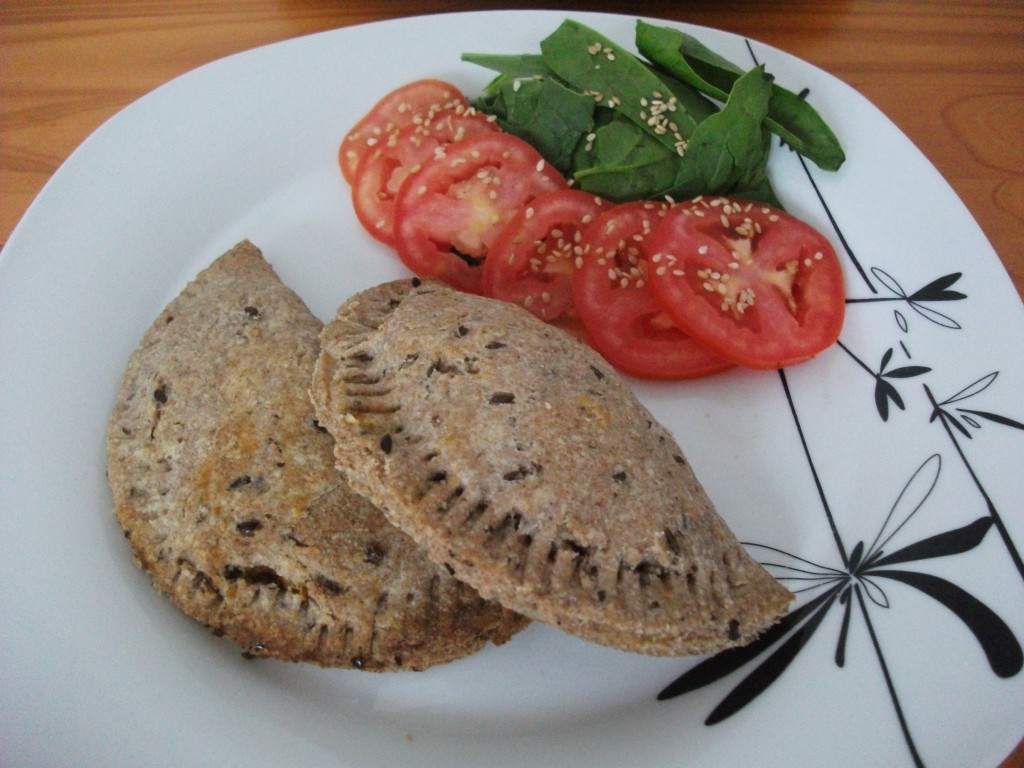 Curried Chickpea Pasties
Makes 6 small pasties or 4 large
Ingredients
For the Pastry
2 cups whole wheat flour (I used organic Durum Wheat)
4 tbsp vegan butter/margarine (cold)
1 tbsp ground flax seeds
Water
For the Filling
1 can chickpeas, drained and rinsed
1 tbsp Hot curry Powder
2 teaspoons Tumeric
1 tsp mustard seeds
1 onion finely chopped
Method
1. Preheat oven to 200 degrees Celsius
2. Make the filling by adding the drained chickpeas to a pan of boiling water and over a medium heat, cook for 10 minutes.
3. In another pan over a medium heat, cook the chopped onion in 2 tbsp water then add the curry powder, turmeric and mustard seeds and cook for 5 minutes.
4. Add the cooked chickpeas to the onion mix and using a masher or a fork, crush the chickpeas.  Set aside until ready to use.
3. For the pastry, mix the margarine with the flour and using your fingers, rub the mix together until the flour is all mixed through, then add the flax and a splash of water until you can bring the mix into a stiff dough.
4. Divide the dough into 4 (or 6 if you're making smaller ones) and roll each ball out on a floured surface, take a 6" bowl and use it as a mould to cut around to make your pastry circles, carefully lift the pastry and pop on a lined baking tray.
5. Take your curried chickpea mix and using a spoon, pop some of the mixture on one half of the circle, leaving room at the edges to fold. Moisten the edges of the pastry with some water and fold to close the pastie, using a fork, press down the edges to seal.
6. Pop in the oven for 15 – 20 minutes and serve hot.