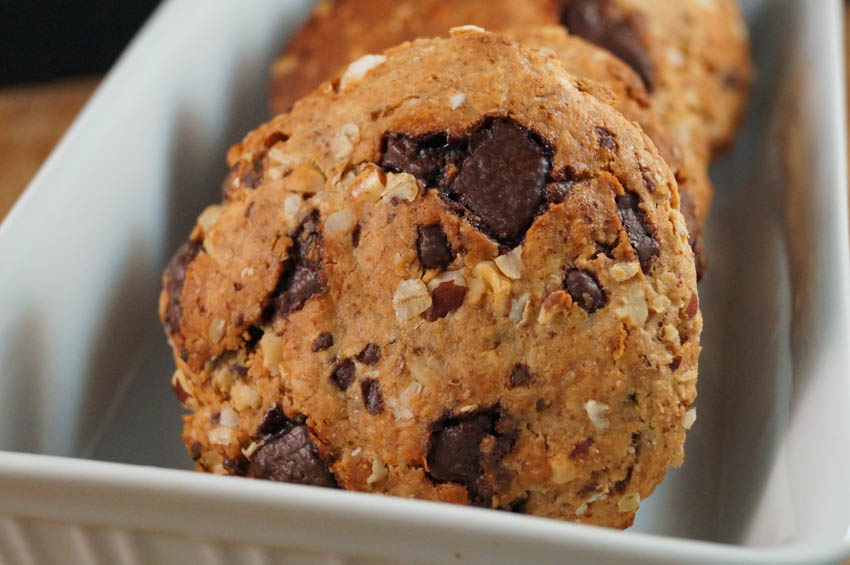 So, first things first. Sweetness levels of cookies. For all the cakes and cookies I bake, I make them to suit our own tastes and these last 2 years have seen our palettes change dramatically as we've moved away from processed foods and maintained our plant based eating habits. What we've come to realise is we now don't like super sweet snacks and desserts and this is coming from a woman who would devour sticky toffee puddings and packs of Thorntons champagne truffles in one sitting. I used to have a ridiculous sweet tooth. But things change, our cravings for sugar and sweet treats have diminished, which has had a knock on effect with my cooking.
My main dishes have become more flavourful with the use of my well stocked herb and spice cupboard and experimenting with a variety of grains including buckwheat groats (yummy by the way), quinoa, bulgur wheat, cous cous, polenta etc and my desserts and snacks have become more nutritious and tasty with the inclusion of mixed nuts, dried fruits and the use of nut butters. Now I love them, that's why I bake 'em, but they will not suit everyone's tastes. So I am suggesting that if you consider yourself a "sweet tooth" you'll have to modify the recipe and increase the maple syrup level or throw in some brown sugar. "Amounts?" I hear you ask, I have no idea, as it still might not be sweet enough for you, experiment with your baking, that's why I make small batches. If you think your first batch isn't sweet enough, then bash them with a rolling pin and use in your granola mix and start again until you perfect your own batch.
So to the Praline Cookies, they were a hit in this house, sweet for us and I think it's hard to go wrong with a winning combination of brazil nuts and dark chocolate. The addition of oats always lends to a nice crisp and crumbly cookie that is best served with a cheeky cup of something hot!! Happy baking!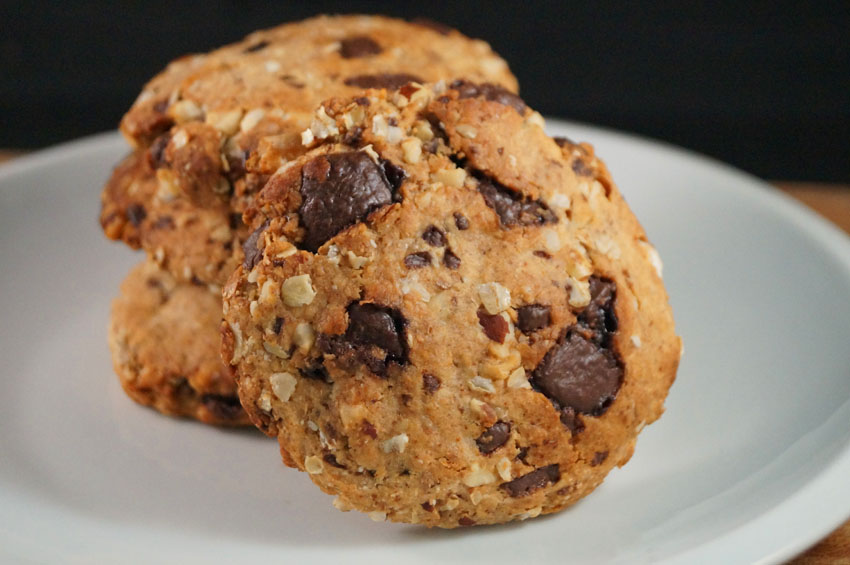 Praline Cookies (vegan & gluten free option)
MyInspiration Feel The Difference Range
Makes 8 cookies – ready in 45 minutes
2 tbsp almond butter (or use peanut/coconut butter etc)
1 tsp vanilla extract
3 tbsp maple syrup
½ tsp mixed spice
1 cup wholewheat flour (for gf use favourite gluten free brand, buckwheat flour, plain etc)
¼ cup oats
½ tsp baking powder
8 Brazil nuts roughly chopped
30g dark chocolate roughly chopped
4 tbsp non dairy milk (I used hazelnut)
Method
Preheat oven to 180 degrees celcius (356 degrees Fahrenheit) and prepare a non stick cookie tray.
In a large mixing bowl cream together the almond butter, vanilla and maple syrup, now add in the mixed spice, flour, baking powder, oats, nuts and chocolate and mix this all together, this will be a super dry mixture so now you want to add in the milk to create a lovely cookie dough.
Divide into 8 balls and flatten using the palm of your hand and place on the cookie tray, pop in the oven for 20 – 25 minutes or until slightly firm to the touch. Cool completely.