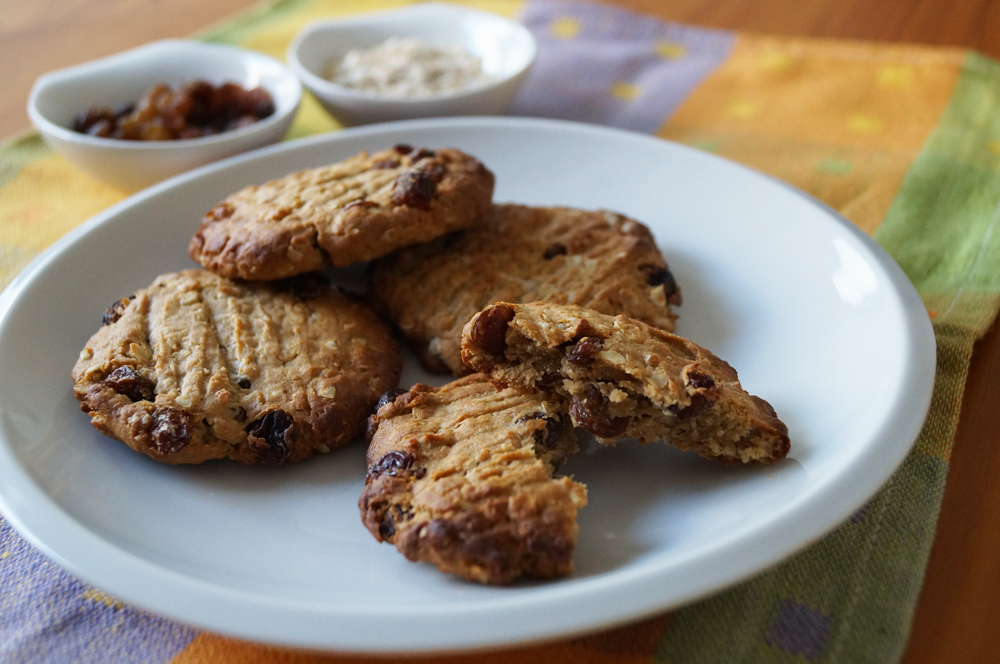 I've mentioned before about the consistency of my cookies being more cake like than soft chewy cookie like, but not today… today I have managed to create the cookies I have been dreaming of since I wandered past Millies cookie shop in York. I think the key here is not to try and use an egg replacer, usually I add some flax seed, or some almond milk with apple cider vinegar, but there really is no need for any of them, these cookies come up beautifully, crispy on the outside and soft and chewy on the inside, I'm so pleased.
These cookies are pretty healthy too, no margarine, no oils, no added sugar and you could add in whatever dried fruit you have to hand, I just like plain old oat and raisin, but you could use cranberries, chopped dates etc
I've been making these in smaller batches as before I was making a load and felt I needed to eat every single one as quickly as I could, so a nice small batch like this will last us 3 days and then I can make us something different, so keeping it fresh!
Crumbly Oat and Raisin Cookies (Vegan & Gluten Free)
MyInspiration Feel The Difference Range
Makes 6 decent sized cookies – ready in half an hour
3 tbsp smooth unsweetened peanut butter
2 tbsp maple syrup
½ cup oats
¼ cup raisins
½ cup buckwheat flour (or wholewheat, or whatever flour you prefer)
¼ tsp baking powder
1 tsp vanilla extract
Pinch of nutmeg
1 tbsp non dairy milk (I used hazelnut milk)
Method
1. Preheat oven to 180 degrees celcius and line a baking tray with parchment
2. In a mixing bowl combine the peanut butter, maple syrup and vanilla and cream together before adding in the oats, flour, baking powder, nutmeg and raisins giving the mixture a good stir.
3. I added a tbsp of milk here as my dough was too dry, it's up to you if you think you need a little extra, then gradually add it until your happy with the consistency.
4. Using your hand, grab a heaped tablespoon of the mixture and roll into a ball and flatten slightly in the palm of your hand before placing it on the baking tray, use a fork to flatten them out more until they are about 4-5mm thick. Pop in the oven for 10 – 12 minutes or until golden.
5. Remove from heat and allow to cool
** Each cookie is approx 140 calories