These are by far, probably, the best cookies I've ever made, I love them! I was talking to a friend of mine the other day about trips to Ikea when I first left home and how I would make a bee line for the food shop at the end just to buy some biscuits, so I thought I'd make something that I thought was similar to the ones I used to buy! I think mine are better…. I'm biased of course!
These are reasonably quick to make and would be lovely for sharing with friends over a cup of tea or coffee, or like me, just hide them away and eat them all yourself. I'm making more tomorrow as soon as I get more flour. I'm going to try it with my usual buckwheat though to see how they work out for the Gluten Free peeps! I think they should be fine, but will test before I say in the recipe to substitute it.
I'm now flying through the Jo Nesbo books I've bought, I just love them, although I've been reading them all the wrong way around, I read The Snowman first, followed by Nemesis and now I'm reading the very first Harry Hole book The Bat and now I'm searching online for some more to read!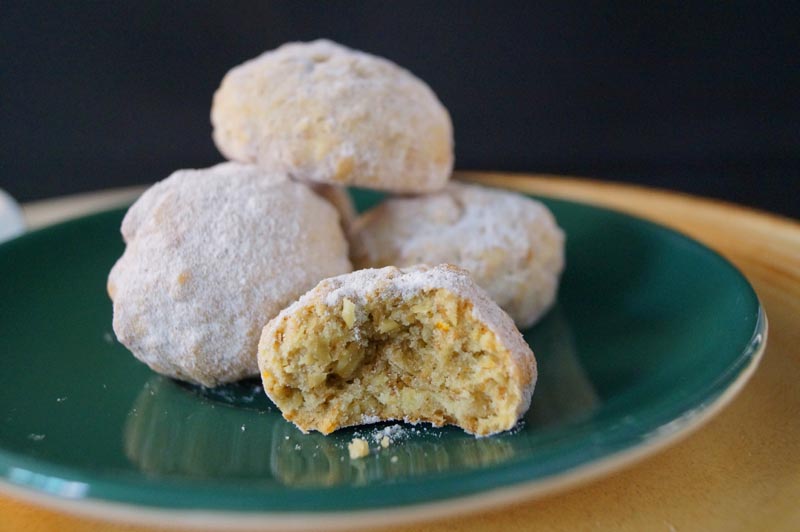 Crumbly Cinnamon & Orange Cookie Balls (vegan)
MyInspiration Feel The Difference Range
Makes 10 cookies – ready in under an hour.
1/2 cup vegan margarine ( I used Vitalite Dairy Free)
1/4 cup powdered sugar ( I use Tate & Lyle Icing Sugar)
1 tsp vanilla extract
1/2 tsp cinnamon
Zest of one large orange
1 cup wholewheat flour
1/2 cup oats
(2 tbsp powdered sugar mixed with a pinch of cinnamon to coat cookies)
Method
1. Preheat oven to 180 degrees celcius (356 degrees fahrenheit) and line a baking tray with parchment (or use a silicone baking mat)
2. In a bowl cream together the margarine and powdered sugar until smooth, add the orange zest, vanilla extract and cinnamon and stir to combine before adding the flour and oats and mixing thoroughly (You will find the dough is quite soft, don't worry about this they will firm up nicely when baked).
3. Pop the mixture into the freezer for 15 minutes to stiffen slightly, then taking heaped teaspoons, roll the dough into 10 balls and place on the baking tray and bake for 35 – 40 minutes until lovely and golden and firm to the touch.
4. While the cookies are still hot, place the 2tbsp of powdered sugar and cinnamon in a small bowl and then roll each ball in it, until well coated and leave to cool completely.
These will keep nicely in an air tight container, enjoy!
Each cookie is approx 112 calories – 13g carbs – 6g of fat